Trump: Former rivals won't get to speak at GOP convention unless they endorse him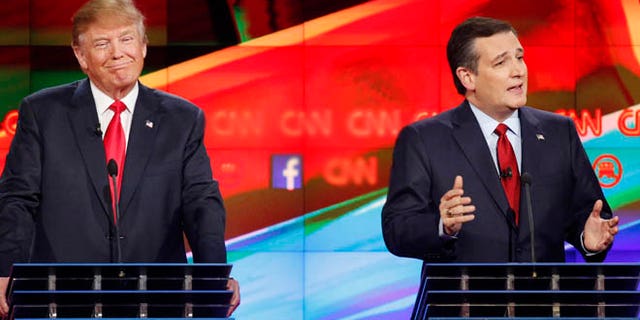 Ted Cruz? No, thanks. John Kasich? No, thanks.
That's what presumptive GOP presidential nominee Donald Trump has to say about having his former rivals speak at the Republican National Convention in July.
Trump did leave an opening, however, saying that if Cruz or Kasich formally endorse him, he will consider inviting them to take the stage at the four-day event in Cleveland, according to the New York Times.
"If there's no endorsement, then I would not invite them to speak," Trump said.
At one point during the primaries, the Cruz and Kasich campaigns reportedly teamed up to coordinate their efforts to stem Trump's momentum.
Cruz withdrew from the race after losing the Indiana primary, and Kasich dropped out the next day.
Neither Cruz, a U.S. senator from Texas, nor Kasich, who is Ohio's governor, have endorsed Trump.
Cruz's former national campaign co-chairman, Rep. Steve King of Iowa, told Fox News Latino shortly after the senator exited the race that Trump had to persuade Republicans that he prioritized conservative values.
King said many in the party remain skeptical of Trump's commitment to conservative ideals.
A number of prominent Republicans have not publicly endorsed the real estate mogul, and some have said outright that they will not vote for him or attend the party's convention. A Politico story said the Trump campaign faced a tough time persuading national figures to speak at the convention for fear of appearing to embrace the controversial candidate.
"Everyone has to make their own choice, but at this point, 70 percent of the American public doesn't like Donald Trump. That's as toxic as we've seen in American politics," said Stuart Stevens, a longtime GOP strategist, told the politics website. "Normally, people want to speak at national conventions. It launched Barack Obama's political career."
Some Republicans, like Sen. Marco Rubio, another former presidential candidate, have given half-hearted support to Trump, expressing a commitment to backing the party nominee, but at the same time highlighting their reservations about some of his remarks and positions.
Rubio had said he would speak if Trump asked him to, but then stressed that the mogul would be better off having speakers who agree with him.
Trump's campaign also is working to minimize any rebellion by delegates at the convention against the candidate.
Many Republicans still are hoping an anti-Trump movement will take hold and prevent him from getting the official nomination. Trump has denounced that as rigging the primary system and going against the will of the many voters who gave him the GOP victory.
"You mean to tell me, we're going to get the largest vote in his history of the Republican primaries, and now the same people [who] either didn't run or got beaten in a landslide are going to try and back-end?" Trump told the Times.
"My supporters are tremendously loyal to me," he added. "They would not stand for it."
Like us on Facebook
Follow us on Twitter & Instagram