Trump endorses Roy Moore in phone call: 'We need his vote'
President Trump on Monday endorsed Alabama Republican Senate nominee Roy Moore, telling voters "we need" him to tackle illegal immigration, tax reform and more -- after weeks of holding back his full support for the embattled candidate.
The White House made it official in a statement confirming Trump personally backed Moore during a phone call.
"The President had a positive call with Judge Roy Moore during which they discussed the state of the Alabama Senate race and the President endorsed Judge Moore's campaign," Principal Deputy Press Secretary Raj Shah said.
Moments earlier, Moore tweeted that Trump had given his support and told him: "Go get 'em, Roy!"
His wife Kayla Moore also revealed the phone call on Facebook.
With just one week left before voters head to the polls next Tuesday, the president made clear early Monday morning he was throwing his weight behind the Republican nominee, while slamming Democratic rival Doug Jones as a "puppet" for congressional Democratic leaders.
"Democrats refusal to give even one vote for massive Tax Cuts is why we need Republican Roy Moore to win in Alabama," Trump tweeted. "We need his vote on stopping crime, illegal immigration, Border Wall, Military, Pro Life, V.A., Judges, 2nd Amendment and more. No to Jones, a Pelosi/ Schumer Puppet!"
Until now, Trump has kept a certain distance from Moore while making clear he opposes Jones -- and refraining from condemning Moore in the same way some Senate Republicans have. Those GOP lawmakers have sought to ostracize Moore over explosive allegations he initiated sexual contact with teenage women decades ago, when he was an assistant district attorney in his early 30s. One of the women, Leigh Corfman, alleged Moore had sexual contact with her when she was just 14. The age of consent in Alabama is 16.
Moore has repeatedly denied the allegations.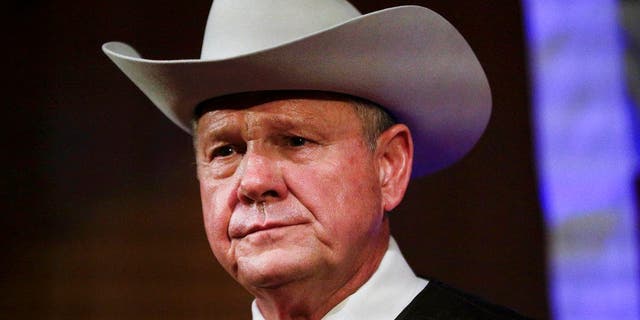 Trump has been relatively mum on the allegations facing Moore, with White House Press Secretary Sarah Sanders saying it's a decision for Alabama voters.
Trump, though, ramped up his defense of Moore during a session with reporters last month.
"Roy Moore says he didn't do it," Trump said on his way to Marine One.
Trump's endorsement of Moore on Monday seems to be driven by legislative items and his desire to keep the majority in the Senate.
Minutes after his tweet supporting Moore, Trump elaborated on the threat Jones would pose to the GOP agenda.
"Putting Pelosi/ Schumer Liberal Puppet Jones into office in Alabama would hurt our great Republican Agenda of low on taxes, tough on crime, strong on military and borders…& so much more," Trump tweeted. "Look at your 401-k's since Election. Highest Stock Market EVER! Jobs are roaring back!"
The Senate passed the Republican tax plan late Friday night, with a 51-vote majority. Sen. Bob Corker, R-Tenn., was the lone Republican to vote against the bill, joining the 48 Senate Democrats who voted nay.
Senate Majority Leader Mitch McConnell has been tough on Moore, saying last month he's "not fit" to be in the Senate and claiming party leaders were looking at ways to "prevent that from happening."
But McConnell has seemingly softened his tone.
"I'm going to let the people of Alabama make the call," McConnell, R-Ky., said Sunday on ABC's "This Week," in an apparent shift from his earlier comments.
Moore, on the other hand, continues to bash McConnell and the Republican establishment.
The special election to fill the Senate seat of Trump's Attorney General Jeff Sessions is Dec. 12.
Moore thanked Trump for his support.
"Thankful for President Trump's support. The America First agenda will #MAGA. Can't wait to help him #DrainTheSwamp," Moore tweeted Monday morning.