Trump-bashing South Carolina Rep. Sanford in tough primary fight against GOP newcomer
South Carolina Rep. Mark Sanford is the latest 'Never-Trump' Republican facing a battle for survival in the primaries, as voters head to the polls Tuesday to decide whether the longtime politician with a colorful past should have a shot at re-election.
Sanford is locked in a tight race against challenger Katie Arrington, a state lawmaker and relative newcomer to politics. But she's worked to tag the incumbent as a "career politician" and turn his Trump criticism into a liability.
"He spends our tax dollars going to CNN to give his rationale as to why he thinks Trump is a horrible person," Arrington told Fox News in an interview on Monday, saying Sanford is one of the least supportive congressional Republicans for Trump.
She said, "Talk is cheap. This is a time for action."
Sanford, the former governor who made a political comeback to represent South Carolina's 1st District in the wake of his extramarital affair scandal, has become an outspoken Trump critic.
Even before Trump took office, Sanford said the billionaire businessman should "just shut up" and "quit responding" to anyone critical of him on a personal or professional level.
Sanford endorsed Sen. Ted Cruz, R-Texas, during the 2016 Republican primaries and, after his loss, penned an op-ed for the New York Times suggesting he would support Trump as the nominee if he released his tax returns—despite not having the "stomach for his personal style and his penchant for regularly demeaning others."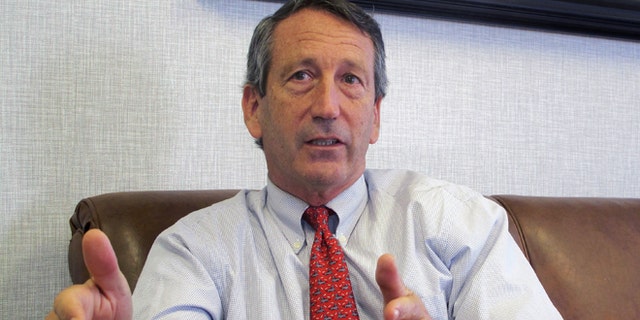 Last year, Sanford suggested Trump was somewhat to blame after the congressional baseball practice shooting that left House Majority Whip Steve Scalise severely injured. Sanford said the president was "partially to blame for the demons that have been unleashed," referring to the rhetoric surrounding the June 2017 shooting.
Sanford, though, is not necessarily running on an anti-Trump platform in 2018. He's touting market-based solutions to health care, strong national defense and job creation—all policy issues that Trump supports.
And the Trump criticism might not hurt him with a chunk of the electorate. Charleston County, which the district covers, voted for Hillary Clinton in the 2016 presidential race.
But Sanford, whose campaign did not respond to a request for comment for this report, is no doubt mindful of what happened last week in Alabama -- where GOP Rep. Martha Roby, R-Ala., was forced into a primary runoff in July.
Roby also was outspoken against Trump in the weeks leading up to the 2016 presidential election, and rescinded her endorsement following the release of the infamous "Access Hollywood" tape.
State Rep. Arrington told Fox News that while Trump is a "huge factor" in the race, South Carolina also is ready for someone new.
"In South Carolina, it's time," Arrington told Fox News. "It is time to turn the page on the Sanford era. We have had it with career politicians. That's why we elected Trump."
Sanford was elected to his current seat in 2013, returning to Congress where he served through the '90s. But Sanford is politically famous for his tenure as governor of South Carolina -- and the 'Luv Guv's' stunning admission in 2009 of an extramarital affair with an Argentine woman, after disappearing for days.
Arrington touts a tough stance on term limits, and is campaigning on helping veterans, protecting Second Amendment rights, and "empowering parents," specifically on school choice.
She vows to, if elected, donate $125,000 per year to charities in her district.
"This is about service over self," Arrington said. "That's this campaign in a nutshell."