Trump and Sanders win in Oregon; Democrats still vying for too-close-to-call Kentucky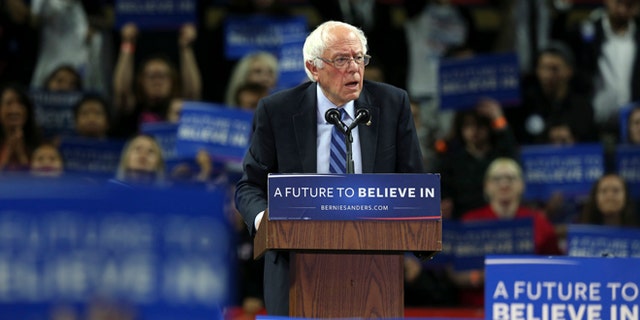 NEWYou can now listen to Fox News articles!
After months of discord within the GOP, now Democrats are displaying signs that the party could have trouble uniting around a Hillary Clinton's candidacy, as Vermont Sen. Bernie Sanders picked up a primary win in Oregon and is locked in race that is too close to call in Kentucky.
"Before we will have the opportunity to defeat Donald Trump, we're going to have to defeat Secretary Clinton," Sanders said Tuesday night to cheers in Carson, California.
Presumptive Republican Donald Trump won the GOP's Oregon primary, the only Republican contest on Tuesday. In a sign of his pivot into the general election, his campaign announced that it had signed a joint fundraising agreement with the Republican National Committee that will allow it to raise cash for both his campaign and other Republican efforts.
With his victory in Oregon, the billionaire businessman now has 1,160 delegates, putting him within 77 delegates of clinching the Republican nomination.
For Democrats, Clinton and Sanders will each pick up at least 25 delegates in Kentucky with five delegates remaining to be allocated pending final vote tallies. In Oregon, Sanders will receive at least 28 delegates and Clinton will get at least 24 of the 61 delegates at stake.
Overall, Clinton leads Sanders among pledged delegates, 1,767-1,488. When superdelegates are included, Clinton's lead grows to 2,291 to Sanders' 1,528. Clinton is now just 92 delegates short of the 2,383 needed to win.
The outcomes in Kentucky and Oregon did not dramatically change the delegate count and the former secretary of state remains on track to clinch the nomination on June 7 in the New Jersey primary.
But Tuesday's elections followed a divisive weekend state party convention in Nevada in which supporters of Sanders were accused of tossing chairs and making death threats against the Nevada party chairwoman at the event in Las Vegas. Supporters argued that party leadership had rigged the results of the convention in favor of Clinton.
In a sign of the tensions between the two sides, Sanders issued a defiant statement Tuesday dismissing complaints from Nevada Democrats as "nonsense" and said his supporters were not being treated with "fairness and respect."
Later, in California, Sanders said the party could "do the right thing and welcome into the party people who are prepared to fight for real economic and social change." He said the other option would be to "maintain its status quo structure, remain dependent on big-money campaign contributions and be a party with limited participation and limited energy."
Sanders pointed to polls that show him in a stronger head-to-head matchup against Trump than Clinton.
The Sanders campaign did not immediately say whether it will challenge the results in Kentucky, which does not have an automatic recount.
Clinton campaigned in Kentucky on Sunday and Monday in an effort to break up Sanders' momentum after his recent victories in Indiana and West Virginia. She pointed to the economic gains under the administration of her husband, former President Bill Clinton, who is the last Democrat to carry the state in a presidential election.
Nearing the end of a long primary slog, the two Democratic candidates are preparing for June 7 primaries in California, New Jersey and four other states and then the District of Columbia primary on June 14.
When pledged delegates and superdelegates are combined, Clinton is now about 96 percent of the way toward securing the Democratic nomination.
Based on reporting by The Associated Press.
Like us on Facebook
Follow us on Twitter & Instagram