Troop Discharges High for 'Pre-Existing' Psychiatric Disorders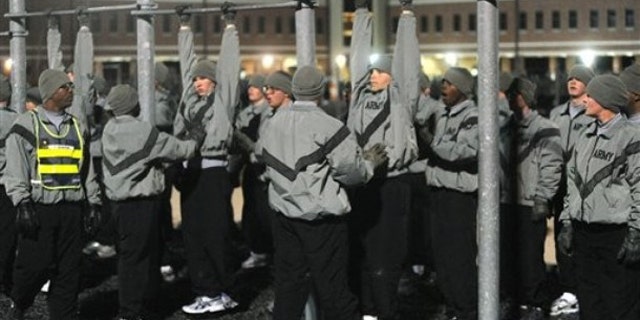 NEWYou can now listen to Fox News articles!
A pair of recently released government reports shows that more military trainees are being discharged for "pre-existing" psychiatric conditions than any other reason, with those cases particularly high among Marines.
The numbers suggest the military, under pressure to find recruits for two wars over the better part of the last decade, may not be catching the signs of mental illness during the enlistment process. While ailments ranging from asthma to hearing problems to orthopedic conditions accounted for a large percentage of discharges, mental health issues were the most common cause.
The military's Medical Surveillance Monthly Report and its Accession Medical Standards Analysis & Research Activity Report both confirmed this trend -- the statistics varied drastically depending on the branch.
Among Marines, 44 percent of discharges between 2004 and 2009 for pre-existing conditions were for psychiatric complications. That percentage was 24 in the Army and 18 in the Navy. It was less than 1 percent in the Air Force. The disorders ranged from depression to ADD to bipolar disorder.
The studies tracked recruits who were discharged for conditions that surfaced within six months of joining the military -- meaning many were probably discharged during training and did not see combat.
Paul Sullivan, director of veterans advocacy group Veterans for Common Sense, said the numbers reflect the "recruiting shortfall" the military has had to deal with. He said sloppier vetting opens the door for problems to surface after new member are enlisted.
In total, 3,636 Marines were discharged for psychiatric reasons between 2004 and 2009. In the Army, 4,359 were discharged. The Pentagon did not respond to a request for comment.
However, the startlingly high number of psychiatric-based discharges for recruits comes as the Pentagon faces complaints that it may be discharging combat troops on spurious mental-health grounds. Though the military has moved to recognize more cases of post-traumatic stress disorder -- as opposed to classifying them simply as "personality disorders" -- lawmakers have complained that the military is finding other psychiatric reasons to discharge troops.
The distinction is critical in determining what kind of benefits packages the discharged service member receives -- PTSD discharges get a 50 percent disability payment and health care benefits, while others do not receive that level of help after leaving the military.
Four lawmakers wrote to Defense Secretary Robert Gates in October complaining that the military was discharging members for "other physical or mental conditions not amounting to disability."
"While it is a good thing that the Pentagon has moved away from unfairly discharging combat troops by erroneously claiming a service member had a (personality disorder) rather than addressing the harmful effects of combat stress, we need to ensure a new method is not being used to deny combat veterans the care and benefits they deserve," they wrote. The letter was signed by Sens. Kit Bond, R-Mo.; Chuck Grassley, R-Iowa; Sam Brownback, R-Kansas, and Patrick Leahy, D-Vt.
They cited Pentagon data showing that while personal disorder discharges were down dramatically over the past few years, discharges for other "physical or mental" conditions rose from 1,453 to 3,844 between fiscal 2006 and 2009. Many of those conditions were labeled as "adjustment disorder," they wrote.
"We are particularly concerned that troops who display symptoms of combat stress are being expeditiously chaptered out of the military by the medical bureaucracy prior to their condition meeting formal diagnostic criteria for PTSD or other conditions that would constitute disability," the senators wrote.
Sullivan described this "patient dumping" as a serious problem in the military.
"The military finds it more expedient ... to improperly kick out tens of thousands of troops," he said.
In a response to the senators' letter, the Army assured them that it would continue to review the circumstances for such discharges.
Thomas Lamont, assistant secretary of the Army, wrote in a memo that the Army made sure soldiers discharged due to various disorders were "appropriately screened" for PTSD and traumatic brain injury.
"The Army is dedicated to ensuring that all soldiers with physical and mental conditions caused by wartime service receive the care they deserve," he wrote.