Top Bill Clinton aide criticized ex-president for conflicts of interest, emails show
Bill Clinton's most-trusted confidant complained the former president had several conflicts of interest regarding his controversial namesake foundation, according to purported emails released this month by WikiLeaks.
The emails, stolen by hackers from Hillary Clinton Campaign Chairman John Podesta's Gmail account, come from a particularly rocky period internally for the Clinton Foundation during late 2011 and early 2012. That's when Clinton Foundation offshoot the Clinton Global Initiative and a new business started by top Clinton aide Doug Band, Teneo Holdings, were creating friction with each other -- as employees struggled to figure out just how closely the entities should be associated. Much of the concern stemmed from Band and Clinton's dual positions with Teneo and CGI.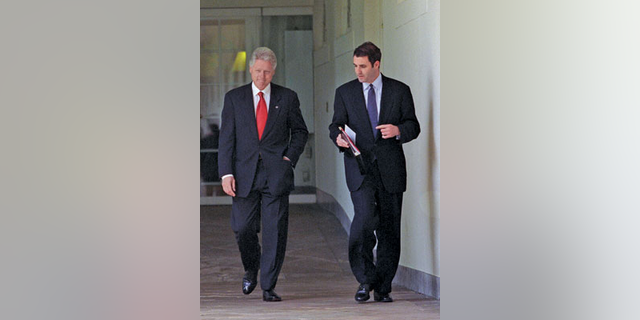 "I signed a conflict of interest policy as a board member of cgi," Band wrote in a Nov. 17 email to Podesta in which he referred to Clinton by his initials, WJC. "…Oddly, wjc does not have to sign such a document even though he is personally paid by 3 cgi sponsors, gets many expensive gifts from them, some that are at home etc."
He added: "I could add 500 different examples of things like this."
Band, who started as Clinton's "body man" during the White House days, had risen by 2011 to become one of the ex-president's closest advisers. Band is given credit in most reports for conceiving CGI, and he was on the Clinton payroll through 2011, The New Republic reported. When Band and co-founder Declan Kelly, a former economic envoy for Secretary of State Hillary Clinton, started Teneo in June 2011, Bill Clinton was listed as an adviser.
EMAILS EXPOSE CHELSEA CLASHES WITH PARENTS' AIDES
But the launch of Teneo also complicated the relationship, especially considering numerous reports suggest Band and Kelly used their Clinton connections to drum up and maintain business for the new company.
In late 2011, several events changed Band's association with CGI: (1) Chelsea Clinton was appointed to the CGI board; (2) A CGI corporate audit was ongoing; (3) It was reported that Teneo was paid $125,000 per month by MF Global, a brokerage firm that lost $600 million of investors' money; and (4) Hillary Clinton worried about the perception that Teneo's overseas clients influenced her judgment as Secretary of State, according to The New Republic.
The Podesta emails reveal there was no love lost between Chelsea Clinton and Band, with notes from both sent to Podesta privately excoriating the other. The corporate audit, at the same time, was exposing holes in the company's conflict-of-interest safeguards, according to a Summary of the Audit Report Outcomes found in the hacked emails.
Emails from top Hillary Clinton aide Cheryl Mills show that in November 2011 efforts were underway to provide a clear delineation between CGI and Teneo, and define Bill Clinton's role with Teneo and Band's role with CGI. Several drafts were shipped among Mills, Band and other parties, and Band specifically criticized Bill Clinton in a Nov. 13 message.
"How then do we go through an exercise like this and wjc doesn't as he is far more conflicted every single day in what he does?" wrote Band, who then gave several specific examples of Clinton employees having paid jobs inside and outside of the Foundation.
In the Nov. 17 email, Band also noted a Hillary Clinton bundler with "issues." Podesta told him to remove the name from a draft document being sent to other top officials, as it would only lead to a "deep debate about who's right and who's not with" Chelsea Clinton. Band obliged but said he felt he needed to bring the topic up or "I may regret it."
By Dec. 16, Mills had produced an Infrastructure Support Model document clearly explaining everyone's roles.
"Commencing January 1, 2012, the President instead will become a client of Teneo; Teneo principals will provide consulting services to the President in his personal capacity," the document stated.
Band was reassigned as a consultant to advise Clinton "on matters that span the spectrum of the President's activities."
Beginning at least with the creation of that document, Band began dissociating Bill Clinton from Teneo's backstory.
In a Nov. 12 email to Podesta, Band wrote that "our business has almost nothing to do with the Clintons…" In the Nov. 13 email, Band wrote to Mills that "the notion that [Teneo is] built on [Bill Clinton] is ridiculous."
Eight days after The New Republic published in September 2013 a lengthy history of Teneo and Band's association with Bill Clinton, Band wrote to Podesta. He ostensibly asked his old boss to sign a letter about Band that Band had largely authored himself. It's unclear who the letter was meant to be sent to, but it again downplayed Clinton's role in the creation of Teneo.
"And while many of you probably saw President Clinton's incredibly supportive and positive comments about Doug on CBS This Morning, Teneo's work has extremely little to do with President Clinton, if anything," the letter stated. "Doug doesn't need to build a firm on the back of anyone: anyone who knows him knows that his own talents are more than enough."
FoxNews.com's Cody Derespina contributed to this report.