The Obamas are on their way to becoming a billion-dollar brand
The cash keeps rolling in for Barack and Michelle Obama.
And it may not be long before they're billionaires.
The New York Post reported the Obamas are on their way to becoming a billion-dollar brand, amid highly lucrative deals for books, speeches and Netflix videos.
The latest example of cashing in comes with the former first lady's new memoir, "Becoming," which was released last week and was part of a $65 million book advance for both of the Obamas.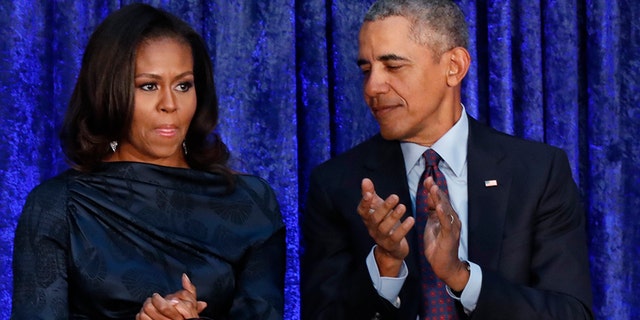 The Obamas in 2017 inked the $65 million deal after leaving the White House for books written by both the former president and first lady. It is the highest amount ever paid for a presidential memoir.
According to the New York Post, the former first lady also could make millions from appearances on her 10-city tour as she promotes her autobiography.
The paper reported that Michelle Obama can command $225,000 for other paid speeches. The former president makes $400,000 per speech.
OBAMAS LAND $65M JOINT BOOK DEAL; LARGEST PAYMENT EVER FOR PRESIDENTIAL MEMOIR
Obama, as a former president, also receives a $207,800 annual presidential pension.
Earlier this year, the Obamas entered a multiyear agreement to produce new films and shows with Netflix. The former president and first lady will produce a diverse mix of content, including a potential scripted series, an unscripted series, a docu-series, documentaries and features, according to a press release from Netflix about the deal.
The couple also established Higher Ground Productions, which will serve as the entity under which they will produce content for Netflix.
MICHELLE OBAMA RULES OUT RUNNING FOR POLITICAL OFFICE, 'EVER'
"One of the simple joys of our time in public service was getting to meet so many fascinating people from all walks of life, and to help them share their experiences with a wider audience," Obama said in a statement at the time.
In her book, Michelle Obama wrote she can never forgive President Trump for spreading rumors that her husband was not born in America. "The whole thing was crazy and mean-spirited, of course, its underlying bigotry and xenophobia hardly concealed," she wrote. "But it was also dangerous, deliberately meant to stir up the wingnuts and kooks."
Trump recently fired back while speaking to reporters.
"She got paid a lot of money to write a book," he said, and then took a shot at his predecessor, Barack Obama: "I'll never forgive him for what he did to our United States military by not funding it properly … it was depleted."
Both of the Obamas seem to be enjoying the perks of life outside of government. As she promotes her book, Michelle Obama has repeatedly denied being interested in running for office herself.
"Barack keeps those people away from me," she said during a recent appearance on "Jimmy Kimmel Live." "No, I haven't had any serious conversations with anyone about it because it's not something that I'm interested in or would ever do. Ever."
Fox News' Stephanie Nolasco and Bradford Betz contributed to this report.