The courtship continues: Donald Trump to meet with Latinos and blacks in NYC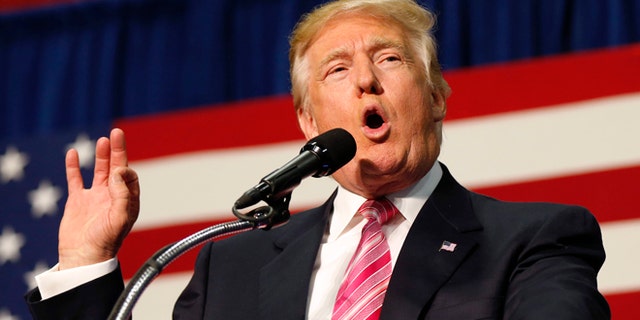 On the heels of making recent overtures to minorities, Republican presidential nominee Donald Trump is scheduled to meet on Thursday with Latinos and African-Americans who are fellows in a GOP leadership program.
The meeting, which was confirmed to Fox News Latino by a party official who did not want to be identified, is to take place at Trump Tower in Manhattan.
Yahoo News quoted an organizer of the event as describing it as part of Trump's effort to establish a rapport with Latino voters.
"This is part of his Hispanic outreach, and I think he wanted to explain where he is and why he is a benefit to the Hispanic community," former U.S. Rep. Bob Turner, the chairman of the Queens County Republican Party and an organizer of the event, told Yahoo News.
On Wednesday, Trump made a campaign stop in Tampa in which he addressed Latino voters directly.
"Hispanic citizens have been suffering under this president," Trump said. "Since President Obama came into office, another two million Latinos have joined the ranks of those in poverty. Incomes for Latino households have declined by nearly $1,000 under President Obama. The number of Latino children living in poverty increased by 15 percent."
He added, "I am going to fight to give every Hispanic citizen in this country a better future."
The real estate tycoon originally had been expected to deliver a speech in Colorado on Thursday outlining in the most detailed way yet his plan on dealing with immigration, but that has been postponed. Trump campaign officials said the candidate wanted more time to work on the speech.
On Saturday, the billionaire businessman held a meeting in Trump Tower with his new Hispanic advisory board made up of elected officials and business and faith leaders.
Some at the meeting told reporters that Trump seemed to indicate he was willing to soften his stance on undocumented immigrants, saying he wants to deport those who have committed serious crimes but appearing to leave the door open to giving others a chance to gain legal status.
Helen Aguirre Ferre, director of Hispanic communications for the Republican National Committee, called Saturday's meeting a "game-changing" opportunity.
"Their participation is just one component of our expansive effort to engage the Hispanic community, and their contributions will help us compete for every vote in every community all the way through Election Day," said RNC Chairman Reince Priebus in a statement.
Since then, however, several surrogates of his campaign have said Trump is not going to flip-flop on past statements in favor of tough enforcement, but that the candidate wants to handle immigration in a humane fashion.
Indeed, in a speech on Wednesday in Tampa, Trump said he would improve life for Hispanics by cracking down on undocumented immigrants who take jobs that otherwise might go to them.
The reality TV star said that part of giving Latinos a better future means "securing our border to protect the jobs of all people living here today – African-Americans, Hispanic-Americans, all Americans."
"Hillary Clinton wants a totally open border," Trump said. "We are going to enforce our laws, remove people who overstay their visas, dismantle the gangs and cartels and protect jobs and benefits for hardworking American citizens. That includes protecting the jobs and wages of Hispanic citizens living right here in Florida. They deserve to have their jobs protected from illegal immigration and broken visa programs."
He added, "Hillary Clinton would rather give a job to an illegal immigrant than to an unemployed Hispanic citizen – or to a veteran."
A recent Fox News Latino poll found Trump lagging significantly behind Clinton among Latino voters, in part due to some of the more critical comments on immigration he has made since entering the race.
He has accused Mexico of sending rapists and criminals across the border and has vowed to deport all of the estimated 11 million people living in the U.S. illegally.
Like us on Facebook
Follow us on Twitter & Instagram