Texas Sen. Ted Cruz slams Pres. Obama for his comments on 49ers Kaepernick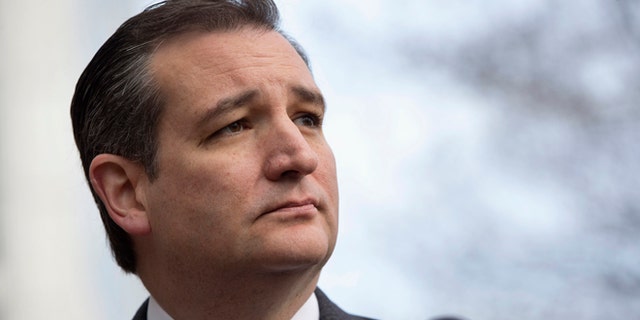 Texas Sen. Ted Cruz lambasted President Barack Obama for his comments on controversial San Francisco 49ers' quarterback Colin Kaepernick's refusal to stand for the national anthem.
"I gotta say I'm as disappointed to see President Obama stand with Kaepernick and say 'that's right, disrespect the flag,'" Cruz said to a TMZ reporter outside of Reagan National Airport. "That's not the job of the president; the president should be standing up for America."
Cruz added: "The president should be encouraging every American to honor the flag that so many have bled and died for and to honor the freedom it stands for."
The Texas lawmaker's words come after Obama said on Monday that he has no doubt that the San Francisco 49ers player is sincere and "cares about some real, legitimate issues."
Kaepernick has been heavily criticized since starting his silent protest. He's said it's not an anti-American gesture but a means to bring attention to racial injustice and police brutality.
Obama said he hasn't paid close attention to the matter, but he added approvingly that Kaepernick has generated more national conversation about "issues that need to be talked about."
As for Kaepernick himself, Cruz called him a "rich, spoiled" athlete who doesn't "recognize what an incredible blessing this country is."
"You know, it's very easy when you're sitting there rolling in millions of dollars to disrespect this country," he said. "I come at it from a different perspective. I come at it from a perspective where my dad was imprisoned and tortured in Cuba."
U.S. soccer star Megan Rapinoe on Sunday also choose to kneel during the national anthem Sunday night before the Seattle Reign's game against the Chicago Red Stars "in a little nod" to Kaepernick.
"It was very intentional," Rapinoe told American Soccer Now after Seattle's 2-2 tie in the National Women's Soccer League game. "It was a little nod to Kaepernick and everything that he's standing for right now. I think it's actually pretty disgusting the way he was treated and the way that a lot of the media has covered it and made it about something that it absolutely isn't. We need to have a more thoughtful, two-sided conversation about racial issues in this country.
Seattle Seahawks cornerback Jeremy Lane also showed his support for Kaepernick by sitting on the bench during the national anthem at a preseason game in Oakland.
Cruz called the recent string of athletes standing down for the national anthem, "sad" and disrespectful of those of have died fighting for the country.
"We outta all be standing together in support of freedom and the constitution and I think it's a sad testament to where we are that people will disrespect the greatness this country was built on," he said.
The Associated Press contributed to this report.