Texas House approves abortion restrictions in early-morning vote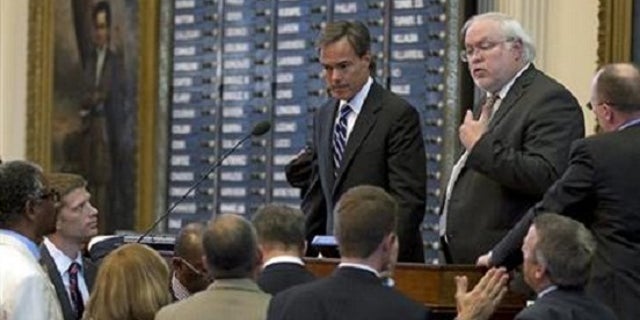 AUSTIN - – Republicans used their majority to cut short debate and give preliminary approval early Monday to some of the toughest abortion restrictions in the country as time was running out on the Texas Legislature's special session.
Many members of the conservative majority had flyers on their desks that read "Psalm 139:13-14," which reads in part, "You covered me in my mother's womb. I will praise you, for I am fearfully and wonderfully made."
Democrats gained strength from more than 800 demonstrators who packed the hallways of the Capitol carrying signs reading, "Stop the War on Women" to oppose Senate Bill 5. The measure would ban abortions after the 20th week of pregnancy, require doctors to have admitting privileges at nearby hospitals and limit abortions to surgical centers.
Supporters say the bill will raise the standard of women's health care, but opponents point out the bill would shut down 37 out of 42 abortion clinics in the state.
"If this passes, abortion would be virtually banned in the state of Texas, and many women could be forced to resort to dangerous and unsafe measures," said Cecile Richards, president of Planned Parenthood Action Fund and daughter of the late former Texas governor Ann Richards.
Democrats used parliamentary tactics to draw out the debate for 15 hours, pointing out technical mistakes in the process or trying to tack on amendments to fundamentally change the bill. Republicans remained largely silent, until finally passing a motion to stop accepting amendments and force a vote, a highly unusual and partisan move.
"We are willing to have an attack on women in order to have someone's political agenda achieved," Rep. Sylvester Turner, D-Houston, said in opposition to stopping debate on the bill. "It may be in the dark of night now ... but the sun will shine on each and every one of us, and we will be held accountable."
Republicans, though, needed to end debate and move the process forward if they hope to make a midnight Tuesday deadline, when the session ends. House members must still give final approval to the bill, and then it must sit for 24 hours before the Senate can consider it.
The bill's sponsor stopped answering questions about her bill after the first two hours after she got into trouble denying Democratic amendments. When Rep. Senfronia Thompson, D-Houston, called for an exemption for women who were victims of rape and incest, Rep. Jody Laubenberg, R-Parker, explained why she felt it was unnecessary.
"In the emergency room they have what's called rape kits where a woman can get cleaned out," she said, comparing the procedure to an abortion. "The woman had five months to make that decision, at this point we are looking at a baby that is very far along in its development."
The remark about rape kits, which is not accurate, sparked widespread ridicule on social media sites. Laubenberg, who has difficulty debating bills, then simply rejected all proposed changes to her bill without speaking until the end of the debate.
"At five months, we are talking about a human being, unless you think it's still a clump of mass ... and we have to protect that babies rights," Laubenberg said in her closing argument. "Too often the back alley clinic today is the abortion clinic because of lax standards."
Three Democrats joined the Republican majority and voted for the bill 97-33. Protesters jeered their disapproval as security guards ordered them out of the chamber and they regrouped to protest outside.
The Texas Medical Association, the Texas Hospital Association and the American Congress of Obstetricians and Gynecologists had sent letters urging lawmakers to vote no on the bill, saying it would not raise the standard of care.
Rep. Jessica Farrar, D-Houston, gave a personal privilege speech decrying how the Republicans were manipulating the parliamentary process to rush it to a vote.
"Everything about the process related to these abortion regulation bills has smelled like partisan politics," Farrar said. "Proponents of the bill have failed to demonstrate any evidence that the regulations imposed by these bills are necessary. Nor have they expressed any sign of responsible governance in ensuring that women will continue to be able to access safe and legal abortion care."
Democrats in the Senate said they would try to filibuster the bill if it came to them on Tuesday, which now appears assured.
Gov. Rick Perry added abortion to the special session in the final two weeks, after lawmakers had already taken up redistricting.