Tea Party Activists Push Philly Mayor to Renew City's Contract With Immigration on Arrest Records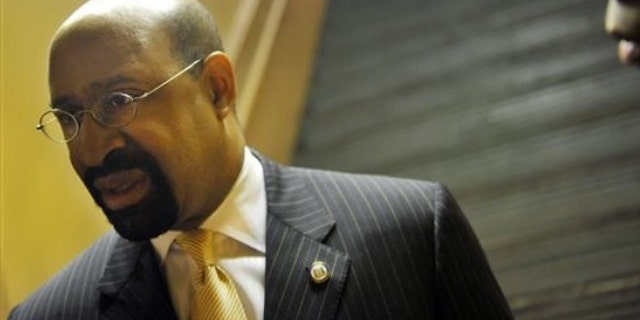 Philadelphia Mayor Michael Nutter's opposition to renewing a contract allowing federal immigration authorities full access to city arrest records is infuriating local Tea Party activists and their allies who say the potential move could jeopardize the public safety of residents and visitors to the city.
Supporters of the contract held a news conference Thursday in Philly to express their safety concerns after they said the mayor's office ignored their requests for a meeting but dispatched city officials to a meeting last month organized by a coalition of pro-immigrant groups where immigrants voiced their mistrust of the police.
"Mayor Nutter's decision to conceal illegal alien criminals from federal immigration authorities will result in the deaths of innocent Americans," Peter Gadiel, the president of 9/11 Families for a Secure America, said in a press release. "We who have been the victims of crimes committed by illegal aliens have paid the price for such policies implemented by other politicians who are more interested in the votes of illegals and their supporters than in the safety of American citizens."
Nutter has said he opposes the agreement because he believes it discourages illegal immigrants from reporting crimes out of fear that they will be deported -- a notion ICE disputes, saying it is only looking to deport violent criminals.
Under the agreement, feds can examine the city's Preliminary Arraignment Reporting System, or PARS, a computerized record system that automatically releases information about victims and witnesses of crimes along with those arrested on criminal offenses.
The city's contract with the U.S. Immigration and Customs Enforcement, known as ICE, ends August 31. Nutter needs to convince the other stakeholders in the program, District Attorney Seth Williams and Municipal Court President Judge Marsha Neifield, not to renew the contract. Neither has yet publicly stated a position.
City officials have said that PARS is no longer relevant because the city participates in ICE's Secure Communities program, which allows authorities to check the immigration status of individuals they arrest through fingerprinting.
But Mariann Davies, an organizer with the Tea Party Immigration Coalition, told FoxNews.com that ending PARS would create a double standard because she said Philadelphia would still provide arrest records to the feds for anyone who is not an immigrant.
"So who is that protecting?" she said. "I think it's more about political expediency on the mayor's part. He wants to win votes rather than increase public safety."
Maura Kennedy, a spokeswoman for Nutter, told FoxNews.com that the city has fully cooperated with the federal government on immigration, saying that Philadelphia was the only big city in America to participate in PARS.
"Philadelphia was the only city in the country to cooperate with the federal government to this extent," she said."But we have found this information that the federal government does not need or use has had a chilling effect on the process and reporting of crimes, which affects all Americans."
"So now, we hope to restrict the sharing of data to what the federal government needs and wants," she said.
Kennedy said the mayor has not ignored requests to meet with supporters of the program. "The mayor has a very busy calendar," she said, adding that it takes at least six weeks to get any event scheduled.