Talk of Gennifer Flowers, Mark Cuban and Hillary's step stool dominate pre-debate chatter
The final hours before tonight's first 2016 presidential debate brought all the hype of a political version of the Super Bowl, with expectations, predictions and talk of special guests -- and Hillary Clinton's customized lectern -- dominating coverage.
Arguments about whether Republican presidential nominee Donald Trump or Democratic rival Hillary Clinton would do better on substance or style were indeed largely overshadowed this weekend by Trump suggesting Saturday that he'd invite Gennifer Flowers, with whom Clinton's husband, former President Bill Clinton, has acknowledged having a sexual encounter.
Clinton's podium will feature a customized step stool to compensate for the 10-inch height advantage held by the 6-foot-3 Donald Trump, a maneuver that could boost the optics for the Democratic nominee.

As to Flowers, GOP vice-presidential nominee Mike Pence told "Fox News Sunday" that Trump was merely mocking the Clinton campaign for confirming that Trump nemesis-entrepreneur Mark Cuban was indeed invited to a front-row seat at the Hofstra University debate.
He argued the campaign was really trying to "distract attention from where the American people are going to be focused," which is picking a president to chart the future of America.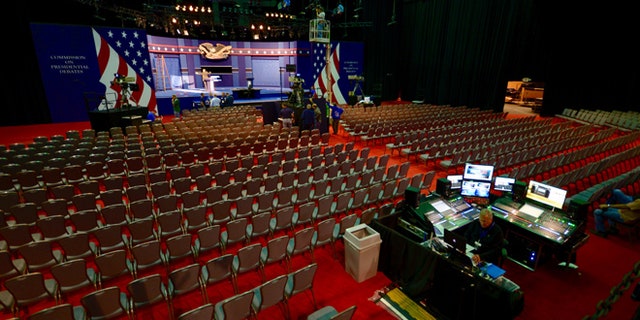 However, the Indiana governor's comments did little to end the debate sideshow.
"It's legitimate to have a business person sitting there who's been advocating for you because of your economic policies," Clinton campaign strategist Joel Benenson told "Fox News Sunday."
Former Obama campaign official Stephanie Cutter later told NBC's "Meet the Press" that Clinton and Trump are "trying to throw each other off their game."
"The difference is that Hillary Clinton is doing it with a legitimate businessman, also a celebrity," she said. "Trump is just jumping right down in the sewer and swimming by inviting Gennifer Flowers."
Clinton, a former New York senator and secretary of state, and Trump, a first-time candidate and reality TV star, are essentially tied with Election Day about six weeks away, according to essentially every major poll.
And their debate preparations are reflective of their paths to success -- with Clinton off the campaign trail to study briefing books at her Westchester, N.Y., home and participate in mock debates
Longtime Clinton aide Philippe Reines, a combative political operative, is purportedly playing Trump in the rehearsals. And President Clinton has sat in on some sessions, offering advice from his own White House debates.
Trump has eschewed traditional debate preparations but has held midflight policy discussions with a rotating cast of advisers. He's also spent numerous Sundays batting around ideas with aides.
He remained on the campaign trail this weekend, with a stop Saturday in southwestern Virginia.
Trump's loose approach is potentially risky, considering he is new to the many policy issues expected to come up during the debate. But advisers contend he will compensate by being quick on his feet and point to his experience at performing under pressure.
"Imagine the practice and the training of 13 years of reality television on 'The Apprentice' and then imagine Hillary's experience reading hundreds of papers," said Newt Gingrich, the former GOP House speaker and a Trump adviser who has been talking through policy with the candidate in recent days.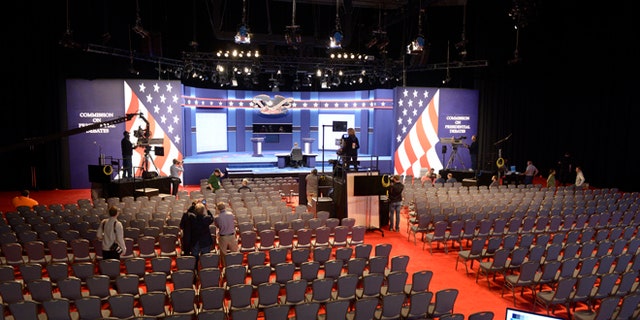 The 90-minute debate in Long Island, N.Y., is expected to attract 75 million viewers -- many of them disenchanted with both candidates, the least-popular presidential hopefuls in history.
On Sunday, Clinton campaign aides express concern about Trump's habit of saying things that might be untrue and voters' general distrust of Clinton.
Robby Mook, Clinton's campaign manager, on ABC's "This Week" called on NBC debate moderator Lester Holt to correct inaccuracies made by the candidates. But Trump's campaign manager, Kellyanne Conway, said it's not the job of debate moderators to fact check.
The Clinton aides also fear Trump will be judged more for his performance than his grasp of the numerous challenges that pass across a president's desk.
Trump will likely need to prove to voters that he has the policy depth and gravitas to serve as commander in chief. Clinton will likely need to connect with Americans who question whether she can be trusted.
Clinton will be the first woman to take the stage in a presidential general election debate.
Trump emerged as the Republican nominee in an improbable primary run in which he gave an overall, solid debate performance amid a huge field of established politicians and debaters.
However, he will not likely be able to resort on Monday to the personal attacks that doomed such primary rivals as GOP Florida Sen. Marco Rubio and former Florida Gov. Jeb Bush.
People familiar with Clinton's preparations say she has been working on addressing possible questions about her lack of trustworthiness, a problem that has dogged her throughout the campaign.
Supporters cringed during a candidate forum earlier this month when Clinton was pressed about her use of a private server system while running the State Department and became defensive, rather than apologizing and trying to move on quickly.
Clinton has debated more than 30 times at the presidential level, including several one-on-one debates with Barack Obama in 2008 and Vermont Sen. Bernie Sanders in 2016.
But this will be her first presidential debate against a candidate from an opposing party.
"It's a lot more comfortable running against people in the other party than it is debating in the primary," said Anita Dunn, who worked on debate preparations with Obama. "The differences don't have to be manufactured. The differences exist."
The Associated Press contributed to this report.