Supreme Court Justices Could Be No-Shows for Obama's State of the Union Address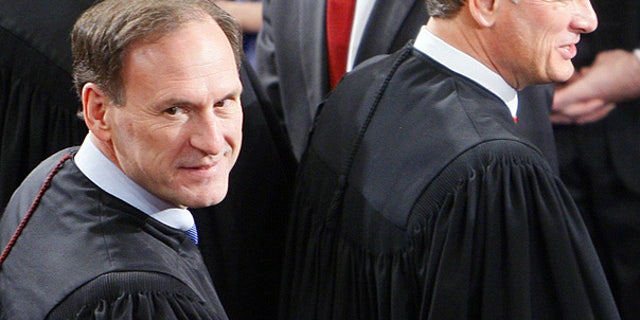 Just one day before President Obama's State of the Union address, it's still not clear whether Chief Justice John Roberts will attend or, like high court colleague Justice Samuel Alito, skip the event.
The recent uptick in collegiality from lawmakers on Capitol Hill in the run-up to Tuesday's speech contrasts sharply with the lingering controversy from last year's speech in which President Obama rebuked the justices over a campaign finance decision. If Roberts decides not to attend, it would be his first absence at a State the Union Speech since joining the court in 2005.
Roberts's decision -- or that of any other justice for that matter -- wouldn't normally be an issue but for the instant uproar that resulted from last year's address and the observations he and some of his colleagues have made over the last 12 months about the celebrated but often hyper-partisan evening.
An official with the University of Hawaii Law School confirms to FOX News that Alito, who was a significant part of the controversy last year, will be with students in Honolulu all week and therefore will not attend Tuesday night's speech. It will be the first time he will not show.
"To the extent the State of the Union has degenerated into a political pep rally, I'm not sure why we're there," Roberts said last March. But the escalated calls for bipartisan civility on Capitol Hill might argue against Roberts sending his regrets.
Another factor that could play into his decision is U.S. District Judge John Roll's murder during the Tucson shooting rampage. Roberts is the highest-ranking member of the federal judiciary and has twice publically noted Roll's death, offering high praise for Roll's service. It will almost certainly be acknowledged by President Obama Tuesday night.
"If I were advising, I would say, 'man up and go,'" said Linda Greenhouse, a former Supreme Court reporter and Knight Journalist in Residence at Yale University.
"Objectively, he's completely correct," she said about Roberts's assertion. Greenhouse noted that justices have for many years expressed concerns about attending the speech. "As Justice Alito learned, to his dismay, you can't react like an ordinary human being without becoming the news."
The controversy from President Obama's 2010 annual message to Congress came in two parts.
First, some people objected to the substance and setting of the president's direct critique of the court's 5-4 ruling in Citizens United v. FEC, a high-profile decision giving corporations and labor unions the right to spend unlimited amounts of money on political speech.
"With all due deference to separation of powers, last week the Supreme Court reversed a century of law that I believe will open the floodgates for special interests -- including foreign corporations -- to spend without limit in our elections," Obama said with six members of the court, including Roberts and Alito, seated just a few feet in front of him. "I don't think American elections should be bankrolled by America's most powerful interests, or worse, by foreign entities."
It was Alito's reaction to the president's remarks, caught on camera, that fueled the resulting firestorm. He shook his head and appeared to mouth the words "not true" as the Democrats in the House chamber cheered.
"For many years the more senior members of the Supreme Court, Justice [John Paul] Stevens before he retired, Justice [Antonin] Scalia, stopped the practice of attending State of the Union addresses because they have become very political events and very awkward for the justices," Alito told a group at the Manhattan Institute in October. "We have to sit there like the proverbial potted plant most of the time. And we're not allowed to applaud--and those of us who are more disciplined refrain from manifesting any emotion or opinion whatsoever."
Indeed, the State of the Union has often produced the odd visual juxtaposition of a House chamber full of lawmakers standing and applauding while the justices remain seated and expressionless.
"I don't go because it has become so partisan," Justice Clarence Thomas said to students in Florida last year just days after the State of the Union speech, which he did not attend. "And it's very uncomfortable for a judge to sit there. There's a lot that you don't hear on TV: the catcalls, the whooping and hollering and under-the-breath comments. One of the consequences is now the court becomes part of the conversation, if you want to call it that, in the speeches. It's just an example of why I don't go."
Scalia was even more stinging in his critique.
"It is a juvenile spectacle, and I resent being called upon to give it dignity, Justice Scalia told the Federalist Society in November. "It's really not appropriate for the justices to be there."
But the court is hardly unanimous on the matter. Justice Stephen Breyer has only missed one State of the Union address since joining the court in 1994. He recently told "FOX News Sunday" host Chris Wallace that he'll be there again Tuesday night.
"I think it's very, very, very important -- very important -- for us to show up at that State of the Union, because people today, as you know, are more and more visual," Breyer said. "I'd like them to read, but they are visual. And what they see in front of them in that State of the Union is the federal government, every part -- the president, the Congress, the cabinet, the military, and I would like them to see the judges, too, because federal judges are also part of that government. And I want to be there."
When asked about Roberts's concern about silent justices being surrounded by raucous politicians Breyer, a former Senate staffer said, "that's his opinion. He says what he thinks. And I say what I think. And what I think is what I said. I'll be there next year."
University of Richmond law professor Carl Tobias says Breyer has a "peculiar fascination" with the interaction of the government's branches. Last week Breyer spoke to a bipartisan group of members and staff from the House Judiciary Committee about how to better work with each other. The visit was organized by Chairman Lamar Smith, R-Texas.
"I like Democrats on the committee personally, but I think there are ways for us to find common ground despite the strong feelings on a lot of issues," Smith told a reporter for The Hill newspaper. A committee spokeswoman said Breyer's appearance was well-received but refused to comment when asked if Smith thought the justices should attend Tuesday night's speech.
As of late Friday, a court spokeswoman couldn't confirm the attendance plans for any of the justices. There is no requirement for any of the justices to attend, and none attended in 2000.
"Given what the chief said about Judge Roll, he may be obligated to be there," Tobias observed.