Strzok-Page texts reveal frustration, scramble after Comey firing: 'DYING down here'
Newly recovered text messages exchanged by anti-Trump FBI officials Peter Strzok and Lisa Page reveal their shock and frustration in the wake of James Comey's May 2017 firing, as they privately fumed over the news and scrambled to react.
The messages were transmitted to congressional committees late Thursday by the Justice Department, after the inspector general announced that his office had recovered previously missing communications over the critical period between Dec. 14, 2016 and May 17, 2017. This covered Comey's firing and the appointment of Special Counsel Robert Mueller.
On the day President Trump fired his FBI director, Strzok and Page exchanged a flurry of messages.
"Ack dammit I'm DYING down here," Strzok wrote, inviting Page to talk and suggesting she go to a lunch with a person whose name is redacted. "Now more than ever this is an important, critical, time."
Moments before, Strzok also wrote, "And we need to open the case we've been waiting on now while Andy is acting."
It is unclear what "case" Strzok was referring to, but the text suggested he wanted to act while former Deputy FBI Director Andrew McCabe was still in charge post-Comey.
Page replied: "We need to lock in [redacted]. In a formal chargeable way. Soon."
Over the next several days, the texts show the two rallying behind Comey.
"Are you watching this s*t?!?? Call me when you're off…" Strzok texted. "... [Sarah Huckabee Sanders] said D [Director Comey] had 'lost confidence of rank and file of fbi.'"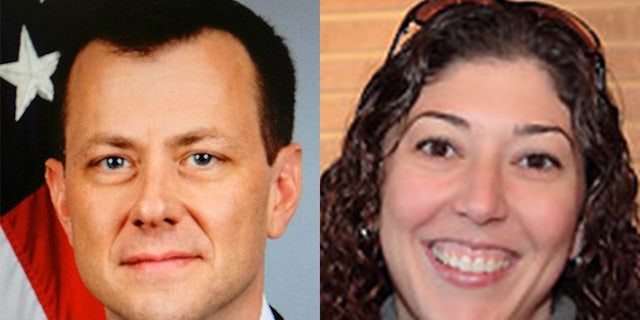 Days later, Strzok and Page exchanged texts that they were feeling a "sense of loss."
"Having a tough time processing tonight, Lis. Feeling a profound sense of loss," Strzok wrote.
"I feel that same loss. I want to see what the FBI could become under him! His vision of greatness for our strong but flawed organization. I'm angry. Angry and mourning," Page replied. "We will endure, we just won't be as good."
"Yeah I keep telling myself the organization is much bigger and stronger than any one person, that we'll endure," Strzok wrote. "But that didn't seem to help."
On May 17, 2017, the day Deputy Attorney General Rod Rosenstein appointed Robert Mueller as special counsel to investigate Russian meddling and potential collusion with Trump campaign associates, Strzok texted Page notifying her.
"News announcing Mueller," he wrote. "You could go work with Aaron for him…you heard it from me first…;) And you go to Wilmer when it's done."
There are two "Aaron"s on the special counsel team – Aaron Zebley and Aaron Zelinsky. But the message may have been referring to Zebely, a former partner at law firm WilmerHale and former chief of staff to Mueller when he served as FBI director.
"We've got one hell of a team going…" Page wrote to Strzok.
"Yes we do," Strzok replied.
The following day, Strzok told Page he talked to Zebley "in the context of getting [redacted] under Mueller's authority, not the team."
Strzok and Page both joined Mueller's team in 2017.
A spokesman for Mueller told Fox News in July that Page was only on staff for a 45-day detail and, upon concluding work, returned to the FBI's Office of the General Counsel.
Strzok was removed from Mueller's team in August, following revelations that Strzok and Page were romantically involved and exchanged politically charged texts.
"Immediately upon learning of the allegations, the Special Counsel's Office removed Peter Strzok from the investigation. Lisa Page completed her brief detail and had returned to the FBI weeks before our office was aware of the allegations," a spokesman for Mueller told Fox News in an email in December.
Strzok currently serves in the FBI's human resources division.