Steele Faces Growing Calls to Resign Despite Moves to Quell Uproar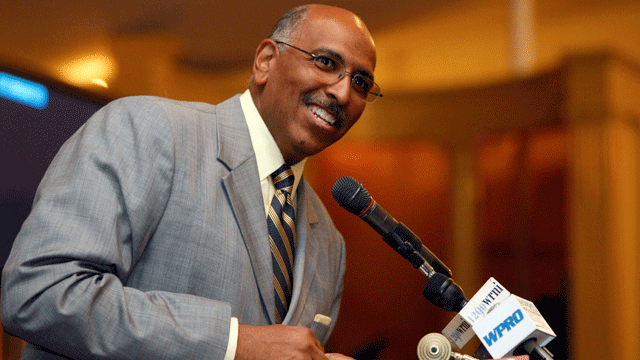 Republican National Committee Chairman Michael Steele is under increasing pressure from within his own party to step down for saying the nine-year old U.S. military conflict in Afghanistan is a "war of Obama's choosing" that history suggests is "probably a lost cause."
Steele has tried to quell the growing uproar by issuing a statement and sending an e-mail to the 162 members of the national committee stressing his support of U.S. troops.
But that hasn't stopped the criticism that continued to swell Saturday.
"It will take more than an e-mail to 162 people," said Fox News contributor Karl Rove, who was a senior adviser to President George. W. Bush when he launched the war in response to the terror attacks of Sept. 11, 2001. "He's going to have to take the public stage and take his licking there and say he misspoke."
"It was not a war of our choosing, it was a war of the Al Qaeda and Taliban's choosing when Al Qaeda came to our shores on 9/11, launching attacks from bases inside Afghanistan and his e-mail last night shows that he understands that," Rove said, who called Steele's comments "knuckleheaded." "I guess his mouth got ahead of his brain for awhile but an e-mail to 162 members of the national committee is not going to still his critics."
But Rove didn't go as far as other prominent conservatives, including Liz Cheney and Bill Kristol, who are calling on Steele to resign.
"Everyone makes mistakes, but Mr. Steele has failed at virtually all of the tasks expected of him," Christian Whiton, a State Department official in the Bush administration, wrote in an opinion article for FoxNews.com. "He is gaffe prone, off message, and has repelled rather than attracted RNC donors."
"His comments on Afghanistan, reminiscent of isolationists who called World War II 'Mr. Roosevelt's war,' and who were kept out of office by voters as a result, ought to be the last straw," he wrote.
Rep. Duncan Hunter, R-Calif., a Marine combat veteran of the wars in Iraq and Afghanistan, said Steele's "irresponsible comments show him to be completely out of touch with the majority of the Republican Party."
"Time and again, Steele has demonstrated this disconnect," he said Saturday in a written statement. "His comments were not only tactless, but showed an unfortunate level of ignorance on such a significant national security issue."
Hunter added that Steele's comments were "as wrong as it is a disservice to our military men and women."
In remarks captured Thursday on camera and posted online, Steele criticized President Obama and his handling of the Afghan war and suggested the war cannot be won.
"This was a war of Obama's choosing," Steele said. "This is not something United States had actively prosecuted or wanted to engage in."
"It was [Obama] who was trying to be cute by half by flipping a script demonizing Iraq, while saying the battle really should be in Afghanistan."
"If he's such a student of history, has he not understood that, you know, that's the one thing you don't do is engage in a land war in Afghanistan? All right? Because everyone who's tried, over a thousand years of history, has failed," Steele said. "And there are reasons for that. There are other ways to engage in Afghanistan."
The United States and allies overthrew Afghanistan's Taliban government after the 9/11 attacks on New York and Washington. The war lagged as the United States shifted its focus to Iraq, but Obama shifted the focus to Afghanistan and planned to send 30,000 more troops to the country.
Kristol, writing for The Weekly Standard, was among the first to say Steele should resign.
"There are, of course, those who think we should pull out of Afghanistan, and they're certainly entitled to make their case," wrote Kristol, a consistent supporter of the Afghanistan war. "But one of them shouldn't be the chairman of the Republican Party."
Liz Cheney, daughter of former Vice President Dick Cheney, called on Steele to resign, telling Politico in a statement that Steele's comments were "deeply disappointing and wrong."
"I endorse fully Bill Kristol's letter to Chairman Steele," she said. "It is time for Chairman Steele to step down."
Dan Senor, who was an adviser to Bush and the provisional governments in Iraq, said that Steele was wrong to combine politics with foreign policy and that he would no longer attend a scheduled foreign policy event with Republican donors in coming weeks.
"I think as far as Republican and conservative foreign policy experts and advisers, I don't see how they can be associated with the RNC or with Steele in any meaningful way after he says something like this," said Senor, who weighed a U.S. Senate run from New York state.
Looking to mitigate the political fallout, Steele issued a statement saying, "There is no question that America must win the war on terror. ... And, for the sake of the security of the free world, our country must give our troops the support necessary to win this war."
He said, "The stakes are too high for us to accept anything but success in Afghanistan."
He also sent an e-mail to RNC members that included the statement.
"For the sake of our brave troops and their families who have sacrificed so much, it is important to me to clarify my words," he wrote, adding that he hoped his statement "might clear up any confusion that my original remarks may have caused."
Steele's ill-advised comments came as Obama's new chief in Afghanistan, Gen. David Petraeus, arrived in the country Friday to take over the war. Obama last week dismissed his previous commander, Gen. Stanley McChrystal, because of disparaging remarks he and his aides made about administration officials in an interview with Rolling Stone magazine.
Steele called the dismissal "very comical" but said it shows the frustration members of the military have with Obama.
Erick Erickson, the editor of the popular conservative website RedState.com, also called for Steele's ouster.
"He has lost all moral authority to lead the GOP," Erickson said.
Democrats, who earlier in the week pounced when House Republican leader John Boehner of Ohio compared Democrats' efforts at Wall Street overhaul to using a nuclear weapon to deal with an anthill, were clearly in election-year mode. Every time a conservative figure questioned Steele, Democratic operatives highlighted the division to reporters.
"Chairman Steele is the gift that keeps on giving for Democrats. So we'd like him to stay with no ifs ands or buts," Pennsylvania Gov. Ed Rendell, a Democrat, told Fox News, adding that the comments were "stupid."
"But they are symptomatic, in my mind, of the Republicans trying to blame President Obama for everything," he said, arguing that there are Republicans who blame Obama for the Wall Street bailout two years ago that was initiated by then-President Bush.
"And it's very bad for the country," he said.
Democratic National Committee spokesman Brad Woodhouse said it was "simply unconscionable that Michael Steele would undermine the morale of our troops when what they need is our support and encouragement. Michael Steele would do well to remember that we are not in Afghanistan by our own choosing, that we were attacked and that his words have consequences."
Steele has been prone to gaffes that have enraged congressional Republicans. In the last year, he predicted the GOP won't win House control this fall. He also drew ire when he criticized fellow Republicans in a book that party leaders didn't know he was writing until it was published. His GOP critics were irked further when he told them to "get a life" and "shut up."
Earlier this year, his oversight of the RNC was called into question because of lavish spending, including money to entertain donors at a lesbian-themed bondage club in Los Angeles. That incident led to the departure of a key Steele adviser, the party's finance chief and the top committee staffer.
The Associated Press contributed to this report.