State Dept. pledges $1M to aid U.S.-bound Cuban migrants stranded in Costa Rica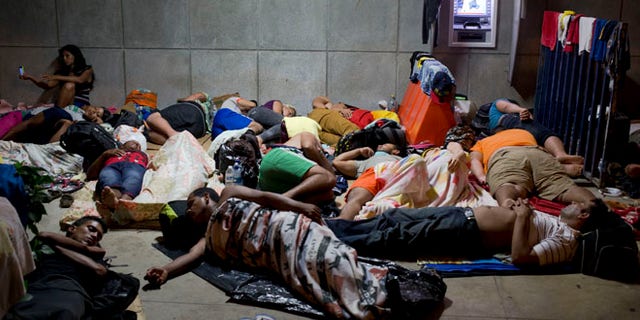 NEWYou can now listen to Fox News articles!
The United States has pledged $1 million to help Costa Rica house Cuban migrants that are illegally trying to make their way to the U.S.
Critics say this is yet another example of how the United States treats Cubans fleeing their homeland far differently than it does others wanting to reach these shores.
The U.S. has pledged thousands of dollars to help provide temporary shelter, potable water and sanitation and hygiene kits to Cubans who fled the island and, during their trek to the U.S., became stranded in Costa Rica, according to a report in New York Times.
Thousands of Cubans have trying to migrate to the United States in larger numbers since the thawing of relations between the U.S. and their homeland, but as they get stuck in third nations on their way here, providing food and shelter is getting expensive.
Costa Rica, for example, has been struggling to accommodate thousands of Cubans who have been stranded there on their way to the U.S. border. Costa Rica has received some 8,000 Cubans and Panama 3,000 after Nicaragua began to crack down on Cubans passing through on their way to the United States.
Costa Rica has opened nearly 30 shelters in many public buildings, including fire houses and schools, to hold the Cubans, of whom 2,000 are currently in that nation hoping to reach the United States.
And the U.S. has said it would help the country with resources needed for the Cuban migrants, the Times reported.
"We expect this particular contribution to be a one-time contribution," the Times quoted the U.S. State Department as saying in a statement, "and the final amount that will actually be provided to (the International Organization for Migration, or I.O.M.) will depend upon needs on the ground, given that the number of vulnerable migrants in need of immediate humanitarian aid in Costa Rica fluctuates."
Critics tell Fox News Latino this is just another reason that the U.S. needs to end the Cuban Adjustment Act, which allows Cubans to remain in the country if they reach U.S. soil. They say that once the preferential treatment to Cubans ends, they will stop trying to flee their country.
"If not for the outdated policy that guarantees them the right to remain in the U.S. as soon as they plant their feet on U.S. soil, there would be far less incentive for them to transit through Central America on their way to Texas," said Ira Mehlman, the media director of the Federation for American Immigration Reform, or FAIR, a Washington D.C.-based group that pushes for strict immigration enforcement. "The fact that the United States is now contributing indirectly, in the form of food and shelter assistance, to their efforts to migrate illegally to this country further incentivizes large-scale migration from Cuba."
But those who defend the treatment that Cubans fleeing to the United States receive say they are indeed fleeing a nation that violates human rights and that as such the migrants must not be lumped together with those who seeking better economic opportunities.
Remberto Perez, the vice president of the Cuban American National Foundation, which was founded by Cuban exiles and favors democratic reform in Cuba, said the Cuban American community has been helping their compatriots in Cuba and those who are in limbo in third countries.
"Cubans in Costa Rica are also being helped from the Cuban-American community, not only the U.S. government," Perez said to Fox News Latino. "One of the things I'm proudest of is that Cuban Americans have never forgotten their brothers and sisters in Cuba."
The stream of Cubans fleeing their island nation has grown since the United States and Cuba restored diplomatic relations. Many have fled, fearing that the U.S. policies that long have favored them will come to an end.
The Times said that the State Department maintained that its donation was not unlike other efforts to help migrants around Central America.
The United States has spent hundreds of millions of dollars in Central America to deal with the many migrants in that region.
"It's a double standard for sure," said Kevin Appleby, the international migration policy director at the Center for Migration Studies in New York, according to the Times. "We are not doing that for the Central American children who are more vulnerable. We are not paying for their shelters in Mexico."
Like us on Facebook
Follow us on Twitter & Instagram