Spending large sums in state labor battles adds to unions' problem of losing members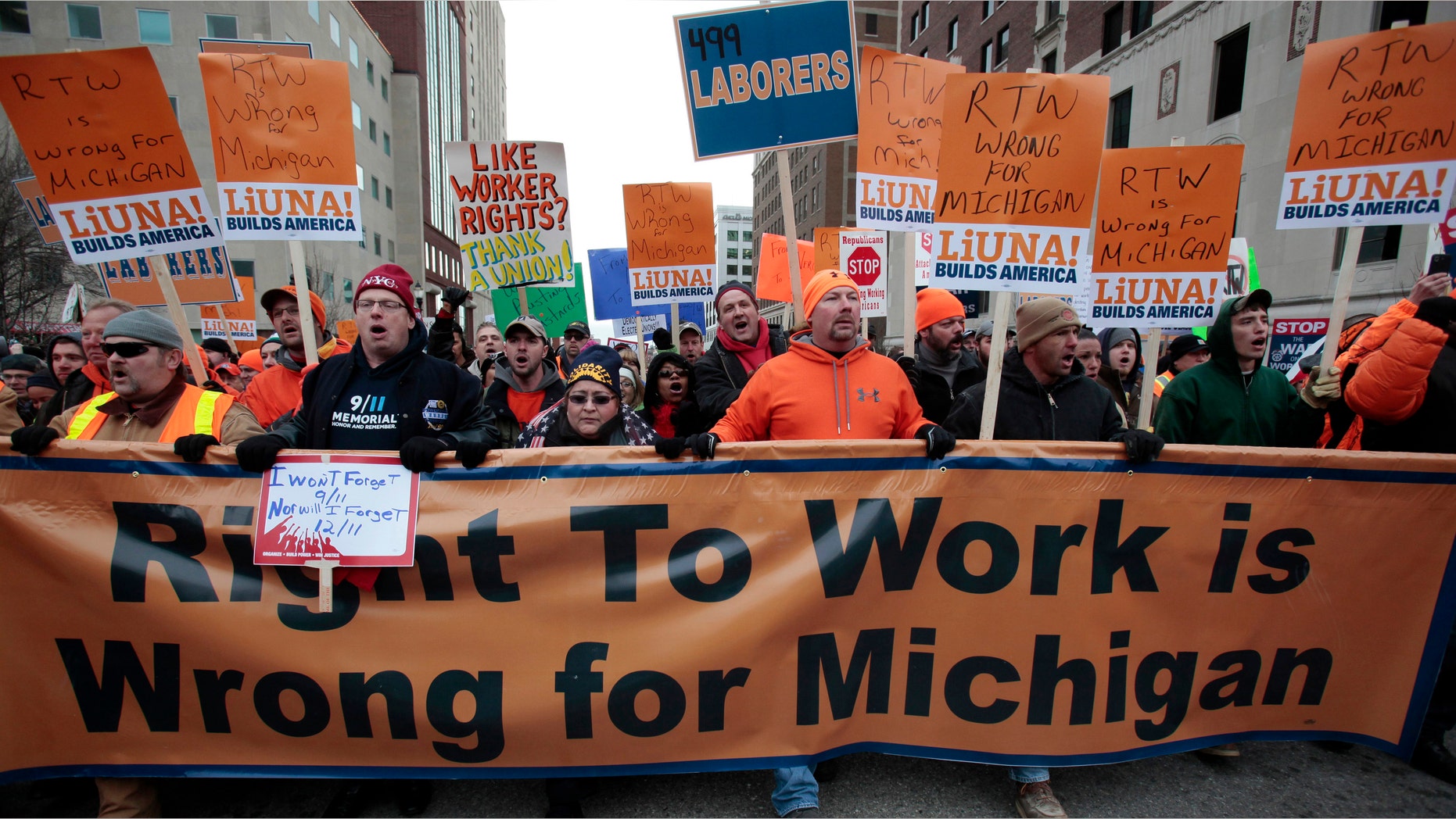 U.S. labor unions dealing with a steady decline in membership are now faced with the additional challenge of having to spend millions to fight Republican-backed, anti-union efforts.
The unions remain politically powerful, having helped President Obama this year win such swing states as Ohio, Nevada and Wisconsin. But their declining membership rolls also is no secret.
Unions represented roughly 30 percent of the country's workforce in the early 1980s, when the federal government started tracking those numbers, but they now represent 11.8 percent.
The declining numbers are in part the result of the country's shrinking manufacturing sector, but the situation has been compounded by recent efforts in Michigan and Wisconsin to limit unions' power.
Unions had already spent roughly $22 million in Michigan on a failed November ballot issue regarding collective bargaining, before Republican Gov. Rick Snyder signed legislation this month that stops unions from making workers pay dues or representation fees to keep their jobs.
The law makes Michigan the 24th so-called "right to work" state.
They also spent more than $20 million in Wisconsin to remove Republican Gov. Scott Walker this year in a recall election after he signed 2011 legislation stripping most public employees of much of their collective-bargaining power, but Walker still won that election.
The unions also spent roughly $24 million last year in Ohio to overturn an anti-union measure.
But unions spent more in California this year to defeat a ballot measure that would curb dues collection than they did total on political efforts in Michigan, Ohio and Wisconsin.
James Sherk, a labor expert with the conservative Heritage Foundation think tank, estimates Michigan unions, including United Auto Workers, will lose an additional $100 million annually as a result of the changes and members leaving.
Workers have already "left unions in droves in Wisconsin, Idaho and Oklahoma," he said.
The anti-union successes in the Midwest have fiscal conservatives thinking  they can make similar strides in other parts of the country.
Mark Mix, president of the National Right to Work Committee, said his group now is eyeing Alaska, Missouri, Montana and Pennsylvania.
So far, the costly battles have produced mixed results for organized labor.
"Clearly, this is a strategy by the ultraconservatives to make us spend our resources, but we have no choice," said Lee Saunders, president of the American Federation of State, County and Municipal Employees, the nation's largest public employees union.
Unions' best efforts to gain new members, collect more dues and perhaps try to defeat Snyder and Walker in 2014 might be in attracting service employees, which includes many Hispanics and other immigrants.
In Las Vegas, Culinary Workers Local 226, is a fast-growing union of hotel and casino employees in right-to-work Nevada.
More than 90 percent of the union's 60,000 predominantly immigrant workers opt to be dues-paying members.
"National unions need to look at what some of the folks out here have done," said Billy Vassiliadis, former chairman of the state Democratic Party.
Still, the percentage of Nevada workers who belong to unions is down to 14.6 percent from its 1996 peak of 20 percent. And critics say workers have joined such unions in large part because the resort industry doesn't have the option of outsourcing its labor overseas.
The Associated Press contributed to this report.