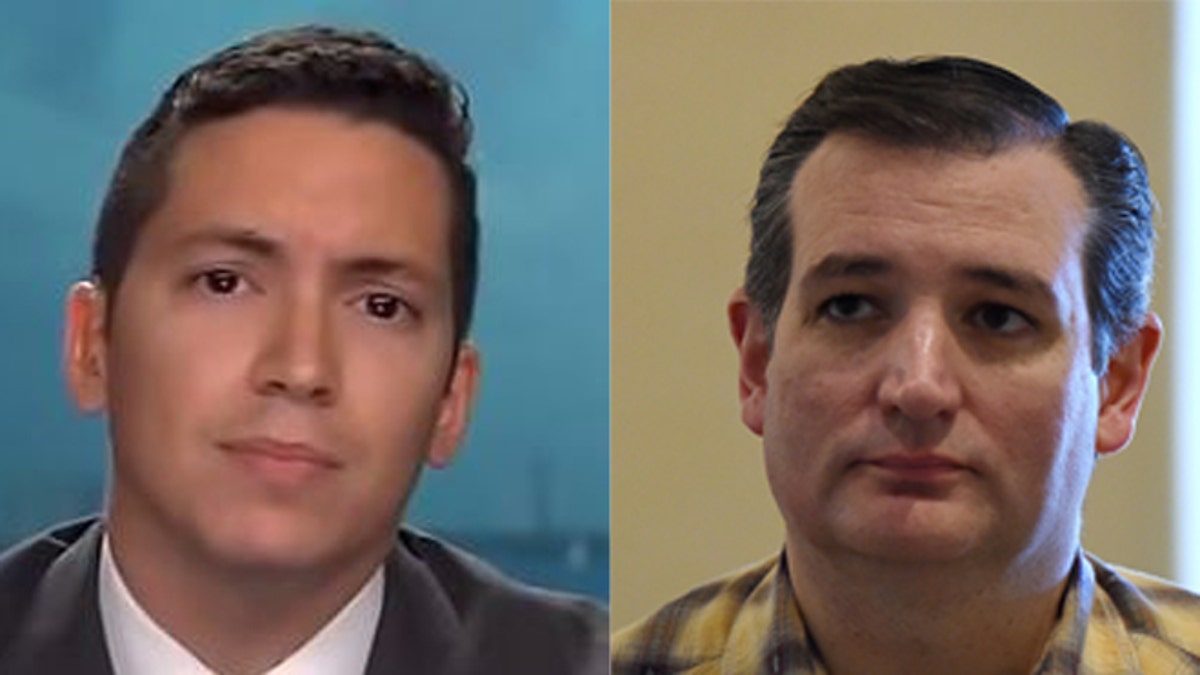 The eyes of most political observers are focused on Iowa and New Hampshire, but a nasty dogfight within the ranks of the GOP is taking place far away, in sunny South Florida, and it could expose how political endorsements are made and rewarded.
The Republican Party of Miami-Dade County in South Florida has made headlines in the last week because its vice chairman, Manny Roman, penned a piece for the Miami Herald endorsing Texas Sen. Ted Cruz for president. That prompted swift calls from others in the party to remove him from his post, which were followed by assertions from Roman that he wouldn't have faced any backlash if he had endorsed one of local candidates, Florida Sen. Marco Rubio or former Gov. Jeb Bush.
One of Roman's fiercest critics has been Miami-Dade party chairman Nelson Diaz, who says the vice chair violated its by-laws and that his fate will be decided during a meeting on Thursday night.
"What Manny is doing is like throwing a grenade into a crowded room, and then blaming others when it blows up," Diaz told Fox News Latino.
Diaz, who served as chief legislative aide to Rubio when the senator was Florida's Speaker of the House, has been the main target of Roman's accusations that the Miami-Dade GOP tacitly supports the candidates from the Sunshine State. The Miami-Dade Republican party chair was photographed by a conservative blogger in January of last year with a "Marco Rubio for President" pin on his suit jacket.
"Nelson supports Marco Rubio, and that is a well-known fact around here," Roman told FNL. "It's a double standard, because the backlash only comes when you don't support one of their two guys."
Despite the allegations from a number of party members that he broke the by-laws, Roman – who is also currently the Cruz campaign's Miami-Dade County chairman – argues that he did nothing wrong in endorsing the Texas senator, and that it does not reflect the view of the Miami-Dade Republican Party.
"I'm not going to be intimated by the political class," Roman said. "I didn't break any rules except the unspoken one that I didn't support Rubio or Bush."
He added: "The political establishment is especially fearful of Ted Cruz."
Roman has received the support of the Republican Liberty Caucus of Florida, whose chairman, Bob White, argues the Miami-Dade GOP is being hypocritical. Joe Gruters, chairman of the Sarasota County Republican Executive Committee, has not been removed from his post even though he is concurrently chairman for Donald Trump's Florida presidential campaign.
"If Manny Roman is forced out in Dade County, shouldn't Joe Gruters be forced out of his leadership position?" Bob White wrote to the state's GOP chairman, according to Florida Politics. "What about the hundreds if not thousands of Republican Executive Committee members around the state that are actively involved in the campaigns of various candidates for president? Should they all be expected to resign or be forced out of their party leadership positions? Of course not!"
Whether or not Roman broke the rules of the Miami-Dade Republican Party is very hazy, political analysts say, because personal endorsements by party officials exist in a gray space in the world of presidential elections.
Diaz said that while he encourages people in the party to get involved in campaigns, Roman crossed the line because he endorsed Cruz under the guise of his position as vice chair. Roman, however, counters by pointing out that in the Miami Herald endorsement, he identified himself only as a Republican activist.
"Many people – in both parties – support one candidate or another," Evelyn Pérez-Verdia, an analyst at Political Pasión, told FNL. "Perception is everything, and at the end of the day if you put yourself in a position when you're perceived as supporting a particular candidate, then you should resign."
The infighting within the Miami-Dade GOP has greater consequences than whether Roman his vice-chairmanship or not. Florida – a winner take-all state whose primary is held on March 15 – looks to be a battleground state, according to recent polling data.
Once viewed as a mano-a-mano fight between Rubio and Bush, the most recent survey of Florida polls by Real Clear Politics has Cruz pulling in just over 17 percent of the vote in the Sunshine State, compared to around 16 percent for Rubio and only 10 percent for Bush. Billionaire businessman Donald Trump still leads with 34 percent.
Despite the divide currently engulfing the Miami-Dade Republican party, Diaz said that whoever is ultimately chosen this summer in Cleveland to be the GOP's presidential nominee, the party in Florida will support that candidate
"Sure, there are a lot of people with Jeb or Marco down here because they personally know them, but I have no problem with Ted Cruz," Diaz said. "All the Republican candidates are better than Hillary Clinton."