Some 'Sanctuary Cities' Fight Arizona's New Immigration Law Without Offering Sanctuary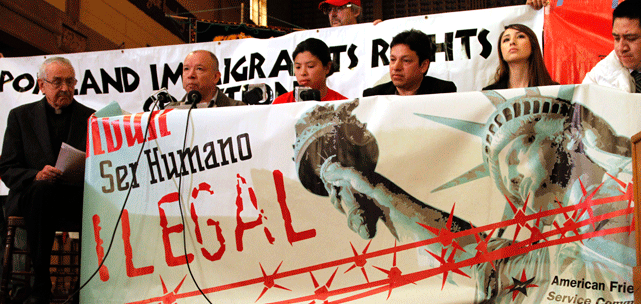 They may call themselves "sanctuary cities," but very few of them are offering sanctuary to the illegal immigrants in Arizona who now face possible arrest and deportation.
As San Francisco and other "sanctuary cities" declare war on Arizona over its new law cracking down on illegal immigrants, most state and local governments that provide a safe haven to undocumented workers refused to publicly roll out a welcome mat for the estimated 440,000 illegals in the Grand Canyon state.
Several mid-size cities and states with policies that seek to protect undocumented workers either declined to comment to FoxNews.com on whether it would accept Arizona's illegal immigrants or said the possibility had not been considered.
"We don't have any actions planned," said Jillian Schoene, a spokeswoman for Oregon Gov. Ted Kulongoski. "If I have a chance to take this up with the governor, I'll call you back."
Schoene didn't call FoxNews.com back.
Bill Begley, a spokesman for Mayor Mike Moncrief of Fort Worth, Texas, told FoxNews.com that he couldn't comment on whether the city, with its population of more than 700,000, would take in any of Arizona's illegal immigrants.
"We'd have to sit down about any overt offer that would address that issue," he said. "That's not something I can talk about off the top of my head."
Immigration reform has recaptured the national spotlight after Arizona passed its tough immigration enforcement law last week. The law will allow police to question anyone about their immigration status if there is reason to suspect they are in the country illegally, and the law makes it a state crime if they are.
The law takes effect in late July or early August, 90 days after the Arizona Legislature adjourns.
Critics of the law say it is unconstitutional and unfair because it promotes racial profiling.
Some "sanctuary cities" – where undocumented workers who don't commit crimes can live without fear of exposure or detainment because police don't check for immigration papers -- have fired back at Arizona.
San Francisco has banned all non-essential travel for city workers. And the city's board of supervisors has taken the first step toward an economic boycott, banning all contracts, purchasing and conferences with Arizona.
"We as San Franciscans need to send a very clear message that this kind of discriminatory law is not going to be tolerated," San Francisco Supervisor David Campos told Fox News.
Sanctions have also been proposed by city leaders in Los Angeles and by a prominent lawmaker in Sacramento to end state contracts until the Arizona law is repealed.
City leaders in San Francisco, where there are more than 800,000 residents, could not be reached for comment.
Other cities and states that provide safe havens to illegal immigrants have called on the federal government to overhaul the immigration system as they evaded questions on whether they would absorb Arizona's undocumented population.
"Congress needs to step up to the plate," said Chris Ramirez, a spokesman for Albuquerque Mayor Richard Berry, who noted that Berry has publicly stated the Arizona law is a cry for the federal government to step in.
But when asked if Albuquerque, the largest city in New Mexico with more than 500,000 residents, would step up to the plate, Ramirez said: "Truthfully, those sorts of conversations at the mayor's level have not happened yet."
Ramirez said New Mexico Gov. Bill Richardson would have to address any mass exodus of undocumented workers to the state.
"We don't have the foresight to know what that would mean for our city," he said.
When pressed on whether that meant the city was willing to take the illegals in, Ramirez said, "We're not ready to make a statement like that."
He added, "It's not a matter of whether we're ready to take them in or put a giant wall around the city. We're not in a position at this point to have a public comment or statement on how we think this is going to affect us or our residents."
Fox News' Claudia Cowan and FoxNews.com's Stephen Clark contributed to this report.