Shutdown Looms Without Further Meeting Between White House, Congress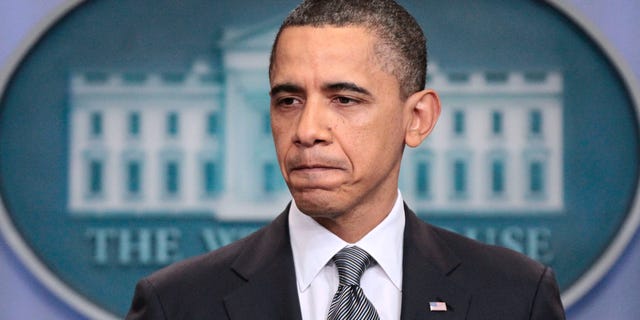 The impasse between the White House and Congress increasingly looks like it will force the government to shut down by the weekend, with a spending summit yielding no deal on Tuesday.
President Obama said he would like to meet with congressional leaders every day until the stalemate over funding the government for the rest of the fiscal year is solved, but as of Tuesday evening no additional meetings were on the calendar.
"Myself, Joe Biden, my team -- we are prepared to meet for as long as possible to this resolved," a visibly frustrated Obama said during a surprise appearance at the White House briefing room.
The Tuesday summit with the president, House Speaker John Boehner and Senate Majority leader Harry Reid seemed only to aggravate the two sides, and a followup meeting between the two congressional leaders didn't seem to make any progress of funding the government through Sept. 30.
Despite the stalemate, the key players say a federal shutdown is not the goal.
It wasn't clear whether Obama would even be available to talk with congressional leaders Wednesday. The president had planned to travel to Pennsylvania and Israeli President Shimon Peres is on Capitol Hill, so the window of time would be tight for a meeting.
Capitol Hill staff continued to meet into the night Tuesday, a senior administration official told Fox News. "We'll see how they progress, and if there's a need to meet at the White House, then that's something we'll announce in the a.m.," the official said.
The government already is operating on a two-week, stopgap spending measure because Republicans and Democrats couldn't agree on a long-term bill. And the current measure is only the latest in a series of stopgap spending measures dating back to last year, when Congress was in the middle of midterm election campaigning.
Obama suggested Tuesday that he had no interest in signing another short-term measure just to keep the debate going.
"We've already done that twice," Obama said. "That is not a way to run a government. "I can't have our agencies making plans based on two-week budgets."
Obama said that Democrats have agreed with Republicans on how much to cut from the budget and that he won't accept another temporary spending bill that House Republicans are rallying behind to keep the lights on for another week.
Obama said both sides are closer than ever to a deal and that politics shouldn't stand in the way of preventing a shutdown that would harm the economic recovery.
"There is no reason why we should not get an agreement," Obama said. "At a time when the economy is just beginning to grow, the last thing we need is a disruption that's caused by a government shutdown."
In a statement following the private White House meeting earlier Tuesday, Boehner had said there was no deal. And he warned that House Republicans "will not be put in a box" of accepting options they refuse to endorse.
Boehner has proposed an agreement that would keep the government running for one more week and slash another $12 billion in spending. The GOP-led House has already passed a pair of stopgap bills, so far cutting $10 billion from an estimated $1.2 trillion budget to fund the day-to-day operations of government through Sept. 30.
Obama said he would only accept another short-term funding extension, of two or three days, in order to get a longer-term deal through Congress. But he ruled out a longer extension to allow negotiations to continue.
"What we are not going to do is once again put off something that should have been done months ago," the president said.
Republicans are already pointing their fingers at the White House for not considering another temporary spending bill.
"The White House has increased the likelihood of a shutdown," House Majority Leader Eric Cantor said.
The extension was a backup that Boehner would only "break glass" on if he had to, and senior budget negotiators say they weren't sure it had the votes to pass even if it were accepted by Democrats.
Tea Party-backed freshmen lawmakers said they will support the new resolution, particularly since it is attached to a Defense spending bill.
But a spokesman for House Democratic leader Nancy Pelosi, D-Calif., called the new resolution "irresponsible and unacceptable."
Minority Whip Steny Hoyer, D-Md., said he will oppose the one-week resolution and added that he hopes other Democrats will follow his lead. Hoyer, who has voted for previous temporary spending bills, said they are "ineffective, inefficient and costly."
Sen. Ben Nelson, D-Neb., also said he wouldn't support another short-term extension.
"The can has been kicked down the road long enough," he said in a statement. "It is time to stop playing political games and finish the job that the American public is paying us to do."
Treasury Secretary Timothy Geithner told a Senate legislative committee Tuesday that forcing the government to live week-by-week this far into the fiscal year risks undermining the economic recovery under way.
The last-ditch deal -- which had been drawn up because the House needs to allow a three-day buffer before considering a longer-term budget, pushing back a vote beyond Friday night's deadline for a shutdown -- includes $12 billion in cuts from an array of places and a funding plan to provide for the Pentagon through the end of the fiscal year ending Sept. 30.
Most every department of the government would face some kind of cut from prior spending levels, including military construction, high speed rail corridor funding, first responder grants, foreign assistance accounts and hospital readiness grants.
Other "riders" are not as high-profile as earlier proposals to cut government aid to Planned Parenthood or de-fund the health care overhaul, but would include a ban on federal and local money from paying for abortions in the District of Columbia, prohibition from transferring Guantanamo detainees to the United States and a requirement that the secretary of defense certify the transfer of a detainee to another country that would not put the U.S. at risk.
Stopgap measures, though, have become increasingly unpopular in Congress, particularly among House conservatives, and Republicans could have to look to moderate Blue Dog Democrats to help pick up votes. At the same time, congressional leaders were at the White House trying to work out a deal to fund the government for the rest of the year.
As negotiations continue, the administration is preparing for a possible government shutdown.
A top official at the White House Office of Management and Budget has written a memo to agency heads directing them to review and share their contingency plans for a shutdown.
The Committee on House Administration also sent out a memo instructing employers in the House of Representatives to determine which "essential personnel" should keep working should funding lapse. The only House employees allowed to keep working would be those whose jobs are "directly related to constitutional responsibilities, related to the protection of human life, or related to the protection of property."
Fox News' Trish Turner and Chad Pergram contributed to this report.