Sessions Urges Holder to Suspend Gitmo Detainee Transfers to Saudi Arabia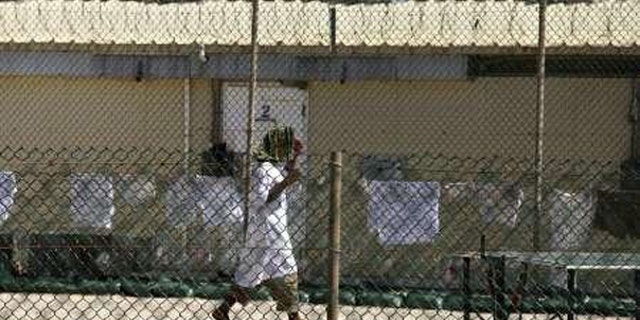 NEWYou can now listen to Fox News articles!
A senior Republican senator is demanding Attorney General Eric Holder suspend transfers of Guantanamo Bay detainees to Saudi Arabia until the "failures" of that kingdom's so-called rehabilitation program are addressed.
Sen. Jeff Sessions, R-Ala., ranking Republican on the Senate Judiciary Committee, wrote in a letter to the attorney general on Wednesday that 11 of Saudi Arabia's 85 most wanted terrorists are "graduates" of the country's rehab program, including some high-profile names.
"The list of failed participants in the Saudi program reads like a 'who's who' of Al Qaeda terrorists on the Arabian Peninsula," Sessions wrote.
Sessions listed among the terrorists who have either graduated or escaped from the program to resume terrorist activities: Said Ali al Shiri, the deputy leader of Al Qaeda in Yemen; Ibrahim Suleiman al Rubaish, Al Qaeda's theological leader in the Arabian Peninsula; Abu Hareth Muhammed al-Awfi and Yousef Mohammed al Shihri, who was shot in October trying to pass through a Saudi security checkpoint wearing an explosives belt under women's clothing.
Sessions' office notes that about 120 detainees, many of neighboring Yemeni descent, have been sent to Saudi Arabia. Of that number, 108 have reportedly "graduated" and about 20 percent of that number have disappeared. The rest appear to be complying with the rules of rehabilitation.
Holder and Defense Secretary Robert Gates have both defended Saudi Arabia's program. Holder told the Senate Judiciary Committee in June that the program has been "pretty successful," and responded to Sessions' query last month that it "appears successful."
The Justice Department told Fox.News.com that it was reviewing Sessions' letter.
"By statue, no detainee may be transferred from the detention facility at Guantanamo Bay to any foreign nation until at least 15 days after Congress has been provided specific information and notification related to the transfer," Justice Department spokesman Dean Boyd said in an e-mail.
"The Justice Department continues to comply with these congressionally-mandated reporting requirements for all Guantanamo Bay detainees transferred abroad," he added.
The transfer of Guantanamo Bay detainees is essential to closing the prison facility. President Obama had pledged to close Gitmo within a year but has found that promise impossible to keep.
According to reports, the Saudis try to "rehabilitate" accused terrorists through a mix of religious, psychological and social programs that include graduating into the arms of family and tribal leaders who vouch for their future good behavior.
Security officials keep tabs on graduates, and financial incentives like education, jobs, homes, marriage and even fertility treatments for wives are used to convince would-be jihadists to lay off extremism.
Sessions said he strongly disagrees with Holder's assessment of the success of the program, and cited the Pentagon's estimate that it believes 74 detainees, or nearly one in seven former prisoners, released from Guantanamo Bay have returned to terrorism.
"If the administration continues to rely on the Saudi program, I fear this number will only increase," Sessions wrote.
Click here to read the letter from Sessions to Holder (.pdf).