Sens. Graham, Durbin introduce bipartisan Dream Act
In a bipartisan move, two senators announced Thursday their intention to grant legal status to a group of undocumented immigrants brought to the U.S. as children, commonly referred to as "DREAMers."
Sens. Lindsey Graham, R-S.C., and Dick Durbin, D-Ill., introduced the legislation which would allow certain young immigrants the chance to earn permanent residency in the U.S. and be provided with a pathway toward citizenship.
"We don't believe that young people should be held responsible for the errors or the illegal actions of their parents," Durbin told reporters Thursday.
An emotional Graham pleaded with the GOP and President Donald Trump to protect the more than 1 million immigrants who he said were brought to the U.S. as children.
"President Trump, as you fix a broken immigration system, remember that you have the power to fix lives as well. Use that power," Graham said during a press conference about the bill Thursday afternoon.
The South Carolinian praised the Trump administration for focusing on "getting the 'bad hombres' out of the country" and pushing to secure the border.
"The question for the Republican Party is, what do we tell these people? How do we treat them," he said. "Here's my answer: we treat them fairly, we do not pull the rug out from under them."
Durbin acknowledged that this isn't the first time lawmakers have tried to pass this legislation – but that it has ultimately failed. The legislation proposed Thursday is very similar to past Dream Acts.
"We need the Dream Act now more than ever because of the uncertainty that these young people face in America," he said.
The bipartisan legislation applies to DREAMers who were brought to the U.S. as children and have been residents in the country for a long time, graduated from high school or obtained a GED and passed a series of background checks.
It also requires immigrants to work toward a college degree, serve in the military or be lawfully employed for at least three years. It would not be applicable to anyone who has committed a felony or poses a threat to the U.S.
And immigrants would have to pay a "reasonable" application fee, a person who worked on the legislation told Fox News.
Daniel Garza, president of the nonpartisan Libre Initiative, told Fox News that he is glad to see bipartisan legislation on immigration put forth because "consensus is key."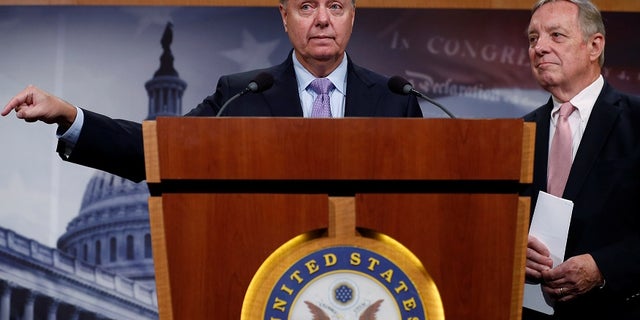 "At the end of the day, Democrats don't get to define what immigration reform is, and neither do Republicans," Garza said. "There has to be a very pragmatic approach to immigration reform with both sides."
DACA RECIPIENT WHO CLAIMS TO BE FIRST 'DREAMER' DEPORTED UNDER TRUMP FILES SUIT
"These children did not consciously violate the law, and they're trapped in limbo because of the actions of their parents," Garza said. He added that his organization is supportive of "any reform that will give legality to law-abiding immigrants who entered through no fault of their own with their parents."
Garza stressed the need for a more permanent solution – such as a law – when it comes to immigration and the fate of DREAMers. Former President Barack Obama's executive order expanding the Deferred Action for Childhood Arrivals program – a memorandum that protects thousands of certain young immigrants from deportation – didn't provide that sense of relief, but instead "caused a lot of turmoil and concern across the country for these children" because of its uncertainty, he said.
Kamal Essaheb, policy and advocacy director at the National Immigration Law Center, also praised the bipartisanship of the legislation but warned that it shouldn't take the place of DACA.
"The legislation would provide a necessary, longer-term solution for immigrant youth who have fought for the ability to work, go to school, and live without fear of deportation," Essaheb said, adding that a bill shouldn't "diminish the critical importance of DACA, which has fundamentally enhanced the lives of nearly 800,000 people, including my own."
Coalition for Humane Immigrant Rights of Los Angeles director of communications Jorge-Mario Cabrera said that his organization, "from the looks of it," supports the legislation introduced Thursday.
"We would be supportive of a permanent solution to save DACA," Cabrera told Fox News, adding that CHIRLA would want a "clean bill" with "no more enforcement."
Under the Trump administration, the fate of the so-called DREAMers is uncertain. A White House official told McClatchy this week that President Donald Trump would be unlikely to sign the legislation introduced by Durbin and Graham Thursday.
White House legislative affairs director Marc Short seemingly echoed that sentiment during an off-camera briefing Wednesday as well.
"The administration has opposed the DREAM Act, and we are likely to be consistent in that," he said.
But Durbin said Thursday that he and Graham have been "actively engaged with the White House" for several weeks about immigration issues, and there are "people within the White House who want to continue this dialogue and conversation."
"We're not giving up on … appealing to the administration to join us in this effort," Durbin said.
ARIZONA REGENTS TO OFFER IN-STATE TUITION TO SOME IMMIGRANTS
Homeland Security Secretary John Kelly told members of the Congressional Hispanic Caucus last week that he believed DACA is likely illegal – although he is personally supportive of the program.
A group of attorneys general have called on the Trump administration to rescind the program. They have threatened to file a lawsuit to challenge DACA unless the Trump administration takes its own action to phase it out.
"I was encouraged that Secretary Kelly said he personally supports the DACA policy," Rep. Joaquin Castro, D-Texas, told Fox News. "But, you know, also discouraged that he couldn't say the administration would defend it or not."
The legislation put forth Thursday by Graham and Durbin is similar to previous Dream Act guidelines.
The Associated Press contributed to this report.