Senators fight cuts to veteran benefits ahead of key budget test vote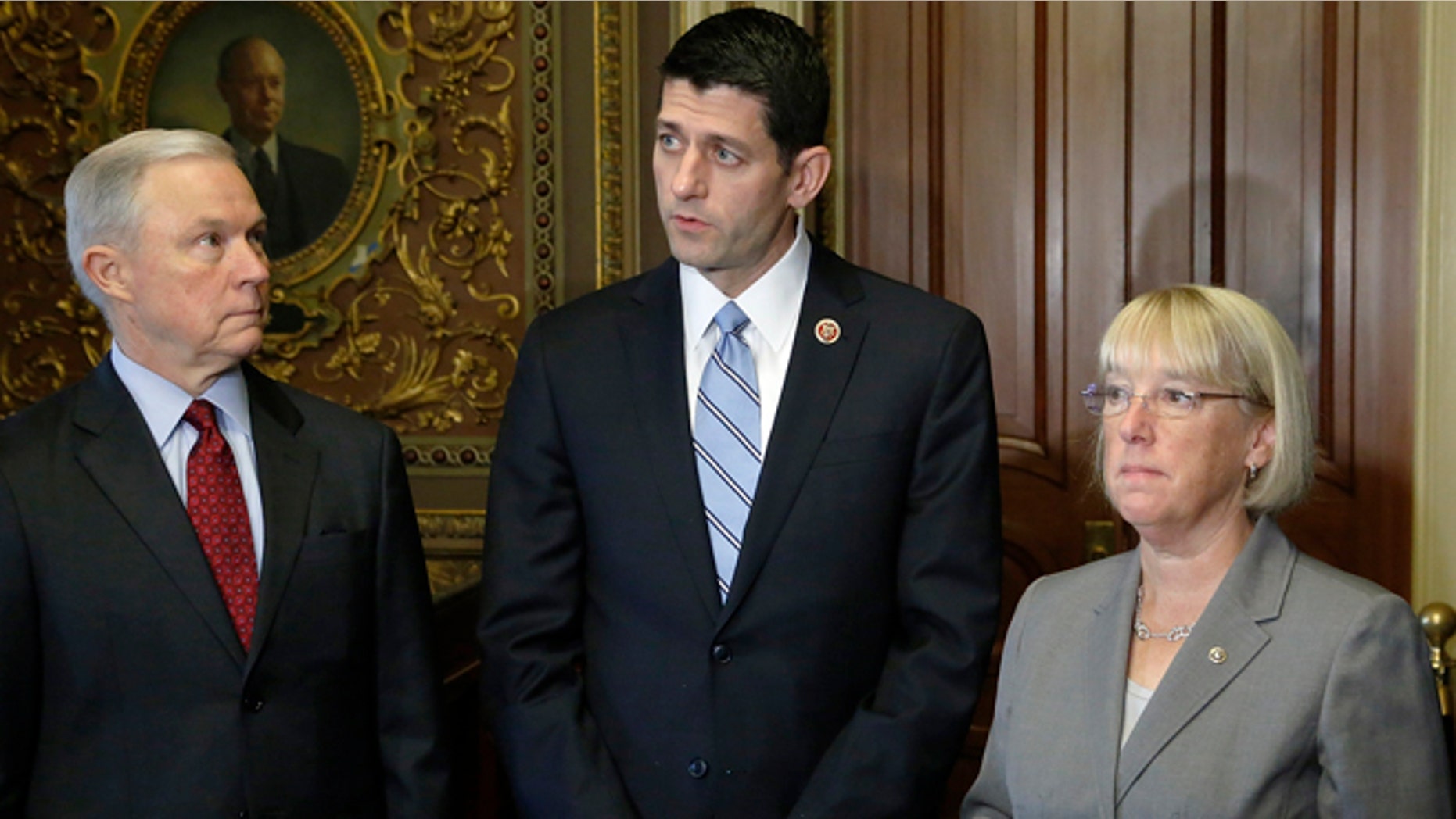 Republican senators were making a last-ditch bid to undo cuts to military retiree benefits in the House-passed budget deal ahead of a crucial test vote Tuesday morning in the Senate.
Alabama GOP Sen. Jeff Sessions filed an amendment late Monday to restore money that was cut from veteran and military retiree pension benefits by closing a loophole that allows illegal immigrants to qualify for child tax credits.
His move comes after several GOP senators voiced complaints about the budget package, which sailed out of the House last week on a strong bipartisan vote. Those senators were also calling on their colleagues Tuesday morning to spare military retirees from the cuts.
However, late-breaking endorsements from several GOP senators could help lift the budget bill over the finish line, and it's unclear whether changes to the military retiree provision will be considered.
Republicans opposed to that provision say it unfairly forces veterans to pick up the cost of new spending. The provision generating heated opposition from Veterans of Foreign Wars and allied lawmakers would cut retirement benefits for military retirees by $6 billion over 10 years.
"It's unacceptable to single out our men and women in uniform in this way," said Sen. Kelly Ayotte, R-N.H., who has already expressed her intention to vote against the proposed budget.
Democrats need to hold most of their caucus of 55 senators together and pick up a handful of GOP senators in order to reach the 60-vote threshold to advance the bill on Tuesday.
The prospect that the budget would clear the cloture hurdle brightened Monday, when three GOP senators -- Orrin Hatch of Utah, Johnny Isakson and Saxby Chambliss of Georgia -- announced that they would vote yes. A fourth, Sen. Ron Johnson of Wisconsin, expressed his support on Sunday. Sens. John McCain and Jeff Flake of Arizona also said they would vote in favor of cloture last week.
But unlike in the House, where Speaker John Boehner aggressively battled conservative groups trying to kill the bill, GOP leaders in the Senate are signaling opposition, or at least resistance, to the package.
Senate Minority Leader Mitch McConnell of Kentucky has not said which way he will vote Tuesday, but he is widely expected to oppose the measure. Similarly, Senate Minority Whip John Cornyn of Texas announced his opposition Monday morning on his campaign's website -- a step his Senate office was unwilling to take. It was later deleted after reporters from The Associated Press asked for confirmation of a Cornyn quote that appeared on the Internet site Breitbart.com.
"Senator Cornyn opposes this budget deal because it breaks previously set spending caps and goes in the 'wrong direction' with regards to entitlement spending," according to the post. His Senate spokeswoman, Kate Martin, would only say that Cornyn would take "a close look" at the measure and is "concerned" that it reverses some of the spending cuts won in a hard-fought 2011 budget pact.
The third-highest ranking Republican in the Senate, conference chairman John Thune of South Dakota, announced Friday that he opposes the deal because it breaches spending caps put in place by a 2011 budget deal "and doesn't include meaningful spending reforms that address our debt and deficit."
Ayotte, Sessions and other senators focused largely on the cuts to veterans and military retirees.
Sessions' amendment would restore the funding by requiring applicants for a particular child tax credit to submit their Social Security numbers. Federal law bars illegal immigrants from collecting tax benefits but that particular tax credit is often claimed by undocumented residents, according to recent watchdog reports.
Sessions' office has estimated that closing the tax credit loophole would save the government approximately $4.2 billion, the amount the Treasury Inspector General for Tax Administration reported that illegal immigrants received due to the credit in 2010.
Congress faces a Jan. 15 deadline to pass a budget bill or risk another partial government shutdown. The debt-ceiling deadline is expected to hit sometime in February.
The Associated Press contributed to this report.