Senate Hearing Examines Pros And Cons Of Military Strike Against Syria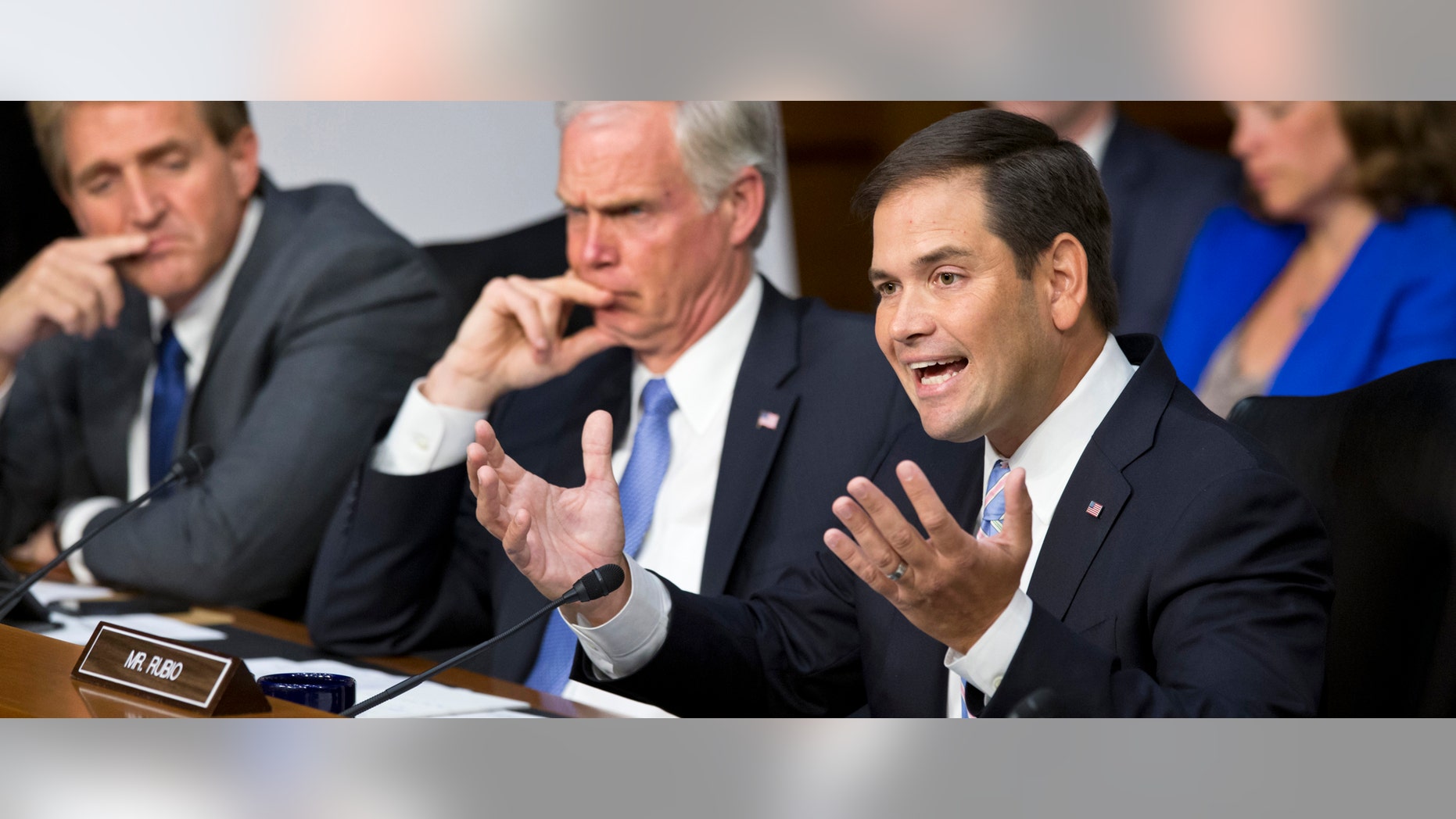 The Senate Foreign Relations Committee hearing on the use of military force in Syria opened with its chairman, Robert Menendez, saying that lawmakers were tasked with making a difficult decision about how to respond to Syria's chemical attack on its people.
Menendez, a New Jersey Democrat to whom President Obama has turned in recent days to help build support in Congress for a military strike against targets in Syria, said the decision was about how to respond "to the horrific chemical attack of August 21st that took the lives of 1,429 Syrians including at least 426 children."
"The images of that day were sickening," Menendez said. "In my view the world cannot ignore the inhumanity and horror of this act."
The hearing came as Obama worked assertively at courting Republican leaders such as Sen. John McCain of Arizona and House Speaker Rep. John Boehner of Ohio, both of whom came away from meetings with the president within the last 24 hours expressing support for a strike against Syria.
Secretary of State John Kerry, who held the chairmanship of the Senate Foreign Relations Committee before he became a Cabinet member, stressed that a potential military strike against Syria would involved no American boots on the ground.
Kerry said there was no problem in having language in legislation that, in his words, "has zero capacity for American troops on the ground."
Some lawmakers have expressed reluctance about being drawn into a larger conflict.
Sen. Marco Rubio, a Republican of Florida, and a vocal critic of Syria's Bashar Assad and proponent of arming the rebels, criticized the Obama administration for failing to heed his call and the pleas of others to act two years ago.
"When America ignores these problems, these problems don't ignore us," Rubio told senior administration officials at a Senate hearing. "Yes, this is a horrible incident where perhaps a 1,000 people died, but before this incident 100,000 people had died ... and nothing happened."
Kerry stressed that what President Obama is seeking would be military action limited in scope and duration that would send a message to the regime of Syrian President Bashar Assad that it can't get away with using chemical weapons.
"There's no problem in our having the language that has zero capacity for American troops on the ground," said Kerry, one of three senior officials to make the case for military intervention at the hearing.
"President Obama is not asking America to go to war," Kerry said in a strongly worded opening statement. He added, "This is not the time for armchair isolationism. This is not the time to be spectators to slaughter."
Others at the hearing, titled "Authorization of Use of Force in Syria," included Defense Secretary Chuck Hagel and Chairman of the Joint Chiefs of Staff General Martin Dempsey.
Menendez's lengthy opening remarks sought to address concerns of opponents of Obama's proposal for a limited military strike.
"Yes, there are risks to action," Menendez said, "but the consequences of inaction are greater and graver still: further humanitarian disaster in Syria; regional instability; the loss of American credibility around the world; an emboldened Iran and North Korea; and the disintegration of international law."
Sen. Bob Corker, who is the committee's ranking Republican and is from Tennessee, agreed with Menendez that the United States needs to take action against Syria.
Sen. Barbara Boxer, a Democrat from California, said that unlike the Iraq war, which she opposed, a resolution on Syria involvement would promise a limited military engagement with no boots on the ground.
"I will support a targeted effort but not a blank check against Syria gassing its people to death," she said.
Obama gained ground earlier Tuesday in his drive for congressional backing of a military strike against Syria, winning critical support from Boehner while administration officials agreed to explicitly rule out the use of U.S. combat troops in retaliation for a suspected chemical weapons attack.
The leader of House Republicans, Boehner emerged from a meeting at the White House and said the United States has "enemies around the world that need to understand that we're not going to tolerate this type of behavior. We also have allies around the world and allies in the region who also need to know that America will be there and stand up when it's necessary."
Boehner spoke as lawmakers in both parties called for changes in the president's requested legislation, rewriting it to restrict the type and duration of any military action that would be authorized, possibly including a ban on U.S. combat forces on the ground.
Obama said earlier in the day he was open to revisions in the relatively broad request the White House made over the weekend. He expressed confidence Congress would respond to his call for support and said Assad's action "poses a serious national security threat to the United States and to the region."
Assad's government, meanwhile, blames the episode on rebels who have been seeking to overthrow his government in a civil war that began over two years ago. A United Nations inspection team is awaiting lab results on tissue and soil samples it collected while in the country before completing a closely watched report.
The president met top lawmakers at the White House before embarking on an overseas trip to Sweden and Russia, leaving the principal lobbying at home for the next few days to Vice President Joe Biden and other members of his administration.
The Associated Press contributed to this story.