Sen. Robert Menendez Investigated For Helping Fugitive Ecuadoran Bankers Hiding In Florida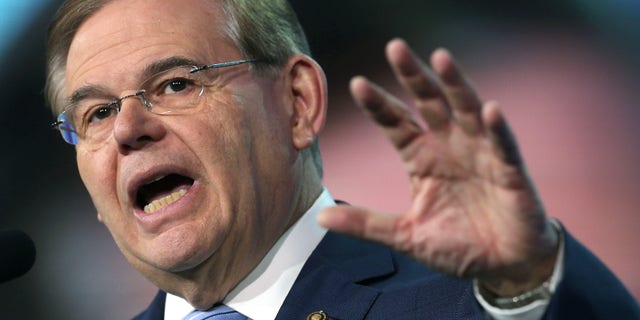 The Department of Justice is investigating whether Sen. Robert Menendez, a New Jersey Democrat, engaged in any wrongdoing when his office attempted to assist two fugitive bankers from Ecuador who were seeking to avoid extradition and remain living in the United States, NBC's New York affiliate station reported.
The bankers, brothers William and Roberto Isaias, were sentenced in absentia on charges that they embezzled millions from their bank, which collapsed, NBC reported, citing "multiple current and former U.S. officials."
The brothers, who live in Florida, do not face criminal charges in the United States, but Ecuador considers them fugitives. The bank, Filanbanco, that the brothers ran was Ecuador's largest for more than three decades. It was one of several banks that collapsed in the late 1990s.
Investigators are looking into whether Menendez personally reached out to a high-ranking immigration official in 2012 pressing for the Isaias brothers to be allowed to reside permanently in the United States and not be sent back to Ecuador. Investigators in particular want to know if the senator made the effort in exchange for large campaign donations by the Isaias brothers, NBC reported.
The network said that in 2005 the U.S. ambassador to Ecuador wrote to the U.S. State Department urging that the brothers be expelled from the United States because they had fled their country "with $100 million" that they had acquired through criminal actions.
But the U.S. Justice Department maintained that Ecuador's government has not given it the evidence it would need to extradite the brothers, NBC reported. And Florida courts have denied requests by Ecuador to take control of the brothers' U.S. assets, NBC said.
Menendez's office issued a statement saying the senator had not acted inappropriately by seeking to help the brothers.
"Our office works each year with literally hundreds of individuals and families from across the country who are seeking help with the immigration process," the statement read. "We review each and every request we receive, and if we feel any inquiry is appropriate, we make it.
"In this particular case, Sen. Menendez believed the Isaias family had been politically persecuted in Ecuador, including through the confiscation of media outlets they owned which were critical of the government," said the senator's spokeswoman, Tricia Enright. "We are not aware of any inquiry into the senator's actions on this matter."
Menendez has been under federal investigation because of allegations that he inappropriate intervened – in exchange for campaign donations – on behalf of a Florida eye doctor who was having a dispute with Medicare.
Follow us on twitter.com/foxnewslatino
Like us at facebook.com/foxnewslatino