Scott Says Sink Lied About Why She Broke Rules During Florida Gubernatorial Debate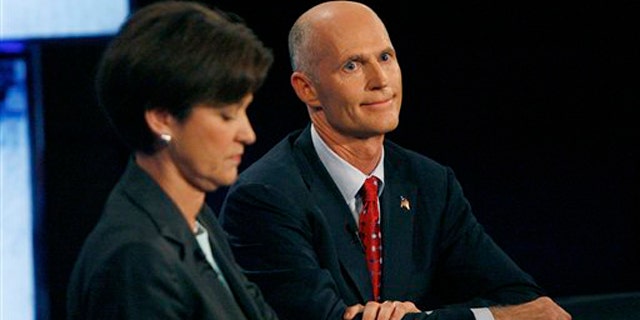 Florida gubernatorial candidate Rick Scott accused his opponent of lying Wednesday after she suggested she broke the rules to read a text message at a recent debate only because she thought it might be from her daughter in Europe.
Democratic nominee Alex Sink is under fire for accepting the message in the middle of a debate Monday because both candidates were supposed to be insulated from outside help. Sink, who has since fired the adviser who sent the message, explained in an interview Tuesday that her motherly instincts had kicked in when a make-up artist delivered the text to her during a commercial break.
"The make-up artist held up her phone and said, 'I just got this message. I don't know who it's from.' I looked at it because, you know, I'm a mom. My instinct is, 'My daughter's in Europe. I don't know who this message is from,'" she told MSNBC.
But the woman who delivered the message can be heard in the tape telling Sink that it could be from "Brian" -- as in Brian May, the campaign aide Sink later fired.
Scott told Fox News on Wednesday that Scott just compounded her debate foul by claiming she had no idea who the message was from.
"Here's an example of somebody who knew the rules and broke them, you know, lied about it afterwards," he said.
The incident has pitched a last-minute curveball into a race which has been tight ever since Scott shocked the state's political establishment by beating Attorney General Bill McCollum for the GOP nomination.
Sink argues that the message, which essentially rebutted a point Scott made earlier in the debate about Sink's employment history, had no bearing on her performance.
"I glanced at it, I didn't understand even what it was and I just ignored it," she said Tuesday. She also claimed Scott broke the rules at an earlier debate when he arrived with "three or four pages worth of notes, which was clearly against the agreement."