Sarkozy Meeting Could Mark Start of an Obama Foreign Policy Reset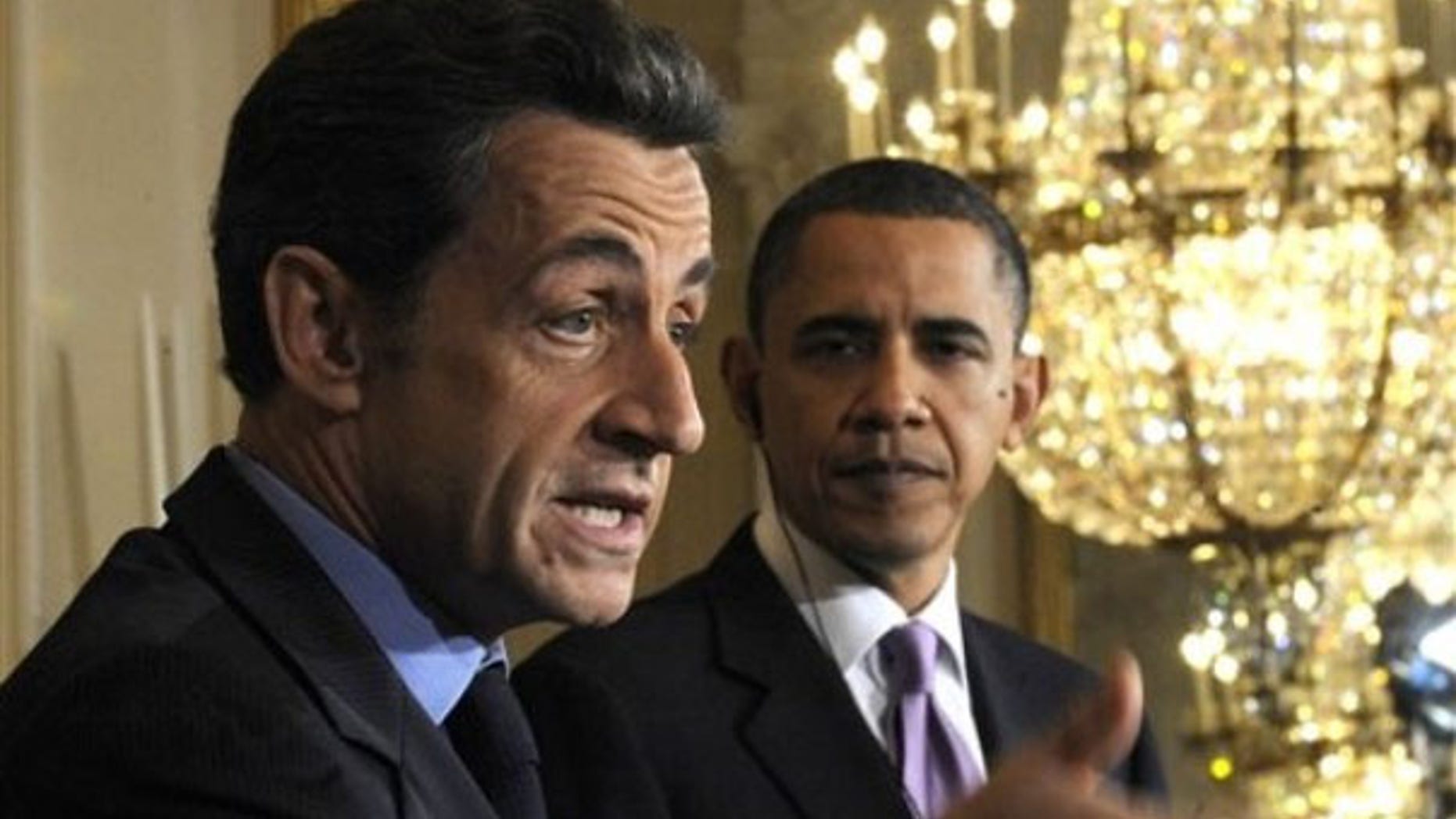 President Obama, following signs of tension between the U.S. and some of its key allies around the world, moved Tuesday to try to patch things up with one of those allies -- and analysts say the president needs to do even more.
French President Nicolas Sarkozy, who met Tuesday afternoon with Obama, arrived in Washington 14 months into Obama's presidency. Sarkozy is the last of Europe's big three leaders to make it to the White House and stands as an example of the unexpected strain on U.S.-European relations.
Before heading to the capital, Sarkozy gave voice to a growing sense of European estrangement.
"We cannot afford to have the world's No. 1 power not being open to the rest of the world," he said. "The world does not stop at the East Coast. The world does not stop at the West Coast."
And that came from the man who once praised Obama as an American who would change the world. Obama campaigned in part on shifting the course of U.S. foreign policy and even strengthening the U.S.-European bond. But now, just over a year into the Obama administration, the honeymoon appears to be over.
Both Obama and Sarkozy on Tuesday reaffirmed their commitment to one another during a joint press conference.
"France is our oldest ally, and one of our closest," Obama said, adding, "We've never been closer."
Sarkozy voiced support for Obama's strategy in Afghanistan and praised him for the recent signing of health care reform legislation.
But analysts say strains are showing between the United States and a number of traditional allies.
"Europe is beginning to feel a little concerned that it's being taken for granted," said Heather Conley, director of the Europe Program for the Center for Strategic and International Studies. Conley cited the perceived slight last summer in Paris when Obama did not dine with Sarkozy, and the fact that it's taken 14 months for the two to have an Oval Office meeting.
"They are starting to become concerned that maybe allies aren't as appreciated as they had anticipated from this administration," Conley said.
It's not just the social slights. On specific policy, Sarkozy is anxious for the United States to lead the push for firm global financial regulations and is frustrated at the slow pace of getting a solid Iran sanctions package.
Conley said Sarkozy's New York remarks reflect that Europe wants "the United States to engage them and work together with them to fight these global challenges. They don't want the United States to focus on the challenges and make an assumption that the allies will be closely following behind."
The verbal finger-wagging from Sarkozy comes on the heels of a study released in Great Britain that concluded Britain "needs to be less deferential and more willing to say no" to the United States.
The sign of strained relations are not just limited to the European continent, however.
The Obama administration twice postponed a trip to Indonesia -- the country where Obama spent four years of his childhood and which is the most populous Islamic nation.
While President Susilo Bambang Yudhoyono's spokesmen down-played the postponements, the Indonesian press was critical, reporting the trip was delayed "after a political debacle at home over health reform forced him to remain in Washington."
Analysts say the notion that the Obama administration puts international affairs on hold for internal issues is resonating globally. Conley said those nations expect Obama to be able to juggle.
"You've got to do two things at once. You can't shut down and focus on one thing at a time, the rest of the world doesn't wait," she said.
Michael Rubin, of the American Enterprise Institute, also cautioned that Obama needs to understand that every crisis in the world is not contained.
"In a globalized world, what he does with one ally is seen by every rouge nation as a sign of weakness to exploit against other U.S. allies," he said.
Particularly worrisome for the United States is its ongoing disagreement with Israel over new settlement construction. The announcement earlier this month, in the middle of Vice President Biden's visit, by an Israeli official that construction in disputed East Jerusalem was going forward touched off what may be a low point in U.S.-Israeli relations.
Biden and Secretary of State Hillary Clinton hammered Prime Minister Benjamin Netanyahu's administration for the perceived slight, and while Obama himself said relations between the two allies remain strong, a face-to-face meeting with Netanyahu in Washington yielded no public breakthroughs.
"President Obama needs to listen more to allies, and needs to understand that alliances are both give and take," Rubin said. "But in and of themselves, it's important to have friends, and permanent friends, being a permanent friend to the United States should mean something."
Rubin cited another recent spat with Great Britain that happened when Clinton -- on a trip to Argentina -- voiced her support for that country's call to re-open talks over the Falkland Islands. Rubin said such statements undermine the trust U.S. allies have in Washington.
"Where I think President Obama and a lot of his advisers get it wrong is not understanding the intrinsic value of long-term alliances," he said. "The U.S. is getting a reputation, basically, of a country that cannot be trusted for more than five minutes at a time and that's not the way to build a healthy stable world and it's not the way to promote U.S. interests."
Fox News' Major Garrett and Anne McGinn contributed to this report.