Rubio needs to dip into same magic that captivated Florida in 2010, analysts say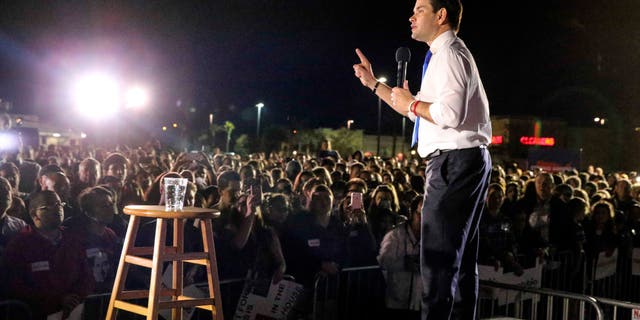 NEWYou can now listen to Fox News articles!
MIAMI – In 2010, Marco Rubio pulled off a major upset when he won a Republican primary and then a three-way election for U.S. Senator against Charlie Crist, at the time Florida's sitting governor backed by the GOP establishment. In that race, he ignored calls to step aside and allow Crist to ascend. He won by capturing a diverse constituency of voters made up of his base in Miami-Dade County, Tea Party conservatives in the northern part of Florida, and a wave of new Hispanic voters in the state's highly coveted Interstate 4 corridor.
Six years later, Rubio finds himself in a similar predicament. Only this time, the stakes are much higher and his chances of pulling another upset are even slimmer. Following another poor showing against Donald Trump and Ted Cruz in Michigan, Mississippi, Idaho and Hawaii, the one-term senator's presidential campaign is on life support as Rubio makes what could be his final stand in his home state of Florida.
"We need to work day and night in Florida," says Bertica Cabrera Morris, an Orlando political strategist who is in charge of Rubio's I-4 campaign. "Now is the time to put all our hands on deck."
Yet, some political observers say it could be too late for Rubio to mount a surprise comeback in the contest for the Republican presidential nomination, which has been usurped by Trump, who leads the Senator by 7 to 20 points in Florida, according to several polls. Even a great performance in tonight's Republican debate at the University of Miami may not be enough to snatch Florida's 99 delegates.
"I think Trump has changed the landscape," said Nelson Diaz, chairman of the Miami-Dade Republican Party. "Before, Marco ran against a governor who was highly unpopular with the party's rank-and-file. People knew Crist wasn't a real Republican."
Sylvia Manzano, a principal with political strategy firm Latino Decisions, said Rubio won in 2010 by playing the role of outsider.
"Six years later, Rubio is the insider," Manzano said. "If he can remind voters in this short window that he railed against the establishment, he might have a shot. He has worked some pretty amazing political magic in the past."
Rubio's campaign began with a lot of fanfare 11 months ago when he announced his candidacy at an April rally held at Miami's Freedom Tower, an iconic building that was used to provide assistance to Cuban immigrants in the 1960s. Freedom Tower offered Rubio the perfect backdrop to tell his story of being a second generation Cuban-American who grew up in a working-class home and rose to become one of Florida's most successful Latino politicians.
He entered a crowded field of candidates that included his one-time mentor and ex-Florida Governor Jeb Bush, whose front-runner status evaporated shortly after he entered the race. Before bowing out of the race in February, Bush's Right to Rise Super PAC reportedly spent close to $27 million attacking Rubio, who showed early signs of promise with strong third and second places finishes in the Iowa and New Hampshire primaries.
But since Bush left the race, Rubio has not been able to seize the moment. He's only won Minnesota and Puerto Rico and his 152 delegate count pales to the 391 collected by Trump and 303 Texas Senator Ted Cruz has picked up. Florida's 99 delegates are among the 367 up for grabs on March 15.
Despite the long odds, Rubio backers are confident the race in Florida is still competitive. Miami GOP leader Diaz, who is personally supporting the senator, said a recent poll of early and absentee ballot voters shows Rubio leading Trump. "I think Marco has a better chance of winning than people think he does," Diaz said. "Looking at the turnout in Miami-Dade, it has been higher than expected."
Manzano of Latino Decisions said Rubio has to turn out his Latino base in Miami-Dade, which is heavily Cuban-American and Republican, to have a realistic shot at claiming Florida. "Obviously a high turnout in South Florida among Cuban-Americans helps Rubio," Manzano said. "Getting his base out is important. Then his campaign has to identify and target other spots in the primary electorate where he did well in the past."
A recent analysis by University of Florida political science professor Daniel A. Smith shows that the early voting turnout rate for the 274,000 registered Latino Republicans in Miami-Dade is at 79 percent, according to Politico. However, some of the votes may have gone to Bush since as many as 20,000 absentee ballots in Miami-Dade may have been cast while he was still in the race. The Washington Post reported that Conservative Solutions, a Super PAC backing Rubio, recently purchased $5 million in airtime in Florida to get early voters to the polls and get absentee voters to mail in their ballots.
In the last few days, Rubio has been traveling between Miami and the Orlando area, where he's been courting Puerto Rican Republicans, who account for a majority of the 54,000 registered Latino Republicans in the I-4 corridor. On March 8, the senator made a campaign stop at Maleo Bakery, a Puerto Rican eatery in Kissimmee where 200 supporters were on hand, according to Morris, Rubio's I-4 campaign chair.
"There was not one person who was not happy to see Marco," Morris said. "The people I spoke to all said they were voting for him."
Morris, who has been on the national campaign committees for previous Republican nominees George W. Bush, John McCain and Mitt Romney, said she has yet to lose a presidential primary in the I-4 corridor. She was also with Rubio during the early days of his Senate campaign of 2010.
"Back then we were at zero percent," Morris said. "We were the underdogs going against the governor of Florida. We will help him accomplish what he needs to do in order to win. This is about the future of our country."