Roy Moore slams Washington Post's 'political agenda' as he denies sexual misconduct accusations
Embattled Alabama Republican Senate nominee Roy Moore is hitting back at the Washington Post, accusing the paper of having a "political agenda" as he denies allegations he sought romantic relationships with teenage females as an adult.
"In the next few days there will be revelations about the motivation and the content of this article," Moore said during a campaign appearance Saturday at a library in Birmingham. "I do not expect the Washington Post to stop. I think they have a political agenda."
'I have not been guilty of sexual misconduct with anyone'
The Washington Post reported Thursday that Moore, the former chief justice of Alabama's Supreme Court and an ardent social conservative, pursued relationships with four teenage women dating back to the 1970s when he was in his early thirties and single. Moore has denied the allegations, though admitted on Sean Hannity's radio show that "after my return from the military, I dated a lot of young ladies."
One woman told the paper she was 14 when the 32-year-old Moore asked her out and made sexual advances.
Top Republicans, including President Trump, Vice President Mike Pence and Senate Majority Leader Mitch McConnell, have said Moore should drop out of the race if the accusations are true. But Moore is showing no sign of doing that.
On Saturday, he insisted the accusations about his conduct "nearly 40 years ago" are "completely false and untrue."
"I have not been guilty of sexual misconduct with anyone," Moore said.
He also accused the left-leaning paper, which has endorsed his Democratic opponent Doug Jones, of "yet another attack on my character and reputation in a desperate attempt to stop my political campaign for United States Senate."
TRUMP SIDESTEPS QUESTIONS ON ROY MOORE
The story has inflicted major damage to Moore's campaign ahead of next month's special election for the seat once held by Attorney General Jeff Sessions. There has been talk of possible write-in campaigns from other Republicans, though nothing has yet materialized.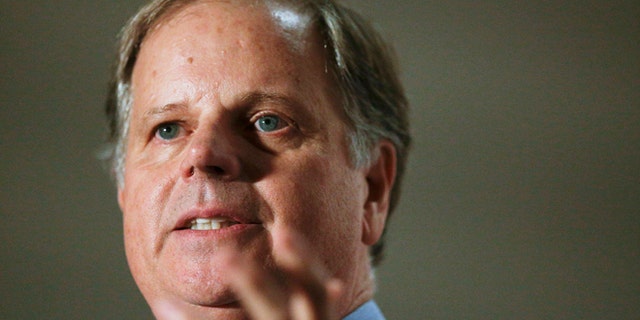 Earlier Saturday, Trump, who has been traveling in Asia over the past week, did not seem interested in commenting further on the situation, saying he's been too busy reading documents and hasn't had time to catch up on television news coverage about Moore.
Fox News' Joseph Weber contributed to this report.