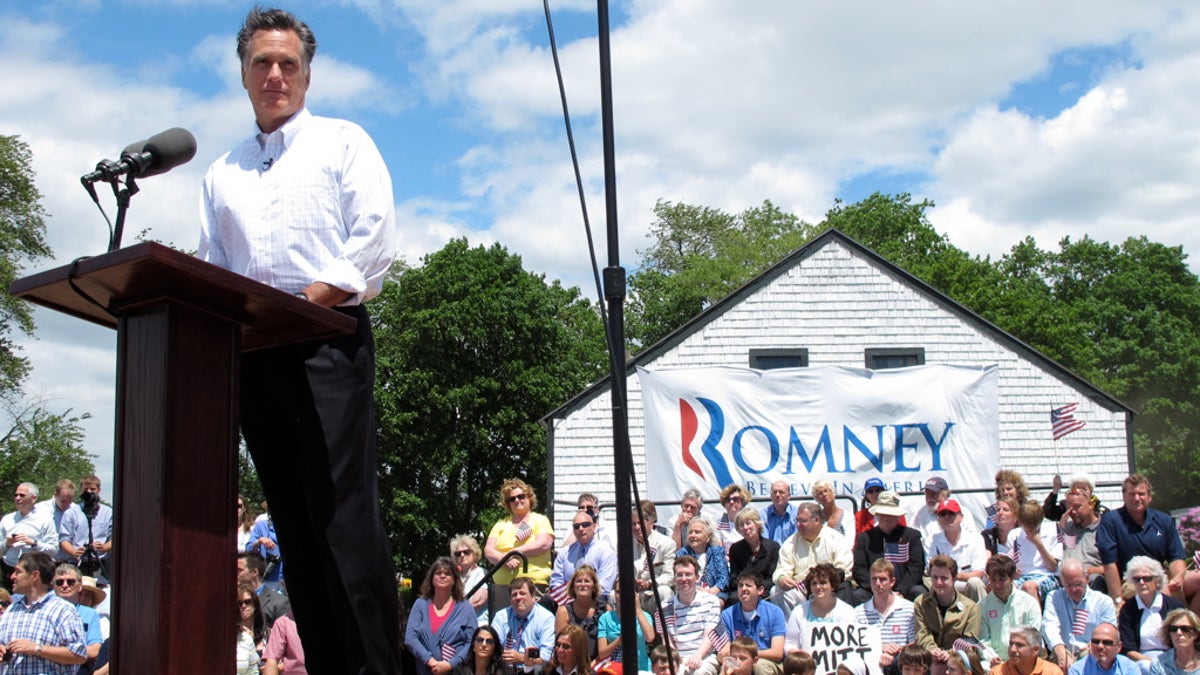 Former Massachusetts Gov. Mitt Romney made it official Thursday: He's making a 2012 run for the White House.
"I'm Mitt Romney. I believe in America and I'm running for the president of the United States of America," he said at the end of a speech before a crowd of hundreds at a farm in Stratham, N.H.
Romney, a former business executive whose 2008 presidential bid fell short, presented himself as a viable alternative to President Obama, who he said has upped America's "misery index," made the recession worse and made it longer.
"Barack Obama has failed America," he said.
Romney, who was introduced by his wife, Anne, said that he holds the keys to a more prosperous America.
"My generation will pass the torch to the next generation, not a bill," he said, adding that his administration will restore state powers over dozens of government programs.
"And that begins with a complete repeal of Obamacare," he said. "From my first day in office my No.1 job will be to see that America once again is number in job creation."
Romney was competing for media attention with former Alaska Gov. Sarah Palin, whose bus tour was set to arrive in the Granite State some time Thursday after a stop in the former governor's home state. Former New York City Mayor Rudy Giuliani was also holding a private event not too far away.
Former Utah Gov. Jon Huntsman and Rep. Thaddeus McCotter were also headed to New Hampshire, the first primary presidential vote in the nation. Former New York Gov. George Pataki has released an ad in the state focusing on presidential issues.
Among the others considering a run are Texas Gov. Rick Perry, Rep. Michele Bachmann of Minnesota
Several others -- former Minnesota Gov. Tim Pawlenty, former House Speaker Newt Gingrich, businessman Herman Cain, former Pennsylvania Sen. Rick Santorum, Texas Rep. Ron Paul and former New Mexico Gov. Gary Johnson -- have all declared their interest in running to some degree.
But Romney is widely regarded as the frontrunner in the still-jelling Republican field. Even though conservatives have misgivings about his record, including his past support of abortion rights and particularly his state's health care program known as Romneycare, which critics say too closely resembles President Obama's federal overhaul, he is seen as a successful businessman with a steady hand.
It showed Thursday as Romney offered clear cut and direct criticism of the president.
"The president seems to take his inspiration not from the small towns and villages of New Hampshire but from the capitals of Europe. With the economy in crisis, his answer was to borrow more money and throw it at Washington bureaucrats and politicians -- just like Europe," he said.
As the presumed frontrunner, Romney's campaign has the biggest target on its back, easily drawing the most attacks -- even from within his own party.
"In my opinion, any mandate coming from government is not a good thing," Palin told reporters moments before Romney's speech, offering her take on the governor's health care plan in Massachusetts. "Even on a state level and even a local level, mandates coming from a governing body, it's tough for a lot of us independent Americans to accept, because we have great faith in the private sectors and our own families, and our own businessmen and women making decisions for ourselves."
Iowa Democratic Party Chairwoman Sue Dvorsky accused Romney of being a flip-flopper in a statement she released shortly after his speech.
"Running for president seems to be about the only thing Mitt Romney is able to commit to. He has waffled his way through his entire political career," she said, citing his shifting positions on Rep. Paul Ryan's budget plan, Obama's stimulus package and social issues like gay marriage and abortion rights.
In a press release Thursday, the Democratic National Committee took aim at Romney's biggest strength: his reputation for creating jobs.
Citing the U.S. Labor Department, the DNC says Massachusetts ranked 47th in jobs growth during his tenure, coming ahead of only Ohio, Michigan and Louisiana.
But in his speech Thursday, Romney touted his record as a business executive and as a governor, saying he took over a state with a $3 billion budget deficit that was bracing for higher taxes. Romney said he balanced the budget by cutting wasteful spending and without raising taxes.
"That sent a message that business as usual was over," he said.
Fox News' Carl Cameron contributed to this report.