Romney Defends Narrow Lead Heading Into Iowa Caucuses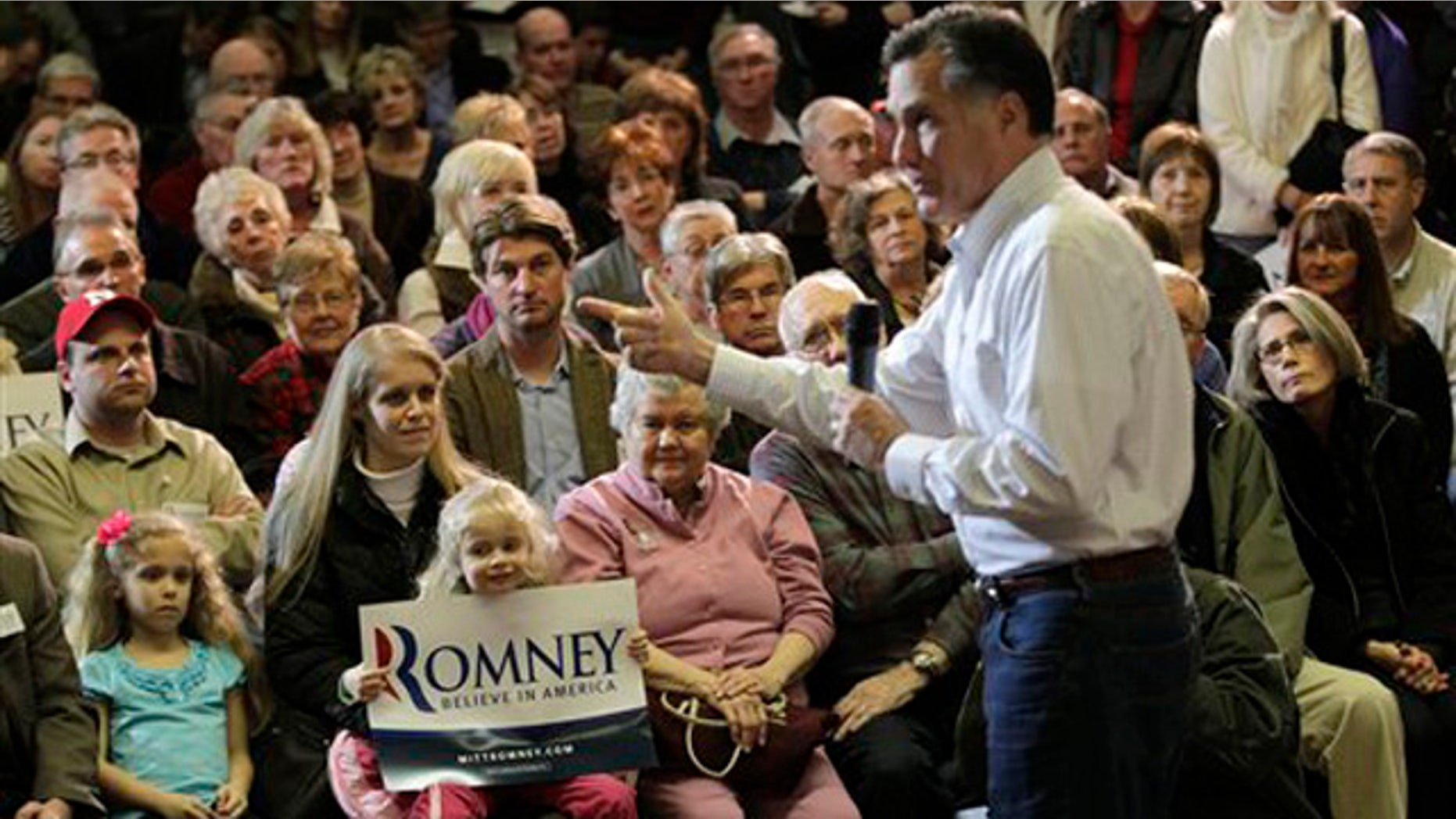 Mitt Romney set out Monday to defend a narrow lead against at least two insurgent candidates going into the Iowa caucuses, a contest that could either restore Romney's status as the race's frontrunner or once again shake up the field.
Romney is doing well in Iowa despite having all but ignored the contest earlier in the season. But while the former Massachusetts governor leads in recent polls, his 1- or 2-point advantage falls well within the margin of error. And with so many caucus-goers either undecided or open to changing their minds, GOP officials say the contest is anybody's game.
Ron Paul and Rick Santorum are nipping at Romney's heels, and both aim for a strong -- if not winning -- performance in Tuesday's caucuses. The volatile nature of the race lends hope to the rest of the candidates, who are banking on a strong organizational effort over the next 36 hours to out-perform the polls.
"Polls are polls," Rick Perry said Monday on Fox News, dismissing surveys that show the Texas governor struggling to break back into the top tier in Iowa.
The six candidates who are competing in the caucuses -- everybody except former Utah Gov. Jon Huntsman -- are crisscrossing the state Monday in a final push to win over supporters.
The candidates tried to keep the focus on Obama. Romney, in Davenport, Iowa, declared that Obama's presidency is "just a detour, not our destiny."
Newt Gingrich, at a stop in Independence, Iowa, said Obama should not take his salary after his team made clear that he plans to make the early stage of his presidential race about a contrast with Congress. Gingrich called the strategy "childish."
He also questioned Romney's supposed frontrunner status, while conceding he does not have high hopes for his own performance in Iowa.
"I don't think I'm going to win," Gingrich said. "I think if you look at the numbers, that volume of negativity has done enough damage."
Gingrich was referring to the glut of attacks ads against him, from Paul and other candidates.
Paul, after spending the weekend in Texas, returned to Iowa Monday for a string of "whistle stops" in Des Moines, Cedar Rapids and elsewhere. Perry, fittingly, caps his day with a rally in Perry, Iowa.
Romney, Santorum and Michele Bachmann also have packed schedules on Monday.
Though Romney does not have the support of a plurality of likely Iowa caucus-goers, he is seen by them as the Republican most likely to defeat Obama in the general election. Romney has been slow to win broad support in the party because of his moderate positions on social issues in the past and reforms to medical care that were instituted in Massachusetts when he was governor.
That overhaul of the health system served, to a degree, as the blueprint of the national reforms Obama pushed through Congress early in his term. Most Republican voters want to see the health care reforms rescinded, especially the requirement that everyone buy medical insurance.
Romney has roughly the same amount of support in polls as he did in 2008 when he lost the race with 25 percent of the Iowa vote amid skepticism over his Mormon faith and his reversals on some social issues. This year, he has been counting on the Republican conservative base splintering in a multi-candidate field.
Paul and Santorum were fighting against the notion in Republican circles that their bases of support are narrow and that neither would be able to put together the diverse voting coalition necessary to beat Obama. The libertarian-leaning Paul attracts those who like his message of states' rights and limited central government, while Santorum -- an anti-abortion crusader -- is popular among Christian conservatives who make up a large segment of the Republican Party base.
In contrast, Romney has styled himself as a Republican able to attract a broad spectrum of voters. As polls showed him with a narrow lead in Iowa in the past week, he has redoubled his effort to portray himself as the business-savvy executive with national appeal.
Iowa's conservatives have yet to coalesce around a single candidate. The state's large evangelical bloc is splitting support among Santorum, Gingrich, Perry and Bachmann.
Gingrich, Perry and Bachmann, all three deeply conservative candidates, rose to the top of the Republican field over the past months as alternatives to the more moderate Romney, but they quickly faded under closer media and voter scrutiny.
The seventh Republican, Huntsman, is not contesting Iowa and has focused almost solely on New Hampshire.
The Associated Press contributed to this report.