RNC memo on Democratic veep options calls Castro a 'novice,' Perez 'career bureaucrat'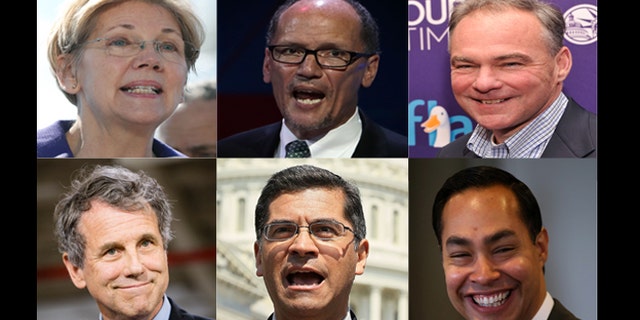 NEWYou can now listen to Fox News articles!
A memo from the Republican National Committee reveals that top GOP officials believe that Secretary of Housing and Urban Development Julian Castro is one of the leading candidates to be presumptive Democratic nominee Hillary Clinton's vice presidential pick.
The memo, which was obtained by the Huffington Post, purports that along with Castro, Sens. Elizabeth Warren (Mass.) and Time Kaine (Va.) are in the top running to be Clinton's running mate followed by Sen. Sherrod Brown (Ohio), Rep. Xavier Becerra (Calif.) and Labor Secretary Tom Perez.
Besides naming who the RNC thinks the former secretary of state will pick for her running mate, the memo also outlines prospective plans of attack for each of the potential candidates.
In regards to Castro, the RNC plans to paint the former San Antonio mayor as inexperienced and point to his support of the North American Free Trade Agreement (NAFTA) and how he allegedly encouraged a gun manufacturer to move its headquarters to his hometown while he was in office.
"Castro could easily be portrayed as a John Edwards-esque pick whereby someone with good looks but a thin resume is viewed as a novice on the national stage," the memo said.
The RNC memo said that Perez is "a career federal bureaucrat who has used whatever office he is in as a bully pulpit to expand government. His selection should terrify independents, swing voters, and businesses everywhere as it makes the ticket ultra-liberal."
As for Becerra, the RNC would paint the California representative as an "untrustworthy hypocrite" who "has been linked to radical Hispanic organizations" and "relishes dividing people along racial lines." They would also try to sow dissent with supporters of Vermont Sen. Bernie Sanders by calling Becerra a "shameless opportunist and career politician."
While the memo had little to say about Sen. Brown – besides pointing out how his voting record differed from Clinton's – it was heavy on its criticism of Sen. Warren.
A rising star in the Democratic party who is viewed as one of the leftward leaning members of Congress's upper house, the RNC said it would work to showcase the policy differences between Warren and Clinton and her presence on the ticket would be "an extreme lurch left."
"A Clinton-Warren ticket reeks of insanity," the memo stated.
Besides speculating on the Democratic veepstakes, the RNC memo also focused on how it would use whoever Clinton picks as her running mate to try and win over disaffected Sanders' supporters.
Some of the RNC's goals are to "drive wedges between these top contenders and either Clinton and/or traditional Democrat constituencies, such as labor, environmentalists, and gun control advocates, and other traditional left-wing constituencies" and "[w]here applicable, frame the choice as an insult to the large, deep base of Bernie Sanders supporters who are struggling with the notion of supporting Hillary Clinton as the presumptive Democrat nominee."
In response to the memo, the Clinton camp brushed off the criticism and instead commented on how divisive presumptive Republican presidential candidate Donald Trump has been for his own party.
"We aren't concerned," Clinton spokesman Brian Fallon said. "While the Democratic Party is quickly uniting around Hillary Clinton, Donald Trump actually appears to be losing ground in his bid to consolidate Republicans. More and more members of Trump's own party are realizing he is temperamentally unfit to be president, and there is no amount of Googling by RNC researchers that can fix that."