RNC chairwoman rips Michelle Obama for 'false' claim GOP is 'all men, all white'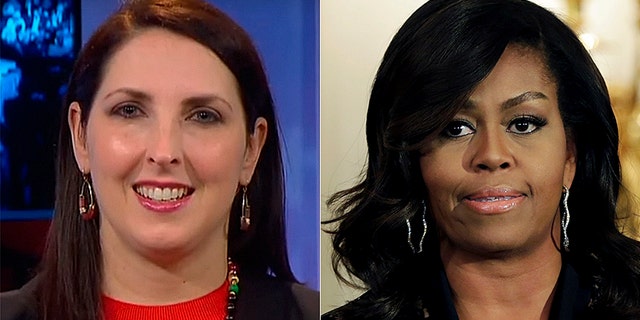 The chairwoman of the Republican National Committee blasted former first lady Michelle Obama on Thursday for her suggestion that Republicans are essentially "all men, all white."
"It's unfortunate Michelle Obama would disregard the contributions of conservative women and people of all backgrounds with one sweeping, false accusation," RNC Chairwoman Ronna McDaniel told Fox News on Thursday.
The former first lady spoke at the Pennsylvania Conference for Women on Tuesday and said it was important to have different types of people to gather different perspectives, saying "we should be working actively to mix it up."
Obama recalled visiting Congress for State of the Union addresses, and drew a stark contrast between the two sides of the aisle.
"What you can see is this real dichotomy—on one side of the room, it's a feeling of color," Obama said. "On one side of the room, it's literally gray and white. Literally, that's the color palette on one side of the room."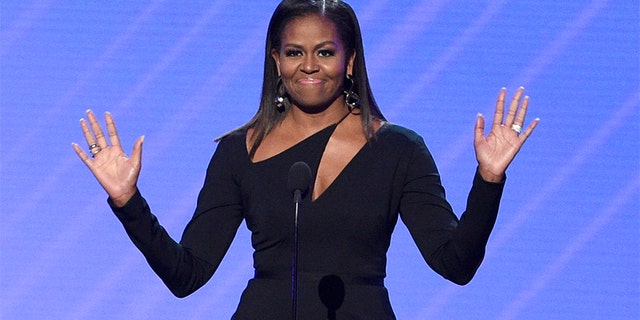 MICHELLE OBAMA SLAMS WOMEN WHO VOTED FOR TRUMP
She continued, "On the other side of the room, there are yellows and blues and whites and greens. Physically, there's a difference in color, in the tone. … Because one side—all men, all white. On the other side – some women, some people of color."
Obama pointed to that scene and said, "No wonder people don't trust politics."
Not only is the head of the RNC a woman, but dozens of women and minorities are Republican members of Congress, including Rep. Mia Love of Utah and Sen. Tim Scott of South Carolina.
In the 115th Congress, there are 14 minority Republicans in the House and four in the Senate. There are currently 24 Republican congresswomen and five female Republican senators.
The Obama comments came after the former first lady also angered Republicans by criticizing women who voted for President Trump
"Any woman who voted against Hillary Clinton voted against their own voice," Obama told the audience during a talk at a marketing conference last month in Boston, according to Boston.com.
She was taking a swipe at a large swath of the population -- according to exit polls, 41 percent of women voted for Trump in November.