Rift widens between Emanuel and Chicago teachers union, pillar of Democratic support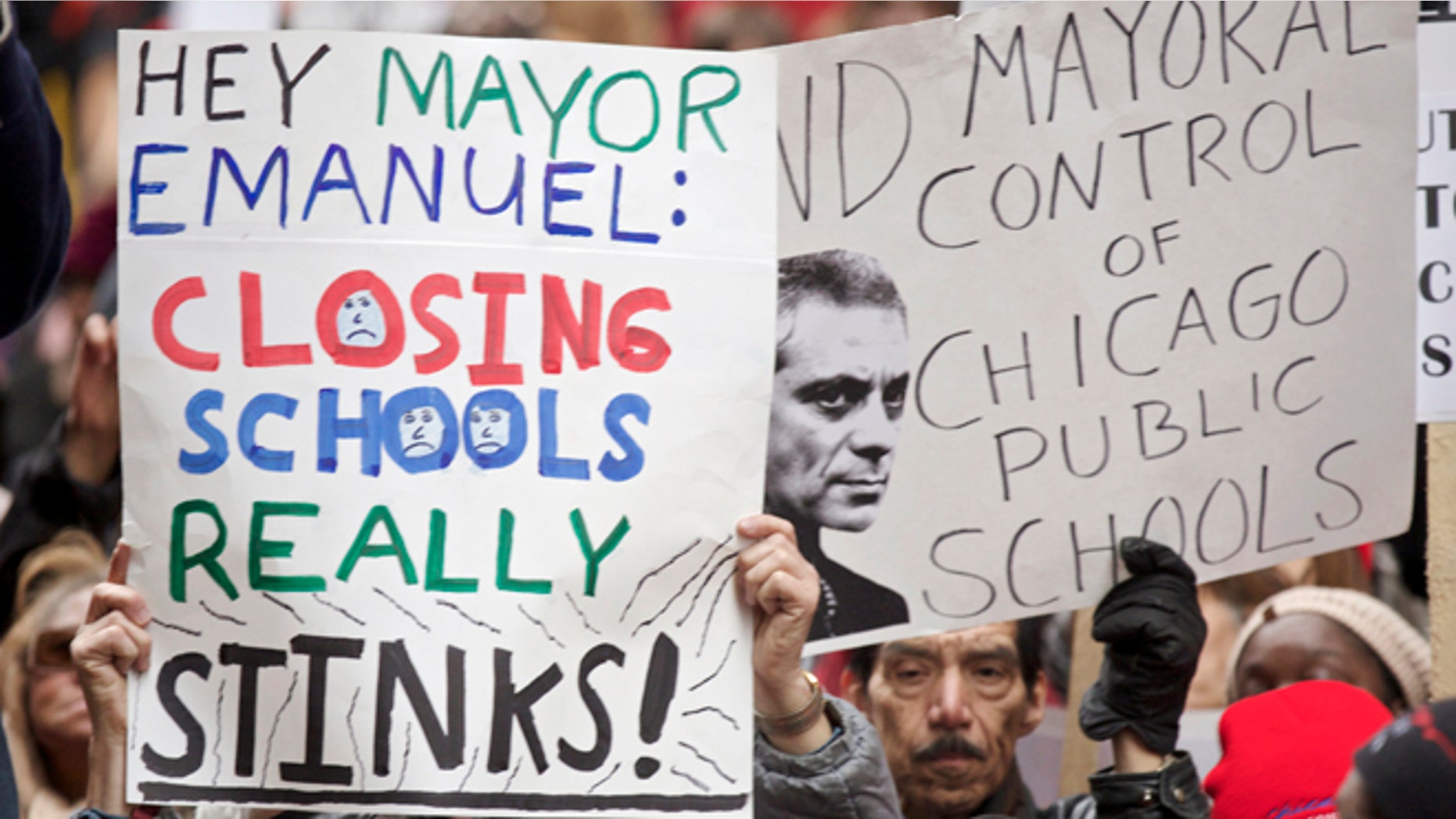 Chicago's final decision to close 50 public schools – the single biggest reported closure in U.S. history – has again pitted Mayor Rahm Emanuel against the powerful teachers union.
The Democratic mayor is backing the city school board's vote last week to help reduce an estimated $1 billion budget shortfall by closing the under-attended elementary schools and programs.
"This decision has been delayed for a decade, and it's our children and our city that have paid the price for inaction," Emanuel said when the closures were proposed in March. "Consolidating schools is the best way to make sure all of our city's students get the resources they need to succeed in the classroom."
However, the 30,000-member union argues the closures target minority families in poor neighborhoods and has vowed to recruit a challenger when Emanuel seeks re-election in 2015.
"Clearly, we have to change the political landscape in the city," Chicago Teachers Union President Karen Lewis said after the May 22 vote. "We have to go back to old-style democracy."
Labor unions have in recent U.S. political history largely backed Democratic candidates, with the Chicago Teachers Union being among the most powerful in ward politics.
However, the teachers union has been at odds with Emanuel since his successful 2011 mayoral campaign when he vowed, if elected, to make such changes as extending the school day.
The rift widened when 30,000 city teachers walked off the job in September 2012 largely over job security, the extended classroom time and evaluations tied to student performance.
"I will not stand by while the children of Chicago are played as pawns," said Emanuel, who blamed union infighting for prolonging the strike and vowed to get a court injunction to get teachers to return. "This was a strike of choice and … this continued action by union leadership is illegal."
The Chicago public school system, the country's third largest, has roughly 511,000 desks for 403,000 students and about 140 of its 681 schools are more than half empty, according to the city.
Though the mass closure is bigger than any other reported by a U.S. city, Detroit closed 59 schools in 2009 and 2010, according to a 2011 Pew Charitable Trusts study.
Whether the union can unseat Emanuel, a former Illinois congressman and chief of staff for President Obama, remains to be seen. But Lewis and other union leaders have already moved beyond bluster, hosting at least one in a series of planned training sessions for volunteers to register 100,000 new voters.
Lewis thinks the closings will result in no significant cost savings while forcing roughly half of the 30,000 impacted children to attend schools in other neighborhoods, making them vulnerable to turf wars and gang violence, in a city with 147 homicides already this year.
She also argues the school board's decision was made at the behest of Emanuel "who has no vision for improving the education of our children."
Neither the union nor the mayor's office has returned requests for comment.
Emanuel has yet to publicly comment since the vote but issued a statement through his office saying he will "absorb the political consequences so our children have a better future," according to The Chicago Sun-Times.