Riding the rails: Millions at stake for Detroit's taxpayer-backed transit experiment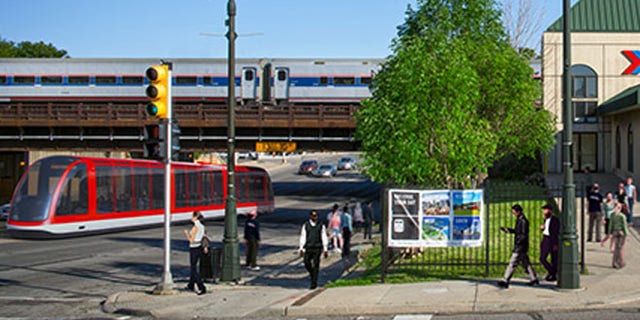 NEWYou can now listen to Fox News articles!
WASHINGTON – There's a lot riding on Detroit's new transit system.
After seven years of planning, work on the ambitious $140 million light rail project started this week amid charges that it already is an antiquated and 'expensive boondoggle' that fails to benefit the city's low-income residents.
Still, city officials are hopeful that the 3.3-mile project connecting the city's primary job center with key cultural and entertainment hubs will be an economic boon for Detroit which has been battered by fiscal decay and the largest municipal bankruptcy in U.S. history.
The M-1 Rail will eventually connect three neighborhoods and stretch from the city's north end to the south. After several starts and stops, the project, already $12 million over budget, is expected to be operational by late 2016.
Concerns remain about the project's price tag, particularly in a city that struggles to provide basic services, and whether it can really attract a steady stream of passengers in a place where parking is abundant. The Motor City, after all, loves its cars. The project is partly propped up by federal taxpayers.
The line, though, is set to launch around the time the new $650 million Detroit Red Wings arena, as well as other downtown businesses and entertainment hot spots, are scheduled to open their doors. The goal for the Motor City is simple: make Detroit as attractive and accessible as possible to residents and visitors in the hope it will jump-start the local economy.
The project would be Detroit's first streetcar line since its transit system was dismantled in the 1950s. It's projected to create about 2,000 new jobs. The M-1 Rail – a curbside loop powered mostly by overhead electrical lines – is expected to carry 6,000 passengers per day, serving 12 stops.
The new streetcars will operate along the Woodward Corridor, which is an area within metro Detroit. M-1 will connect Detroit's downtown, midtown and New Center areas -- all of which have been economically hard-hit in recent years but are now at the epicenter of Detroit's revitalization efforts.
Rep. John Conyers Jr., D-Mich., has been a big supporter of the project from the start. He believes the rail line will attract new businesses and says the transit system will give Detroiters "additional, affordable mass transport options."
But can it survive?
Oddly, the transit system will be operated -- at least at first -- almost entirely on an honor system for the $1.50-per-ride fee. It's a move some argue might not be the wisest for a city that's been a poster child for corruption in recent years.
Others just say it's a bad idea.
"Light rail is sooo last century," Cato Institute's Randal O'Toole wrote. "In fact, it is a giant hoax perpetrated on the taxpayers of Detroit and the United States."
O'Toole says the idea of a light rail doesn't work in today's society and calls it "an obsolete form of transportation that does not promote economic development, relieve congestion, save energy or reduce air pollution. All it does is cost lots of money."
George Galster, professor of urban affairs at Wayne State University, echoed much of the sentiment in a recent interview with Bloomberg News. He called Detroit's streetcars "a terrible idea" that will benefit property owners and not low-income residents who can't afford to live near the Woodward Avenue corridor.
He also argues there's no guarantee that the cost of operating the light rail system won't backfire and end up costing Detroit even more.
"All the city of Detroit needs is another expensive boondoggle," he said.
But supporters say Detroit's learned from its mistakes and is ready for a do-over.
"The people who live and work in this city have tenacious spirits," Roger Penske, M-1 RAIL's chair, said in a written statement. "It's a passion and love for this place that gets projects like this moving. We are now on the path to revolutionize the way we move throughout the Woodward corridor and beyond."
The federal government says it's convinced and is on board too.
In January 2013, Transportation Secretary Ray LaHood announced $25 million in federal funding for the transportation project.
"We will finish M-1," he said at the time. "We will create a regional transportation authority with new buses, new facilities and think of what this will do for this region," LaHood said, adding, "This will become an economic engine."
Funding for the M1-Rail is one of the first nonprofit, public-private partnerships of its size in the transit industry, M-1 COO Paul Childs said.
Of the estimated $140 million it will cost, $110 million has already been raised by private donors including Quicken Chairman Dan Gilbert and Penske Chairman Roger Penske. Another $5 million is expected to come from the federal New Markets Tax Credit Program which offers tax credits for development in low-income communities.
Project organizers tell FoxNews.com they have narrowed the field to two bidders to design, engineer and manufacture six street cars, which typically cost between $2 million to $6 million per climate-controlled car. The cars are also expected to seat 60 people with standing room for 120. They will also have Wi-Fi, bicycle storage and on-board ticketing.
After years of people fleeing from the city, there has been a small uptick in population. Investors like Quicken Loans say they are looking to Detroit with renewed interest. Other big investor boosts are helping the city pick up the pieces and re-brand itself rather than go down in history as an example of urban decay and fiscal mismanagement.