Richard Holbrooke Remembered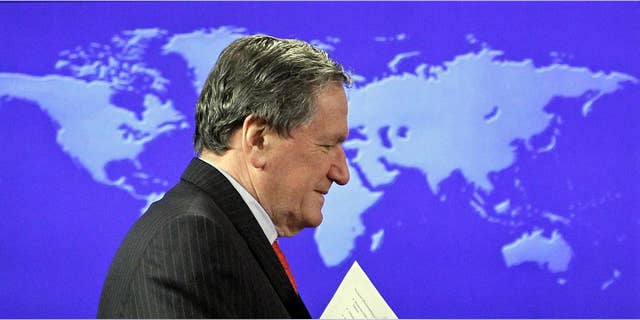 NEWYou can now listen to Fox News articles!
For someone who spent his whole career as a diplomat, Richard Holbrooke could be extremely UN-diplomatic.
His mercurial temperament chafed those whom he hounded into doing what at times they didn't see as being in their personal or their national interests. Slobodan Milosevic, to this day, contends that Holbrooke offered him immunity if he stepped down and stopped the war. An allegation Holbrooke denied in his memoirs. Richard Holbrooke prosecuted America's interests with the relentlessness of a rabid pitbull. He was tough on those with whom he worked.
Up until the last moments of his life, he was meeting at his hospital bedside with State Department aides editing and re-editing documents in preparation for critical White House meetings that begin today to review progress in the war in Afghanistan. The Afghan security review, a December review, ordered by President Obama earlier this year when the President ordered 40,000 additional troops to deploy to Afghanistan.
Richard Holbrooke wanted a seat at that table. And privately, according to Bob Woodward's recent book "Obama's Wars", Holbrooke expressed concern that he was being cut out of the decision-making process. He worried that he was not part of President Obama's trusted inner circle, a role that he was used to playing in the Clinton administration. At a recent Foreign Policy magazine celebration, those who knew him said he appeared concerned that he was being left out of crucial meetings in which Afghan policy was being determined.
In an uncomfortable, exchange recorded by Woodward, Holbrooke asked the President early on not to call him "Dick"..."for the sake of my wife," Holbrooke requested of the President. He wasn't secure in his status as a trusted adviser to this White House. He was thrust into prominence when chosen to be the special envoy to Pakistan and Afghanistan by Hillary Clinton when she became Secretary of State, a role he coveted for himself in successive Democratic administrations.
Members of the U.S. military responsible for the war effort in Afghanistan sang Holbrooke's praises Wednesday. Admiral Mike Mullen, Chairman of the Joint Chiefs, wrote of Holbrooke's passing: "I had been, to be honest, quite convinced of his eventual recovery, knowing as I do his deep distaste for losing....He was a big man in every sense of the word."
General David Petraeus was an ally of Holbrooke's. In an e-mail from Afghanistan last night, he wrote: "This is a tragic loss for our country." He described Holbrooke as a "titan" and his "diplomatic wingman", "a tremendous diplomatic partner, a great American and a good friend."
But the former commander for Afghanistan, General Stanley McChrystal and his aides were less charitable even skeptical about Holbrooke's bull in a China shop approach to Karzai's government and the Taliban. In the notorious Rolling Stone article that proved to be McChrystal's downfall, his close aides were quoted saying, "The boss says he's like a wounded animal. Holbrooke keeps hearing rumors that he is going to get fired so that makes him dangerous. He's a brilliant guy but just comes in, pulls on a lever, whatever he can grasp onto, but this is COIN (Counterinsurgency strategy) and you can't just have someone yanking on s***."
At one point during a trip to Paris observed by Rolling Stone's Michael Hastings, McChrystal received a blackberry e-mail from Holbrooke. "Oh not another e-mail from Holbrooke," McChrystal reportedly said. "I don't even want to open it." As he shoved his blackberry into his pant leg pocket, an aide joked: "Make sure you don't get any of that on your leg."
According to Pakistan's leading intellectual and author of "The Taliban," Ahmed Rashid who knew Holbrooke well. "Whether you liked him or disliked him, there is no denying that in the last two years, he constantly battled for Pakistan and Pakistanis," Rashid wrote shortly after hearing the news of his death. "At times Holbrooke may have been aggressive and pushy, loud and boisterous, too ultra-American, too New York, someone who did not understand our culture and its nuances, but he brought to the table for the first time - after the preferred ignorance of the Bush administration and its lackadaisical love affair with General Musharraf a strategic vision to the U.S.-Pakistan relationship."