RFK Jr. for Crist: Rubio a 'Crackpot,' Meek Can't Win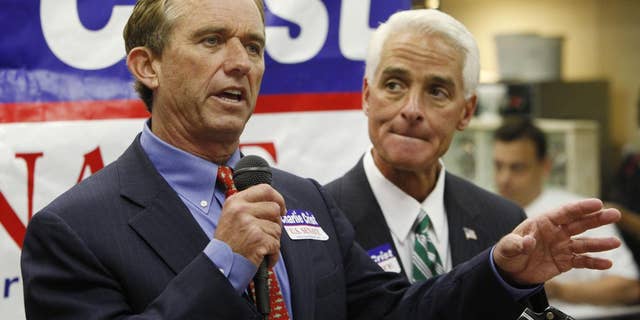 MIAMI- Marco Rubio is a "crackpot" and his Tea Party backers are stuck on stupid, environmentalist and Kennedy clansman Robert F. Kennedy Jr. said Wednesday, giving his endorsement to Rubio opponent, Florida Gov. Charlie Crist, in the U.S. Senate race.
Offering more reasons why he was rejecting Crist's opponents than supporting Crist, the namesake of the iconic Democratic figure called the Tea Partiers backing Rubio, members of a "radical" movement that is really just "gloss for the corporate plutocracy that is threatening to crush our democracy."
"(Rubio), like the other Tea Parties, has a radical vision, a very narrow vision, a I-can-be-as-stupid-as-I-want vision of this country," Kennedy said to laughs from Crist supporters in the room.
As for Democratic nominee Rep. Kendrick Meek, Kennedy said he doesn't have a chance come Nov. 2.
"I'm a very big admirer of Kendrick Meek and I think he has a very very great political future ahead of him in the state of Florida and across the country but I think its clear that he can't win this election," said Kennedy at a campaign event for Crist in Deerfield Beach, Fla.
"The polling data is clear, and you know, if I thought he could win this election I'd be down here campaigning for him because I think he's a great man. But I do not believe he can win this election, and I think if we lose this election it will be a catastrophe for our country."
RFK Jr. is the second Kennedy family member to come out in favor of the Republican-turned-independent Crist. Republican California Gov. Arnold Schwarzenegger, husband to Kennedy's first cousin Maria Shriver, also offered Crist his backing on Tuesday.
But the tepid endorsement for Crist may not persuade Meek to pull out of the three-way race and pave the way for Crist to go head-to-head with Rubio. Meek has adamantly denied rumors that he was contemplating dropping out.
In the latest Quinnipiac poll of likely Florida voters -- released Wednesday -- Rubio leads Crist, 44 percent to 30 percent, while Meek trails at 22 percent.
A recent Public Policy Polling survey also shows Rubio beating Crist by double digits. But in a scenario that excludes Meek, Rubio and Crist are in a dead heat, with each at 46 percent. Meek also benefits if Crist were to drop out, the PPP polls put him within single digits of Rubio with three weeks left until Election Day.
In the poll, Meek does not do as well with independents as Crist, but the results show that Crist and Meek are essentially splitting the vote from the same bloc of voters.
Meek spokesman Nathan Click noted that the congressman has his own Kennedy support in the bag.
The campaign ran an ad in August that included an image of the late Sen. Ted Kennedy which was approved by Kennedy's widow, Vicki Kennedy, "who said she was honored to give Kendrick her family's blessing to use the photo in the commercial," Click said.
"Floridians simply can't vote for Governor Crist because he doesn't stand for anything. And that's what this election is all about," Meek Communications Director Adam Sharon added in a statement.
Meek also has had another Democratic heavy-hitters campaigning for him -- former President Bill Clinton. Clinton toured with Meek last month and is coming back down to Florida next week to host campaign rallies in St. Petersburg and Orlando.
As for Rubio, his campaign was not moved by Kennedy's comments, calling them nothing more than "name calling and partisan attacks," not unlike Crist's recent "false, negative ads."
"The irony is that Crist says the reason he's running is to end the partisan bickering and return civility to Washington," Rubio spokesman Alex Burgos said in a statement. "Charlie Crist has proven once again that there's nothing he won't say or do to try to win an election."
Fox News National Correspondent Phil Keating contributed to this report.