Republicans Press Obama to Strengthen Border Security Plan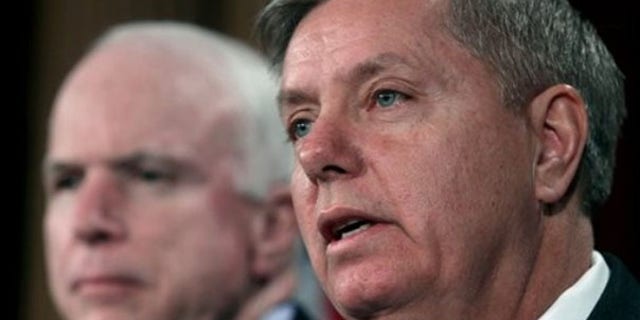 Republicans are pressing President Obama to quintuple-down on his decision to send National Guard to the U.S.-Mexico border, saying 1,200 troops is just the start and five times more troops are needed before any comprehensive immigration overhaul can come to a vote.
Several lawmakers are also expressing concern that the guardsmen who are being sent to the border will be relegated to "desk jobs" and that the number authorized will not make much of a difference along the 2,000-mile border.
Deploying 1,200 troops in three shifts for 24 hours a day means only about 400 National Guard on the border at any one time.
"No one ... believes that's enough," said Sen. John McCain. R-Ariz. "But that's a good first step. And hopefully, now that the president understands the importance of this issue, we will also get UAVs and we will get border -- more border positions built so that we can -- and give hardship pay to the border patrol that we have."
McCain said 3,000 troops are needed across the border and an additional 3,000 Guard are needed just on the Arizona-Mexico border.
In the immediate aftermath of the surprise decision Tuesday afternoon, border-state lawmakers thanked the president for "finally" heeding their calls for an influx of National Guard.
Even Arizona Gov. Jan Brewer, whose state's immigration law has been a top target of the Obama administration, said she was "pleased" by the move.
The National Guard troops are expected to be concentrated in key areas, rather than spread along the entire border.
Rep. Gabrielle Giffords, D-Ariz., told Fox News she thinks the Guard will be coming to southern Arizona.
An administration official said the National Guard would be used to "provide intelligence, surveillance and reconnaissance support," as well as support "counternarcotics enforcement" and provide "training capacity" until the Border Patrol can bring more officers on board.
The president is also requesting an additional $500 million to improve border security technology and increase the number of agents, investigators and prosecutors targeting drug, human and weapons traffickers.
But even in a concentrated area like Arizona, with six border crossings along its 389-mile border with Mexico, the National Guard will not be visible and therefore not as effective, say critics.
"The real value of the National Guard is to be seen," Rep. Duncan Hunter, R-Calif., told Fox News, arguing that would-be illegal immigrants fear military personnel as they do in their own country.
"They aren't boots on the ground at the border," Sen. Jon Kyl, R-Ariz., said. "They were not intended to be deployed to the border."
Though some lawmakers have raised concerns that they might not be on the front lines making arrests, Giffords said they can provide valuable help with intelligence and surveillance.
"Having that manpower on our border to help figure out how we stay two steps ahead of the drug traffickers will be absolutely imperative," she said.
Meanwhile, Republicans are urging the president to cool it on immigration legislation so border security can get the attention it deserves.
Kyl described the president's stance as a quid pro quo -- the president wants Republicans to work with him on immigration reform in order for him to work with them on securing the border, he said.
"No. We need to secure the border," Kyl told Fox News. "That's his responsibility. And it's our responsibility. ... Securing the border is necessary to get comprehensive reform, but comprehensive reform doesn't get you a secure border."
Sen. Lindsey Graham, R-S.C., who until recently was working with Democrats on an immigration overhaul, said the concern is that if Congress creates a pathway to citizenship for illegal immigrants before securing the border, then millions more illegal immigrants will try to cross over.
"You've got to have confidence building," Graham told Fox News. "You've got to do (immigration reform) sooner rather than later, but start with the border. ... Secure the border this year."
Senate Republicans said Obama was reluctant to commit to securing the border first during a private meeting on Capitol Hill Tuesday and that he didn't even bring up the plan, announced later in the day, to deploy up to 1,200 troops.
Kyl and Sen. John McCain, R-Ariz., urged the president to build on that proposal by deploying at least 6,000 National Guard troops -- something they are calling for in an amendment to a war funding bill in the Senate.
Sen. Robert Menendez, D-N.J., reacted to the announcement by accusing the Obama administration of caving to GOP pressure. He said more Border Patrol agents, not National Guard, is the answer and rejected the argument that border security should be the priority.
"Border enforcement is a part of realistic, commonsense reform, but it alone is far from the answer," he said in a written statement. "The Obama administration's militarization of the border amounts to a submission to the political forces brought by the Republican Party."