Republicans Plan Anti-Health Care Reform Bill 'Blitz' as Democrats Regain Footing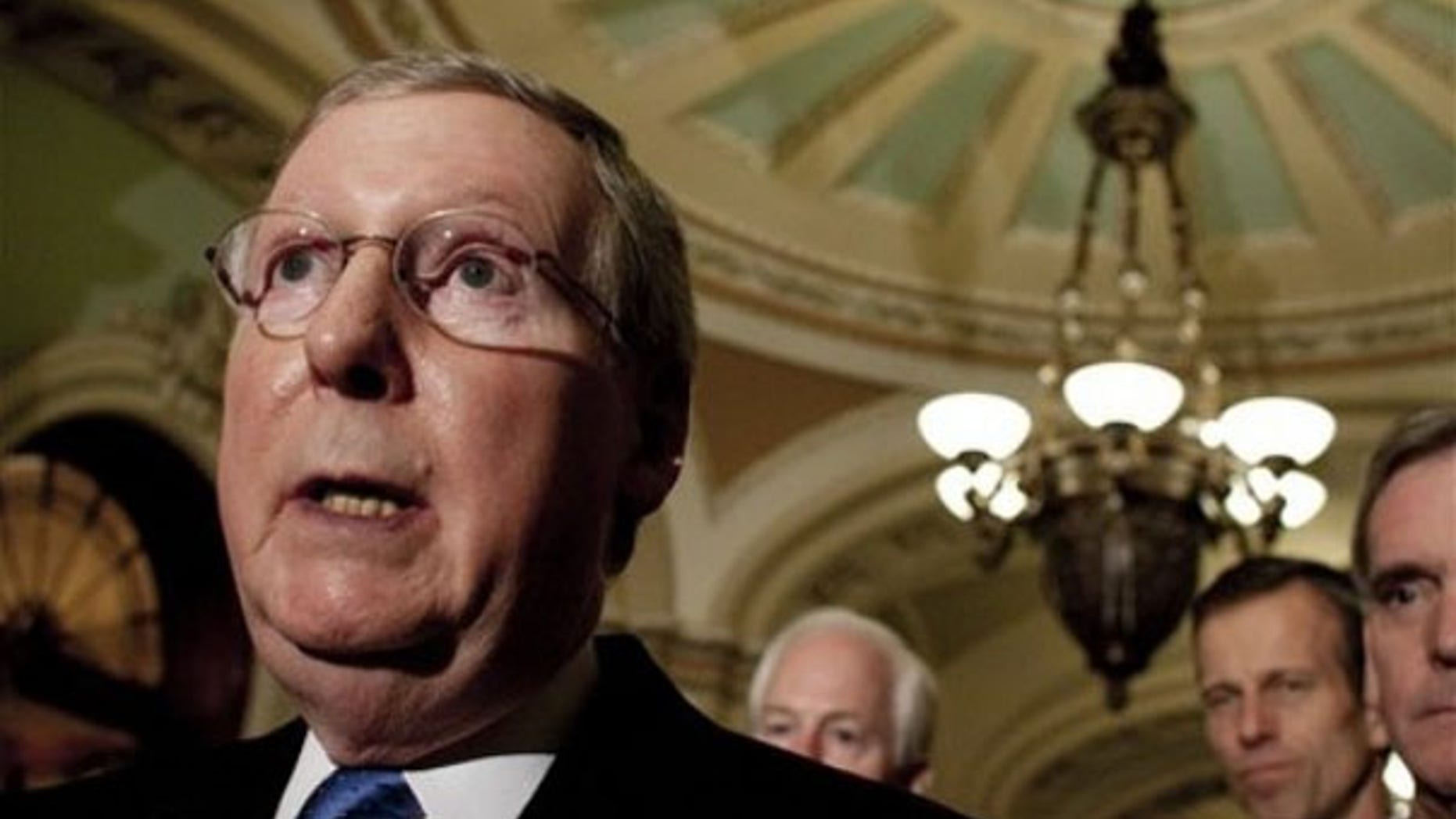 As Democrats in Congress prepare to shut Republicans out of the health care debate by triggering the "nuclear option" to pass legislation, the GOP is turning to a familiar tactic in a last-ditch effort to stall the bill: make some noise.
The strategy worked during last summer's congressional recess, when rowdy town hall meetings disrupted health care reform's momentum. It was thrown off track again in January, when Massachusetts voters sent Scott Brown to the U.S. Senate, breaking the Democrats' 60-vote, filibuster-proof supermajority.
Democrats are now planning to get around their "Brown problem" by using a legislative process called reconciliation to approve the bill in the Senate with a simple, 51-vote majority. That leaves Republicans, who still adamantly oppose the bill, with few options but to wage a war against it outside Washington -- in town hall meetings, local congressional races and the media. And the clock is ticking.
"We'll fight," Sen. Tom Coburn, R-Okla., told Fox News on Wednesday when asked what his party can do if Democrats go the reconciliation route.
The National Republican Congressional Committee on Wednesday launched what it called a "multi-front communications effort" to put pressure on "vulnerable" Democrats over the health care bill. The NRCC hopes it can spook those House Democrats into voting against the package, depriving House Speaker Nancy Pelosi of the valuable votes she needs.
"It's a campaign," NRCC spokesman Ken Spain said, adding that Republican House candidates are being encouraged to hold town hall meetings. The NRCC is also tapping Republican doctors in the House to go on a "media blitz" to "expand the Republican Party's message on health care."
President Obama said Wednesday that he's urging Congress to schedule a health care vote in the "next few weeks." He told congressional leaders in a letter Tuesday that he's including four Republican-backed ideas in his plan, though Republicans in both chambers roundly rejected his proposal.
"The American people are asking us for step-by-step reforms that target cost and expand access, not a couple of common-sense ideas layered over a rewrite of one-sixth of the economy," Senate Republican Leader Mitch McConnell, R-Ky., said in a response letter.
Elected Republicans are making the media push to shame Democrats, while the conservative Tea Party groups are readying a new wave of protests that, for the moment, could put them and the establishment Republicans on the same page.
Brendan Steinhauser, director of federal and state campaigns with FreedomWorks, told FoxNews.com that his group is encouraging Tea Partiers to hold forums, much like the August town halls, to talk about health care reform.
From there, the Tea Party groups will hold nationwide rallies on April 15, and health care reform opposition is expected to be a major cause. Though Congress could potentially pass the bill by then, Steinhauser said he doesn't think Tax Day will be too late.
"A lot of people are just fired up about this," he said. "I don't see any indication that they're going to be able to do this very quickly."
A Senate Republican aide said the GOP, which is still waiting to see whether Democrats can hold together their own coalition, will continue to make its complaints known.
"Republicans have been very insistent in saying the American people don't want this bill jammed through. The American people don't want this bill at all," the aide said, declining to comment on whether Republicans are having conversations with swing-vote Democrats about the bill.
Though Senate Majority Leader Harry Reid can afford to lose several Democratic moderates in his chamber if the bill goes the route of reconciliation, Pelosi does not have the same luxury. The House passed its version of the bill by a narrow 220-215 vote last year. Considering vacancies, Pelosi now needs to hold together 216 members. House Republican Whip Eric Cantor, R-Va., has argued that she doesn't have those votes, saying concerns about abortion funding and the reconciliation process itself will drive away needed Democrats.
But an Associated Press survey found that at least nine of the 39 House Democrats who voted against the bill last year are now undecided, making them prime targets for Pelosi and Obama in their effort to push a final bill, along with a package of changes, over the finish line.
In order to proceed, the House would have to first pass the Senate-passed health bill. Then the House would have to go forward with a package of changes -- the reconciliation bill -- operating on a pledge that the Senate would follow suit.
A senior Senate Democratic leadership aide told Fox News that bill will likely come together by early next week.
Meanwhile, by continuing to resist the health care bill after the high-profile bipartisan summit last week and Obama's concessions in his letter, Republicans continue to risk being labeled the "Party of No."
House Democrats are holding a press conference on GOP "obstructionism" Wednesday afternoon.
Democratic National Committee Chairman Tim Kaine told Fox News on Tuesday that Democrats are turning to reconciliation in response to Republican lack of cooperation.
"Democrats have a majority for a reason," Kaine said. "When they don't accept the olive branch, that signifies that the time for backing and forthing is done and it's time to vote. ... Americans understand that. The American people elected this president to get results. They don't care about the inside baseball."
Republicans and Democrats have very different interpretations of what the American people want.
Republicans and Tea Party groups are stressing that Democrats, particularly those in conservative-leaning districts, will be voting for health care reform at their own peril.
"I want to assure our Democratic friends that if they are somehow able to pass this bill in the House, it will be the issue in every race in America," McConnell said Tuesday.
Fox News' Trish Turner contributed to this report.