Republicans Accuse Democrats of Backroom Dealing on Health Care Bill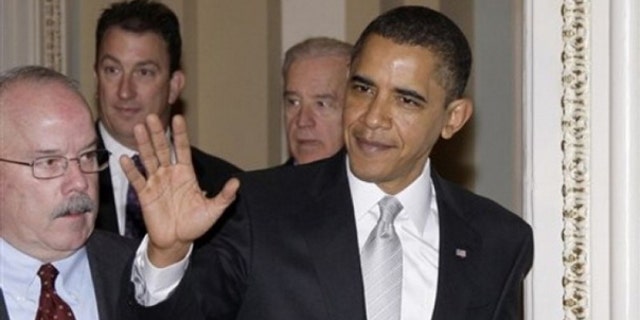 NEWYou can now listen to Fox News articles!
WASHINGTON -- Senate Republicans accused President Obama of backroom arm-twisting on Sunday, speaking at a press conference just steps away from the room where the president met with divided Democrats on an $848 billion health care plan.
Lawmakers spent the weekend in Washington trying to hash out amendments to the massive bill that faces universal opposition from the chamber's 40 Republicans. To pass, any legislation will require unanimous approval of the 60 Senate Democrats, who are divided on abortion funding and a government-funded insurance program.
The negotiations have "drifted off into an entirely partisan effort," Senate Minority Leader Mitch McConnell said. "They have crafted a deal with no appeal to any Republican."
Saying he doesn't like to refer back to the 2008 presidential campaign he lost to Obama, Arizona Sen. John McCain said the president has completely abandoned his pledge for transparency.
"That's not what he committed to do when he ran. I don't think that's helpful," McCain said.
But Democrats continued to portray the debate as an historic effort on par with the creation of Social Security or Medicare.
"The message from the presentation of the president is that not since Social Security have we had such an issue in this country," said Senate Majority Leader Harry Reid after the half-hour meeting with Obama.
"You have to go back four decades or more to a time when we addressed an issue which has such importance to every family, every business, every individual in America. And I'm glad the president's coming," Sen. Dick Durbin, a close Obama ally and the Senate's No. 2 Democrat, said earlier in the day.
"We will work together to get something done. We're in reach of an historic accomplishment" said Independent Democratic Sen Joe Lieberman, who noted that the president didn't mention the so-called public option once.
"Hopefully we can get something that will get more than 60 votes," Lieberman added.
Appearing with Durbin on "Fox News Sunday," Sen. John Cornyn described the legislation as chock full of problems.
"This cuts a half a trillion dollars in Medicare and people cannot on Medicare Advantage, for example, keep what they have as the president promised, that it will actually raise taxes on small businesses during a recession, and it will -- it will limit people's choices to -- in many cases, to a government-run program like Medicaid, which is essentially a health care gulag, because people will not have any choices but to take that poorly performing government-run plan," said Cornyn, R-Texas.
Cornyn called the president's visit a continuation of "what has been a partisan approach to health care reform."
"Obviously, the president and Senate Democrats have made a decision to do it their way without accepting input from Republicans both at the committee level and in the Senate," he said.
Emerging from meeting, Obama said that the discussion "wasn't a negotiation. That was a pep talk."
"They're doing great. They're going to get the job done," he added.
The White House also described the meeting as one in which the president "thanked members of the Senate for their hard work so far and encouraged them to continue forward on this historic opportunity to provide stability and security for those who have insurance, affordable coverage for those who don't and bring down the cost of health care for families, small businesses and the government."
But in an indication of how much pressure is being placed on Democrats, Obama was joined by Vice President Biden and Interior Secretary Ken Salazar, both former senators, and Health and Human Services Secretary Kathleen Sebelius as well as an array of administration staff.
Sen. Kent Conrad, D-N.D., said Obama talked about unemployment numbers at the end of the last administration and how health care reform is essential to fend off an economic calamity.
He added that the president also talked about the stimulus bill and how both the Recovery Act and the bank bailout funds would be seen in history as essential to averting a crisis.
"There was a reference to 2010, but this was a big speech. It didn't get into anything petty," Conrad said.
Most of what is being negotiated behind the scenes will be put in what is shaping up to be a massive omnibus bill called a "manager's amendment," though that will take time to put together.
Among the changes being discussed is an amendment by Democratic Sen. Ben Nelson of Nebraska that could come as early as Monday to match a House amendment that bar abortion services from any health insurance plan to be paid by government.
Another idea would be to create national nonprofit insurance plans that would be administered by the Office of Personnel Management, which oversees the well-liked Federal Employees Health Benefits Program.
"Most of us in the Senate are in the Federal Employees Health Benefit Program, a government-administered program. I don't find any Republicans who find government health insurance repugnant bailing out of their own health insurance plan that they enjoy as members of Congress," Durbin said.
Sen. Blanche Lincoln, D-Ark., a key centrist, also was enthusiastic about the idea, which she's proposed in different forms in the past.
"I think it bodes well for being able to do what we want to do, which is to create greater choice and options in the marketplace," she said Saturday.
But liberals are still cool to the proposal, holding out for a fully government-run plan.
"I'm willing to talk to anybody about anything but they haven't sold it yet," said Sen. Sherrod Brown, D-Ohio. "We have compromised enough on the public option."
"There are a number of great ideas on the table," said Sen. Russ Feingold, D-Wis., but "there has to be some form of a public option on the table. ... We're willing to work as long as we have to to try to do it."
Durbin said he wants an alternative to private health insurance that "creates competition for the health insurance companies, because they at this point enjoy a virtual monopoly."
"They are exempt from antitrust laws, so they can fix prices and allocate markets under the law and do it legally," said Durbin.
Cornyn countered that instead of "demonizing the private sector, and "glorifying the government sector," the debate should be about bringing down costs, lowering premiums, keeping taxes low and avoiding Medicare cuts.
"It's breathtaking to me ... the disdain with which this administration and Senate Democrats have for the private sector. If you eliminate the private sector when it comes to health care provision, you're left with only the government, which many fear is the reason why this public option is, as Joe Lieberman said, a Trojan horse for a single-payer system ultimately," Cornyn said.
But Republicans don't appear to be gaining traction. A Republican amendment that would have eliminated $42 billion in cuts to Medicare home health services failed. The GOP called it a big blow to a lot of seniors while Democrats said it will make operations more efficient.
Democrats are not fixing Medicare, but are "raiding it to create an entirely new government entitlement program," McConnell said Saturday.
Also not gaining any traction are limits to payments for medical malpractice lawsuits, something Republicans have proposed and Obama earlier said was something that could be brought into consideration.
The House already passed its version last month. The nearly $1 trillion, 10-year legislation would provide coverage to more than 30 million more people over the next decade with a new requirement for nearly everyone to purchase insurance.
There would be new marketplaces where people could shop for and compare insurance plans, and lower-income people would get subsidies to help them afford coverage. The federal-state Medicaid program for the poor would grow, and there would be a ban on unpopular insurance company practices such as pulling coverage when someone gets sick.
Fox News' Trish Turner and Caroline Shively and The Associated Press contributed to this report.