Republican Senate candidate in Missouri says Facebook banned him over AR-15 giveaway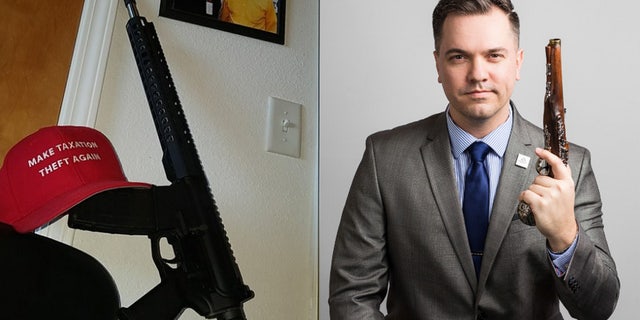 A Republican Senate candidate in Missouri says Facebook banned him from using the social network for 30 days because he used the site to promote his campaign's AR-15 giveaway.
The candidate, Austin Petersen, published an open letter to Facebook CEO Mark Zuckerberg on his campaign website on Thursday and argued his situation was part of a larger trend of unfairness towards conservatives.
"It's difficult to ignore that this action comes during a period of heightened tension regarding Facebook's role in our elections, and its perceived bias against conservative voices," Petersen wrote.
In his letter, Petersen said he has made Facebook a centerpiece of his campaign's outreach efforts.
"That's why, on September 22, I was so shocked to receive a notification from Facebook informing me that I had been 'blocked' from using Facebook for thirty days because I 'recently posted something that violates Facebook's policies,'" he wrote.
Petersen said a Facebook Live video he posted to his campaign's page promoting the AR-15 giveaway for supporters was removed. He also said a status update posted to his profile referencing the giveaway was also removed.
"I'm confident that such giveaways are consistent with Facebook's policies...so it's unclear to me why such content would warrant an immediate takedown and thirty-day ban," he said.
A spokesman for Facebook did not immediately return a request for comment from Fox News.
But Facebook's "community standards" website says the trade of firearms is prohibited on the site.
"The purchase, sale or trade of firearms, ammunition and explosives between private individuals isn't allowed on Facebook," it says.
Petersen said in the letter that he reached out to Facebook for more information, but he has not yet received an explanation and the block remains in effect.
He also wrote in the letter that Facebook's chief operating officer, Sheryl Sandberg, has contributed money to Missouri Democratic Sen. Claire McCaskill – something he says "does not inspire confidence in Facebook's neutrality."
Donor records indicate Sandberg donated $5,400 to McCaskill in January.
It's common for campaigns to create petitions as a way to collect names and contact information of potential supporters. Petersen's giveaway requires people to sign a petition on his website to be entered to into a raffle for the rifle.
"Austin Petersen will always be a strong ally of the Second Amendment, and we know you will be too," the site says. "That's why, when you add your name to this petition and stand up to defend the Second Amendment, we'll add your name into a raffle to win an AR-15! Yes, it really is that simple; no strings attached."
Petersen's fight with Facebook comes as President Trump has argued the site is biased against him.
BIG TECH TITANS SUMMONED TO CAPITOL HILL
"Facebook was always anti-Trump," the president tweeted Wednesday, amid recent questions about how the site was used by the Russians to try to interfere in the 2016 presidential election.
Facebook's announced earlier this month that it had uncovered $100,000 worth of fraudulent ad spending across its network tied to the presidential race.
Along with Twitter and Google, Facebook has been invited by lawmakers to testify on Capitol Hill as Congress ramps up scrutiny of Russia's meddling.