Republican hopes rise on Georgia race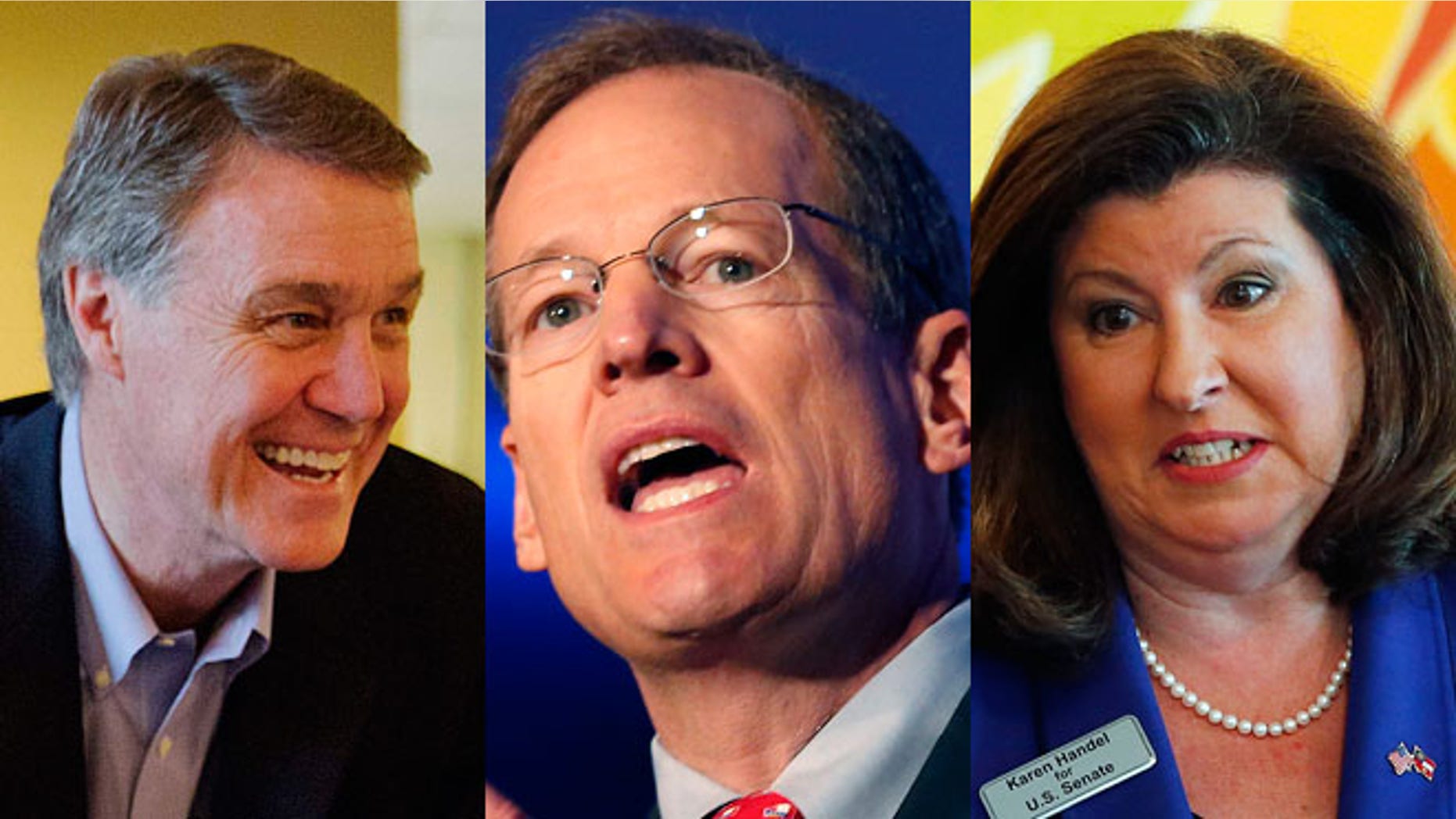 **Want FOX News First in your inbox every day? Sign up here.**
Buzz Cut:
• Republican hopes rise on Georgia race
• Fizzle, not sizzle for McConnell foes
• Gosnell case casts shadows on Pennsylvania Dem primary
• Billionaire Steyer to host Biden for fundraiser
• Thanks, Obama
REPUBLICAN HOPES RISE ON GEORGIA RACE
Republican strategists once feared Georgia's senate primary like none other on the calendar. The race to replace retiring Sen. Saxby Chambliss, R-Ga., promised to be a bitter struggle between insurgents and establishmentarians with the prospect of either an unsuitable general-election candidate or a nominee who had to go so far right to win that he or she would lose their credibility with the more moderate suburban voters on whom November's outcome will depend. But that's not what happened… at least so far.
Round one - This is just a preliminary round. With no candidate likely to clear the 50 percent threshold to avoid a July 22 runoff, the focus today is on which two candidates will survive and advance. The establishment is divided between frontrunner David Perdue, a former CEO and cousin to former Gov. Sonny Perdue, and Rep. Jack Kingston, a longtime House member whose Savannah district is home many moderate coastal voters. The outsiders are divided, too. Former Georgia Secretary of State Karen Handel has emerged as the frontrunner in a three-way contest for the support of the more conservative wing of the party. Others in that lane include Rep. Paul Broun, who represents an intensely conservative district in the north-central part of the state and is famous for his firearms giveaways, and Rep. Phil Gingrey, a doctor who represents a staunchly conservative district mostly in the far exurbs of Atlanta.
Which two will tango? - The GOP establishment would like nothing better than to see two of their own in the runoff, and many have hoped at Perdue and Kingston would be the ones to sparring for the next nine weeks. It might be petty. Really petty. But it wouldn't be a buffet of red meat alone. Polls have shown, however, that Handel is elbowing her way into the second spot just behind the deep-pocketed Perdue. And while a race between the two of them would surely see plenty of base baiting, Handel has won statewide before and has shown herself to be an adept campaigner.
Nunn may not be the one - The winner of the GOP runoff will face the daughter of former longtime Democratic Sen. Sam Nunn, charity foundation head Michelle Nunn. Though state and national Democrats have swooned over the younger Nunn's famous name and facility for fundraising, how will she fare in an actual campaign environment? Early signs are not good. When asked if she would have voted for President Obama's signature health law, Nunn was gobsmacked in a MSNBC interview. "So, at the time that the Affordable Health Care Act [sic] was passed, I was working for Points of Light," Nunn says. "I wish that we had had more people who had tried to architect a bipartisan legislation...I think it's impossible to look back retrospectively and say, 'You know, what would you have done when you were there?'" She's going to have plenty of chances to reconsider over the course of the campaign.
[Polls close in Georgia at 7 p.m. ET. You can track the results with the Georgia Secretary of State and watch Fox for coverage of tonight's key primary contests, online at FoxNews.com]
FIZZLE, NOT SIZZLE FOR MCCONNELL FOES
What was supposed to be a searing primary challenge to the top Republican in the Senate has lacked any electoral heat. Senate Minority Leader Mitch McConnell, R-Ky., looked very vulnerable on paper and his old foe, former Sen. Jim DeMint, R-S.C., and other leaders of conservative groups, had big ideas about beating McConnell. Not so much. The lesson in Kentucky has proven to be the same as in other GOP contests so far this cycle: candidate quality trumps almost everything else. As it turns out, the much vaunted, deep-pocketed challenger, Matt Bevin, isn't very good at running for office. Bevin had a few early stumbles, and despite lots of airtime, never seemed to catch on with the same Republican base that has been skeptical of McConnell's horse-trading ways in the Senate. And in the end, Bevin's campaign just collapsed in a flurry of feathers. McConnell's secret weapon all along was the viability of the presumptive Democratic nominee Secretary of State Alison Lundergan Grimes. With Grimes, heiress to a foodservice fortune, a famous political name and the support of her father's friend former President Bill Clinton, Republicans had to think twice about indulging their hard feelings about McConnell's deal making. McConnell's hope tonight will be to leave Bevin far in the dust and demonstrate a minimal need for intra-party healing.
"There's always some hurt feelings after a primary. We're going to be able bring the party together. This state is a state that is not hospitable to this administration. The president carried four out of 120 counties in my state…" – Senate Minority Leader Mitch McConnell on "The Kelly File." Watch here.

Aerial bombardment begins immediately - Lexington (Ky.) Herald-Leader: "Two independent expenditure groups that support McConnell and his policies have bought a combined $5.2 million in ad time for the coming weeks after Tuesday's primary election… KSL, a Super PAC that has already spent heavily in an effort to tie likely Democratic nominee Alison Lundergan Grimes to President Barack Obama, will kick things off with $575,000 in ads scheduled to run Wednesday through June 2."
Grimes PACs lag on cash - The (Louisville) Courier-Journal: "The super PAC supporting Democrat Alison Lundergan Grimes' campaign for U.S. Senate – We Are Kentucky -- recently reported raising $32,500 in the first quarter of 2014. That brought the total raised since it formed last July to $293,000… We Are Kentucky has yet to buy media advertising. But it has spent most of what it has raised, and as of April 1 reports only $108,336 in cash on hand…A super PAC supporting incumbent Republican U.S. Sen. Mitch McConnell, Kentuckians for Strong Leadership, has reported raising a bit more than $3.3 million so far."
[Polls close in Kentucky at 7 p.m. ET. You can track the results with the Kentucky Board of Elections and watch Fox for coverage of tonight's key primary contests, online at FoxNews.com]
COTTON PICKED FAR AND WIDE
Another primary meltdown that wasn't: Arkansas. The Natural State has seen an outbreak of Republican unity as conservative outsiders and moderate insiders all back Rep. Tom Cotton in his bid to unseat incumbent Democratic Sen. Mark Pryor.
[Polls close in Arkansas at 8:30 p.m. ET. You can track the results with the Arkansas Secretary of State and watch Fox for coverage of tonight's key primary contests, online at FoxNews.com]
Cascade of cash from Crossroads - The Hill: "American Crossroads and its sister group, Crossroads GPS, are launching a $10 million campaign to boost Republicans in four key Senate races…Crossroads GPS…will spend $3.6 million in North Carolina, $2.3 million in Colorado and $900,000 apiece in Alaska and Arkansas. Those totals will be matched by American Crossroads in Alaska and Arkansas."
WEHBY TROUBLES MAY HAVE MISSED THE POSTMARK
The final weeks leading up to today's Oregon primary exposed personal details that tarnished Republican Senate hopeful Dr. Monica Wehby's gleam as a potential victor in deep-blue Oregon. But it may not matter. Oregon's mail-in only election means that most voters had already sent in their ballots before today. A pair of police reports that show Wehby's troubled romantic past may not end up helping her primary opponent, state Rep. Jason Conger. Wehby is the frontrunner despite being a political novice and having a pro-choice stance on abortion, which rankles her party's base. Last minute voters do have the option today to head to an election office and deliver their ballot by hand until 11 p.m. ET. Conger may not benefit from the breathless coverage of Wehby's personal life, but Democratic incumbent Sen. Jeff Merkley will hope to benefit.
Conger clobbered on ObamaCare - Conger voted to establish the state's massively failed ObamaCare program. Conger later explained his vote for the $300 million debacle saying he preferred to have a state-run exchange rather than a federal run one.
[Polls close in Oregon at 11 p.m. ET. You can track the results with the Oregon Secretary of State and watch Fox for coverage of tonight's key primary contests, online at FoxNews.com]
PICK SIX: NOW WHAT?
Republicans need to gain six seats to take control of the Senate. Which six Democrat-held seats are the most vulnerable? The current consensus among Fox News First readers: Arkansas, Montana, Louisiana, South Dakota, North Carolina and West Virginia. Will today's primary results change your perception of any races? Let us know.
Share your top six picks. Email them – just your top six, please – to FOXNEWSFIRST@FOXNEWS.COM or tweet @cstirewalt.
GOSNELL CASE CASTS SHADOWS ON PENNSYLVANIA DEM PRIMARY
In a state still reeling from the murder conviction of Philadelphia abortionist Dr. Kermit Gosnell, abortion activists are looking to use today's primary vote to punish Democratic lawmakers who supported new regulations on abortion clinics passed amid the wave of disgust following the revelation of Gosnell's crimes. Most notably,  Chelsea Clinton's mother-in-law, former Rep. Marjorie Margolies, is using abortion to try to salvage a failing campaign against frontrunner state Rep. Brendan Boyle in Pennsylvania's 13th District democratic primary fight. On Monday, Margolies appeared on MSNBC and attacked Boyle on abortion, calling him "anti-choice," certainly fighting words in a party that largely demands orthodoxy on the issue of support for elective abortion. She said Boyle's position is a "litmus test" for Democratic women. Boyle, who voted in 2011 for a state measure calling for regulations and inspections at abortion centers in Pennsylvania, countered that he's a "100-percent" supporter of abortion rights and called Margolies onslaught "scare tactics." Despite considerable stumping by Former President Bill Clinton and a recent NY fundraiser by former Secretary of State Hillary Clinton, Margolies has seen an early lead evaporate. Boyle, who lives in the blue collar Somerset district of Philadelphia, is backed by Philadelphia Democratic Party. Today's winner is the likely general election victor in the heavily Democratic district currently represented by gubernatorial hopeful Rep. Allyson Schwartz.
Philadelphia Inquirer: "Pennsylvania Democrats will go to the polls Tuesday to choose a nominee to take on Gov. [Tom Corbett, R-Pa,] after a sometimes-ugly primary campaign that has cost more than $31 million before the final bills are totaled. Tom Wolf, a York County businessman, has led in public-opinion surveys and has outspent his three rivals, mostly thanks to $10 million he contributed to his campaign. U.S. Rep. Allyson Y. Schwartz, state Treasurer Rob McCord, and former state environmental secretary Katie McGinty were trying to play catch-up to Wolf, who seized an early lead with a massive TV-advertising blitz. Corbett, a Republican, is unopposed in his party's primary..."
A different road for younger Shuster - Seeking an eighth term, Rep. Bill Shuster, R-Pa. is looking to hang on against a primary challenge from political newcomer Art Halvorson. While Shuster appears to be on track to victory, the son of retired Rep. Bud Shuster, who as Chairman of the Transportation Committee brought home the bacon, has had to run an aggressive campaign against conservatives opposed to the former first family of roadway pork. WaPo breaks down the battle.
[Polls close in Pennsylvania at 8 p.m. ET. You can track the results with the Pennsylvania Secretary of State and watch Fox for coverage of tonight's key primary contests, online at FoxNews.com]
SIMPSON LOOKS LIKE A SURVIVOR IN IDAHO
Eight-term Rep. Mike Simpson, R-Idaho, looks well positioned to survive a challenge from his right. Attorney Bryan Smith currently lags in internal polls and the anti-tax Club for Growth recently cut funding for the race. Simpson also received a late backing from former Massachusetts Gov. Mitt Romney Monday. The Gem State battle has been bloody, with more than $700,000 of attack ads. Democrats are not expected to contest the seat in November. President Obama took only one-third of the vote in the district in 2012.
[Polls close in Idaho at 11 p.m. ET. You can track the results with the Idaho Secretary of State and watch Fox for coverage of tonight's key primary contests, online at FoxNews.com]
WITH YOUR SECOND CUP OF COFFEE...
Corporations are people, too, my friend… at least when it comes to the Department of Motor Vehicles. As Google expands its fleet of driverless cars, the question has arisen: If there's a traffic violation, who gets the ticket? The owner of the vehicle won't be driving and the operator will be a computer program whirring away in a Google cloud. The Atlantic reports that in the more than 10,000 miles logged by robot-driven Google buggies, no self-driving car has gotten a ticket. But as the practice expands, that will surely change. Google says it should get the ticket since the person in the car isn't the operator, understandable since the company doesn't want potential customers to worry about being fined for infractions they did not commit. But some legal experts worry about granting personhood to a giant corporation. How the issue is resolved in traffic courts and state legislatures may have a great deal to say about how the law treats humans, corporations and artificial intelligence for decades to come.

Got a TIP from the RIGHT or LEFT? Email FoxNewsFirst@FOXNEWS.COM

POLL CHECK
Real Clear Politics Averages
Obama Job Approval: Approve – 44 percent//Disapprove – 51.8 percent
Direction of Country: Right Direction – 28 percent//Wrong Track – 63.3 percent
Generic Congressional Ballot:  Democrats – 43.4 percent// Republicans 42.8 percent

BILLIONAIRE STEYER TO HOST BIDEN FOR FUNDRAISER
USA Today: "Vice President Joe Biden will headline a fundraiser for Democrats later this month at the home of liberal billionaire Tom Steyer, who has pledged to make environmental protection and climate change a key issue in November's midterm elections. Biden will head to San Francisco on May 28, according to a Democratic National Committee official, who spoke on the condition of anonymity because the event had not been formally announced. The event will benefit the DNC. Steyer's action is the latest sign that he is reaffirming his ties to the Democratic Party. The retired hedge fund executive recently donated $5 million to the Senate Majority PAC, a super PAC working to help Democrats retain their majority in the Senate, The New York Times reported over the weekend."

Yet somehow Koch binge intensifies - House Minority Leader Nancy Pelosi and Senate Majority Leader Harry Reid will today host a screening of the 2012 film "Koch Brothers Exposed" at the Capitol Visitors Center. The film, which makes "Fahrenheit 911" looks fair and balanced, is a jeremiad against Koch Industries told through the accusations of Democratic politicians and liberal activists. A cast including Sen. Bernie Sanders, I-Vt., and former Obama green energy adviser Van Jones accuse brothers Charles and David Koch of various forms of racism and ecological plunder. The filmmakers have produced an updated 2014 version with new accusations that match the attacks in campaign ads from Reid's political action committee aimed at maintain Democratic control of the Senate. Aside from directing Democrats and outside groups supporting them where to look for their campaign narratives, the screening will act as a prelude to Reid's effort to stage votes on a constitutional amendment that targets the Kochs.
[Conservative legal scholar John Hinderaker looks into the rules for using Capitol resources for a political movie: "[The] event promises to be a clown show, and an illegal one, at that. The fact that the Democrats have sunk this low is one more sign of how intellectually bankrupt the party has become."]
IOWA DEMS READY FOR HILLARY, IF SHE'S LEARNED HER LESSON
The WaPo sent Dan Balz and Philip Rucker out to Iowa to take the temperatures of the Democratic activists who helped scuttle Hillary Clinton's 2008 bid. They gathered 11 activists, many of whom were ardent Barack Obama supporters six years ago. This time, though, the consensus seemed to be that Clinton had "earned" the party's nomination. But… Much was said about the way the Clintons campaigned in 2008, with particular scorn for what activists perceived as an air of entitlement "At the same time, these Democratic activists offered warnings, saying that Clinton must run a different kind of campaign and show a warmer side of her personality if she hopes to be successful. 'I think she's going to have trouble with the middle class,' said Charles Crawley, 60, a technical writer. 'She went to Wellesley College, Yale Law School, and from that point on she's been in the upper class. She may have middle-class parents, but that was a long time ago.'"

JEB HEADS TO OHIO FOR RNC FUNDRAISER
WVXU: "[Former Florida Gov. Jeb Bush] will be [in Cincinnati] for high-priced fundraiser for the Republican National Committee (RNC). RNC Chairman Reince Priebus will also be on hand. Prices for the event range from $1,000 per person for a ticket to the Queen City Club reception to $64,800 for couples who agree to be chairs of the event."

RUBIO PASSES ON POT QUESTION
Yahoo: "[Sen. Marco Rubio, R-Fla.,], who maintains a strict stance against the legalization of marijuana, refuses to answer whether he's ever personally smoked it. Rubio told 'Politics Confidential' that his silence on the matter is based on his belief that there is no 'responsible way to recreationally use marijuana.' 'If you say that you did, then suddenly there are people out there saying, 'Well, it's not a big deal,'' Rubio said. 'On the other side of it is if you tell people that you didn't, they won't believe you.'"
ACU GETS SCHLAPP-ED
American Conservative Union Foundation Chairwoman Carly Fiorina announced three new board members for the group, including Matt Schlapp, former White House Political Director to President George W. Bush.
THANKS, OBAMA
Christie Connolly and Sam Holland were all set to get married at the ornate Cardiff City Hall in Wales this September, but thanks to President Obama, their wedding plans got nixed, according to Wales Online. The Baroque building and its gardens are a prized spot for weddings, so the couple had made their reservations far in advance. But officials shocked the British couple with a letter saying Obama needed their wedding location for a meeting with NATO leaders. Officials made an alternate venue available and the couple is keeping stiff upper lips about the whole affair, inviting the president to stop by for "a bit of cake" while he is in town. British thrift was on display as well: "And if he wants to pay for the wedding off the back of it, well I'm more than happy" Connolly said.
AND NOW A WORD FROM CHARLES…
"[President Obama] acts as if – it was the same with the IRS, eavesdropping on the AP, and all the other scandals, the Obamacare launch – he stumbled upon the presidency and discovered all this horrible stuff is happening. He's in charge of these departments. At some point, you've got to ask, 'Where has he been, and where is the competence, the elementary competence, he promised when he ran in 2008?'" – Charles Krauthammer on "Special Report with Bret Baier"
Chris Stirewalt is digital politics editor for Fox News. Want FOX News First in your inbox every day? Sign up here.