Report: Trump plans to blame Mexico's Carlos Slim for groping allegations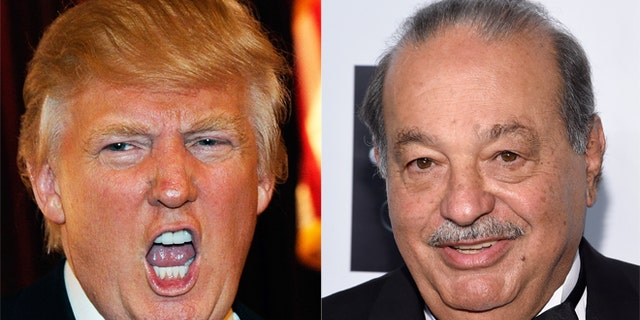 It's a battle of the billionaires.
Republican presidential candidate Donald Trump plans to blame Carlos Slim – the Mexican telecom mogul, and the world's fourth richest man – for the latest batch of sexual assault allegations being leveled against the GOP nominee.
According to the Wall Street Journal, Trump plans to say that Slim, who is a largest shareholder of the New York Times Co. and a donor to the campaign of his Democratic rival Hillary Clinton, has a vested interest in seeing him lose the presidential election in November.
Earlier this week, the New York Times published the stories of two women who claim Trump groped and kissed them without their consent.
Trump has vehemently denied the allegations and has called them false and slanderous "in virtually every respect" while accusing the Times of fabricating stories to undermine his campaign. The GOP nominee has demanded a retraction and even threatened to sue the Times – to which the newspaper's general consul had a swift reply.
"The essence of a libel claim, of course, is the protection of one's reputation," the paper's general counsel David McCraw wrote to Trump's lawyer. "Mr. Trump has bragged about his non-consensual sexual touching of women. He has bragged about intruding on beauty contestants in their dressing rooms. He acquiesced to a radio host's request to discuss Mr. Trump's own daughter as a 'piece of a--.'"
McCraw added, "Multiple women not mentioned in our article have publicly come forward to report on Mr. Trump's unwanted advances. Nothing in our article has had the slightest effect on the reputation that Mr. Trump, through his own words and actions, has already created for himself."
A spokesperson for Slim told the Wall Street Journal that "of course" he is not interfering in the U.S. election and called the suggestion that he ordered a hit piece on Trump "totally false."
Slim is the chairman and CEO of Telmex and América Móvil, among his many other holdings.
Times publisher Arthur Sulzberger Jr. said that Slim "is an excellent shareholder who fully respects boundaries regarding the independence of our journalism."
"He has never sought to influence what we report," he added.
For its part, the Clinton campaign mocked Trump's allegations and referred to them as "another deranged right-wing conspiracy theory."
Like us on Facebook
Follow us on Twitter & Instagram