Report: Red Cross struggled with response to Superstorm Sandy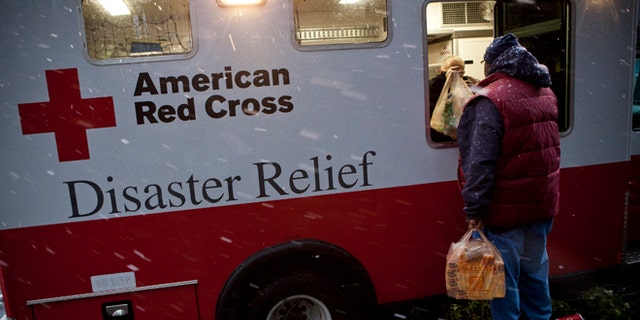 The Red Cross struggled to meet the basic needs of Hurricane Sandy victims in the early aftermath of the 2012 superstorm, according to an investigative report by NPR and ProPublica.
The venerable charity also was so concerned about its image that public relations efforts interfered with the group's ability to provide disaster relief, said the report, based in part on internal documents and interviews with Red Cross officials and ex-officials.
The report said Red Cross national headquarters in Washington, D.C., "diverted assets for public relations purposes," based in part on a former Red Cross official saying 40 percent of available trucks were assigned to serve as backdrops for news conferences.
The Red Cross is defending itself against the allegations and its work during Sandy and other recent hurricanes.
"I think the volume of services and the speed at which we provided it speaks to the quality of service of the volunteers and staff on the ground," said Trevor Riggen, a Red Cross vice president. "I think there are details both in the documents you have and other documents you haven't seen that help us learn from our processes."
Riggen also said the Red Cross served 17 million meals, provided millions of supplies and housed tens of thousands of people in its shelters. He said the organization would never put public affairs over the needs of clients.
The storm rambled up the East Coast in late October 2012, making landfall in New Jersey on Oct. 29. The storm resulted in an estimated $68 billion in damage and the deaths of roughly 285 people.
The report also found an "excessive" waste of food as a result of such factors as inexperienced staff, poor communication and political pressures.
And a confidential Red Cross memo stated that sex offenders in one shelter were assigned to a separate area but nonetheless found among the general population, even "playing in children's area."
Josh Lockwood, a Red Cross regional executive, said Wednesday about the report: "ProPublica and NPR have used the two-year anniversary of Superstorm Sandy's landfall to paint a distorted and inaccurate picture of the Red Cross response that helped tens of thousands of people... . In the chaotic first hours and days after a disaster, it is impossible to meet every need, especially in a disaster as big as Sandy. However, when problems occur, we try to fix them thoughtfully, and we always strive to do better."