Report: McDonald's May Drop Health Care Plan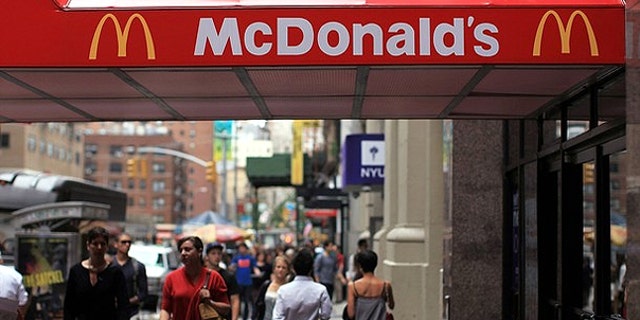 McDonald's Corp. has notified federal regulators its health insurance plan for nearly 30,000 hourly restaurant workers isn't compatible with a new requirement of the U.S. health overhaul, The Wall Street Journal reported Wednesday, raising speculation about the fate of those employees' health coverage.
Trade groups representing restaurants and retailers say low-wage employers might halt their coverage if the government doesn't loosen a requirement for "mini-med" plans, which offer limited benefits to some 1.4 million Americans. The requirement concerns the percentage of premiums that must be spent on benefits.
While many restaurants don't offer health coverage, McDonald's provides mini-med plans for workers at 10,500 U.S. locations, most of them franchised. A single worker can pay $14 a week for a plan that caps annual benefits at $2,000, or about $32 a week to get coverage up to $10,000 a year.
Last week, a senior McDonald's official informed the Department of Health and Human Services that the restaurant chain's insurer won't meet a 2011 requirement to spend at least 80 percent to 85 percent of its premium revenue on medical care, the Wall Street Journal reported.
But McDonald's issued a statement Wednesday denying that it planned to drop coverage for its employees and defending its benefit plans.
"We've had the opportunity to speak with regulatory agencies directly to better understand the implications of the law and to share our point of view," Steve Russell, a senior vice president with the company, said in the statement. "Moving forward, we will continue to have an open dialogue with legislators as well as regulators."
The White House pushed back against the Journal story.
"This story is wrong. The new law provides significant flexibility to maintain coverage for workers. Additionally, this story is premature as guidance on the new medical loss ratio rules has not even been issued," Jessica Santillo, a Health and Human Services spokesperson, told FOX News.
McDonald's and trade groups say the percentage is unrealistic for mini-med plans because of high administrative costs owing to frequent worker turnover, combined with relatively low spending on claims. Democrats who drafted the health law wanted the requirement to prevent insurers from spending too much on executive salaries, marketing and other costs that they said don't directly help patients.
Dozens of companies have taken charges against earnings—totaling more than $1 billion—over a tax change in prescription-drug benefits for retirees.