Rep. Conyers embroiled in sexual harassment controversy: Who is he?
Rep. John Conyers, D-Mich., announced on Dec. 5 that he was immediately retiring from the House.
The announcement came after multiple Democratic lawmakers asked the embattled congressman to resign. Conyers, the longest continuously serving lawmaker in the House, has been the subject of multiple sexual harassment accusations.
"I am retiring today," Conyers told the Mildred Gaddis radio show. He also endorsed his son, John Conyers III, to replace him.
The retirement announcement came after an attorney for Conyers said last week that he "sure as hell" would not be pressured into leaving office.
Read on for a look at Conyers and his tenure in the U.S. House of Representatives.
Who is John Conyers?
Conyers, 88, is from Detroit, Mich. He attended Wayne State University for college.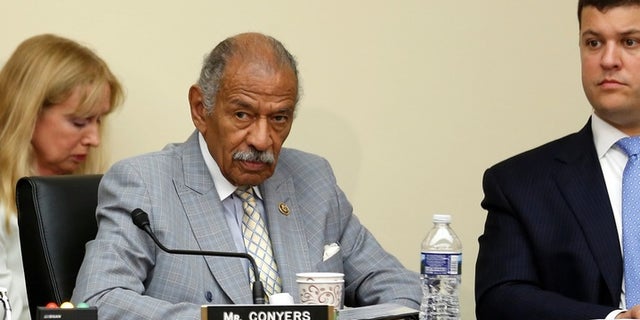 Conyers served in the National Guard and the U.S. Army Corps of Engineers during the Korean War, according to his congressional biography.
Conyers is married with two children. His wife filed for divorce in 2015, but the couple later reconciled and renewed their vows about one year later, according to the Detroit Free Press.
What has he been accused of?
Conyers has recently faced a wave of public accusations that he sexually harassed women while in Congress.
BuzzFeed News reported last week that Conyers settled a complaint two years ago for $27,000 with a female staffer who claimed she was fired because she rejected his advances. And Marion Brown, a former aide, broke a confidentiality agreement to publicly allege Conyers propositioned her for sex multiple times over the course of more than a decade.
JOHN CONYERS LONG HISTORY OF CONTROVERSY
"It was sexual harassment … violating my body," Brown said. "Propositioning me. Inviting me to hotels with the guise of discussing business and then propositioning me … for sex."
She said she believes she was fired from her job because of a sexual harassment complaint she filed against Conyers.
A former scheduler filed a complaint earlier this year but later dropped it. Another former staffer, Deanna Maher, said Conyers undressed to his underwear in front of her and would touch her leg inappropriately.
Conyers was hospitalized this week for a stress-related illness, his family said. He has denied the allegations.
What about his legislative work?
Conyers is the Dean of the House of Representatives as he is the longest continuously serving member of the House, having assumed office in 1965.
He was the one who pushed to establish the Martin Luther King Jr. Day federal holiday, introducing the law just a few days after the civil rights leader's death. He was also behind the Violence Against Women Act and Motor Voter bill.
Conyers stepped away from the House Judiciary Committee after the sexual harassment allegations came to light.
He is not expected to seek reelection in 2018.
The Associated Press contributed to this report.