Reid, McCain Spar Over Immigration Add-On in Defense Bill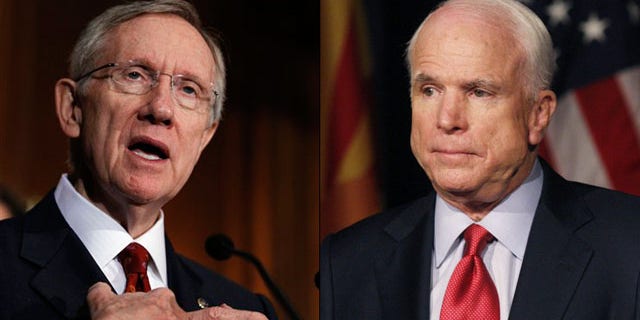 Senate Majority Leader Harry Reid and Sen. John McCain escalated a confrontation Thursday over the Democratic leader's move to give some illegal immigrants a pathway to citizenship, with the nation's military budget hanging in the balance.
Reid announced this week that he would attach to the defense authorization bill a program to grant young people who join the military or attend college legal status. This drew outcry from Senate Republicans already miffed over an add-on that would repeal the "don't ask, don't policy" barring gays from serving openly in the military. They say the so-called DREAM Act needlessly politicizes the blueprint for military spending.
McCain, in keeping with his threats, objected Thursday when Reid tried to call up the defense bill. This prompted Reid to try forcibly advancing the bill to debate with a vote next week.
Reid then singled out McCain in a written statement, urging the former prisoner of war to listen to his patriotic side.
"Any American so courageous and patriotic that he or she wants to serve our country in the military should be able to do so. Senator McCain and anyone else who thinks the DREAM Act is not directly related to our national security should talk to the brave young men and women who want to defend our country but are turned away," Reid said. "Senator McCain should know better than anyone that patriots who step up to serve our grateful nation should be offered a path to citizenship, and that anyone who volunteers to serve should be welcomed regardless of their sexual orientation."
But Republicans, including McCain, say Reid is just trying to shore up his reelection bid against Sharron Angle in Hispanic-heavy Nevada.
McCain, in an interview set to air Thursday with Fox News' Greta Van Susteren, explained that his objection concerns process, not substance.
"It may have merits or demerits depending on how you look at it. But to put it on a defense bill? And so it's really his effort to get re-elected," McCain said. "And he's doing that at the expense of this legislation, which is about the men and women who are serving in the military. It's really remarkable."
Sen. Lindsey Graham, R-S.C., told Foreign Policy's The Cable blog that Reid is trying to "check a box with the Hispanic voters."
Under the DREAM Act, anyone who came to the United States when they were under 16 years old and has lived in the country for five years would be eligible if they join the military or attend college for at least two years.
Those who qualify would be granted conditional residency and after nearly six years would be able to apply for permanent residency. From there, they could apply for citizenship.
President Obama voiced support for the policy in a speech to the Congressional Hispanic Caucus Institute Wednesday.
"I've been a supporter since I was in the Senate, and I will do whatever it takes to support the Congressional Hispanic Caucus' efforts to pass this bill so that I can sign it into law on behalf of students seeking a college education and those who wish to serve in our country's uniform," Obama said. "It's the right thing to do. We should get it done."
McCain frequently takes heat from Democrats when it comes to immigration because he previously worked in-depth on a comprehensive immigration overhaul with the late Sen. Ted Kennedy. He was accused of taking more conservative positions on immigration issues during his Republican primary campaign, from which he emerged victorious last month.
As the ranking Republican on the Senate Armed Services Committee, his position on the defense bill is attracting heightened attention.
A gay rights group called GetEQUAL also confronted McCain Thursday during a committee hearing over his "don't ask, don't tell" position, urging him to support repealing the policy.
McCain says he wants to wait for the Pentagon to complete its study on repealing "don't ask, don't tell" before voting on any change.