Rebel takeover of eastern Ukraine city raises questions about cease-fire, Putin's intentions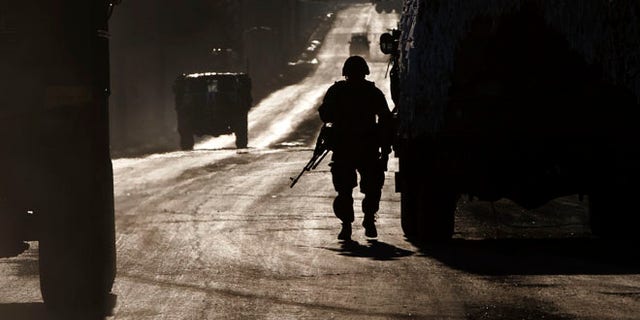 The Ukrainian military's withdrawal from a key eastern city – leaving Russia-backed rebels to roam the streets in celebration – has raised questions about a newly struck cease-fire and Vladimir Putin's ultimate intentions.
The city of Debaltseve effectively fell to rebel fighters days after the cease-fire was signed last week with the heavy involvement of European leaders. That deal may have eased, for now, any consideration by the Obama administration of arming the Ukrainian military.
But U.S. lawmakers say the latest developments only underscore the need for greater involvement by the U.S. and its allies.
"The fall of Debaltseve to Russian-backed Ukrainian separatists should be all the evidence we need to proclaim the failure of the recent cease-fire agreement in Ukraine," Sens. John McCain, R-Ariz., and Lindsey Graham, R-S.C., said in a statement, calling the deal a "delusional piece of paper."
They warned the Ukrainians' retreat will only embolden Putin as he seemingly tries to aid the rebels in gaining more territory – effectively adding to his largest prize to date, the annexed Crimean Peninsula.
McCain and Graham predicted the next offensive will likely occur in nearby Mariupol.
"Persisting with the illusion of a cease-fire will only give Putin the cover he wants to plan his next act of aggression inside of Ukraine," they said, accusing President Obama and other leaders of using "any available excuse not to provide defensive arms."
The Obama administration has made clear that arming the Ukrainians is on the table, although it has not yet taken that step. Asked about the latest developments on Thursday, State Department spokeswoman Jen Psaki said the U.S. "condemns continuing attacks by Russia-backed separatists in and around Debaltseve, Mariupol and other locations in eastern Ukraine which violate the cease-fire and flout the Minsk agreements."
She added: "We call on Russia and the separatists it backs to stop their attacks immediately, withdraw heavy weapons, halt the flow of fighters and equipment from Russia into Ukraine."
The war in eastern Ukraine has killed 5,600 people and forced over a million to flee their homes since fighting began last April, a month after Russia annexed the mostly Russian-speaking Crimean Peninsula. Russia denies arming the rebels or supplying fighters, but Western nations and NATO point to satellite pictures of Russian military equipment in eastern Ukraine.
In Paris, French President Francois Hollande said he and German Chancellor Angela Merkel spoke Thursday with the leaders of Ukraine and Russia -- Petro Poroshenko and Vladimir Putin -- about cease-fire violations and their consequences. The Kremlin confirmed the four leaders had spoken by phone and praised the cease-fire deal, saying it has led to "a reduction in the number of civilian casualties."
France and Germany, which oversaw marathon peace talks between the Ukrainian and Russian leaders last week in Minsk, Belarus, both signaled Thursday that they're determined to salvage the cease-fire deal and keep the two sides talking.
The German government said the four leaders had agreed "to stick to the Minsk agreements despite the serious breach of the cease-fire in Debaltseve." It said "immediate concrete steps" were necessary to ensure that the cease-fire is fully implemented and heavy weapons are withdrawn.
Both sides were supposed to pull back heavy weapons in eastern Ukraine beginning Tuesday, but international monitors said Thursday they had not seen either doing so.
"We have not observed the withdrawal of heavy weapons, however we have observed and reported on the movement of heavy weapons," said Michael Bociurkiw of the Organization for Security and Cooperation in Europe.
Paris and Berlin appeared to hope that, with the disputed territory of Debaltseve in rebel hands, the cease-fire can now take hold.
A top French official, speaking on condition of anonymity because he was not authorized to talk about the ongoing negotiations, described the attitude as "pragmatic," saying continued fighting "was not acceptable to us."
Germany has lowered expectations for the cease-fire in Ukraine.
German Chancellor Angela Merkel told supporters that "Germany and France together, will not ease off on doing everything so that Ukraine can go its way and have its territorial integrity -- but we want to do it with Russia, not against Russia."
One analyst said, despite public anger in Kiev over the fall of Debaltseve, an overall cease-fire for eastern Ukraine was probably more important than who controlled one town.
"(Germany is) more clearly aware than many in Kiev that Ukraine basically needs a cease-fire or a freezing of the conflict more urgently than Moscow," said Gustav Gressel, a visiting fellow at the European Council on Foreign Relations in Berlin. "Kiev needs to see sooner or later how it gets out of the war."
He added that "from a German point of view, a continuation of the war is probably a greater evil than a not-so-good end to the war."
The Associated Press contributed to this report.