Questions Emerge About Vitter Challenger's Tangled Love Life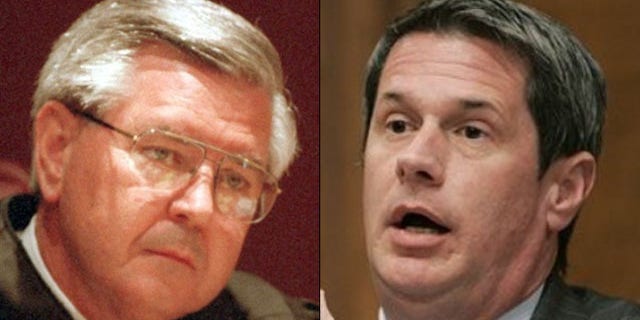 The Republican challenger to a Louisiana senator tainted by a prostitution scandal may have a sordid history of his own.
Nearly two weeks after retired state Supreme Court justice Chet Traylor threw in his hat to take on Sen. David Vitter in the August GOP primary, a state lawmaker has come forward to claim that Traylor played a homewrecker role in his life and the life of one of his sons. In addition, Traylor is facing lawsuit over the handling of his late wife's estate.
Democratic state Rep. Noble Ellington, the man leveling the charges, said Traylor's personal history could undermine any attempt to claim the moral high ground over Vitter.
The claims against Traylor are complicated but boil down to this: Ellington says Traylor snatched his wife from him more than a decade ago and that, after she died last year, Traylor set his sights on Ellington's daughter-in-law.
Their entanglement started some time before May 1997, when Ellington and Peggy McDowell divorced. Though Traylor reportedly denies the allegation and says he's done nothing wrong, Ellington claims Traylor contributed to his divorce by seeing his ex-wife while they were still married.
"He was certainly a part of the reason why my ... wife and I got a divorce," he told FoxNews.com.
Months later, Traylor married McDowell. That marriage lasted until McDowell died last August.
Then things got more complicated. Ellington says that Traylor began seeing his son Ryan's estranged wife mere months after McDowell died. That would be McDowell's daughter-in-law, or Traylor's stepson's wife.
Ryan Ellington and wife Denise Lively are separated and in the process of getting a divorce, Ellington said, adding that Traylor certainly didn't help their situation.
Traylor "didn't enhance them staying together," he said.
But all that isn't even what bothers Ellington the most. His beef with Traylor is chiefly over McDowell's estate.
"The infidelity ... (is) just sometimes a lack of morals or poor judgment," he said. "The thing that jumps out at me today" is the estate issue.
Ellington's two sons filed suit last month to try to compel Traylor to hand over parts of the estate and provide information to them about it, something Ellington says Traylor has resisted.
Ellington said he has personally supported Vitter over the years, but that his position in the current race is only that he's "opposed to Traylor."
Several attempts to reach Traylor's campaign were unsuccessful. Traylor told the Monroe News-Star, which first reported Ellington's allegations, that he's done "nothing I'm ashamed of."
"I've done everything I've done in the open," Traylor told the News-Star.
It's unclear what the charges do to the primary race. Traylor would have had to overcome Vitter's big money advantage, though he claimed when he entered the race that he was concerned Vitter would lose in a general election.
Vitter was tied to the D.C. Madam scandal and most recently has faced questions over a longtime aide with a lengthy criminal history. He still maintains a healthy lead in the polls against presumptive Democratic nominee Rep. Charlie Melancon. A Rasmussen Reports poll at the end of June showed Vitter leading Melancon by 18 points in a general election matchup.
Vitter's campaign had no comment on the latest revelations about his Republican opponent.