Providence, R.I., turns over anti-corruption leaf with Jorge Elorza's election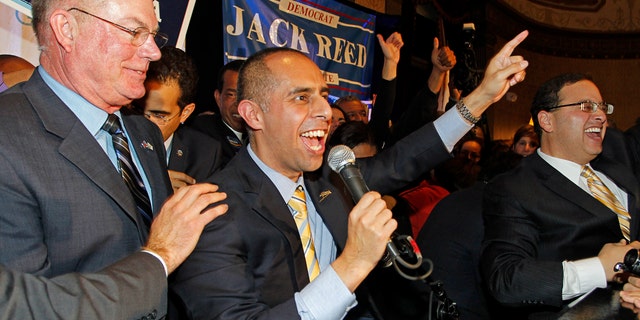 NEWYou can now listen to Fox News articles!
Providence, Rhode Island, voters selected Jorge Elorza as their new mayor. A result that repudiates the city's old politics and the growing role of a different side of Providence — new immigrants, transplants, the wealthy.
Voters decided Tuesday to give Vincent "Buddy" Cianci's latest comeback bid the thumb's-down, instead opting for a first-time candidate in Elorza.
One voter summed up the feeling for many at the polls Tuesday.
"We saw the damage that [Cianci] did," said John Cariati, a financial adviser. "We don't want to go back there."
Elorza said voters wanted a new direction.
"They want change. They want new ideas, new faces and new perspectives," he said Wednesday.
Elorza, 37, a Democrat, is a law school professor and former housing court judge who was little known before the campaign. By contrast Cianci, 73, an independent, was mayor for 21 years.
Voters loved him or hated him. There were few in between.
Cianci ran a nostalgia campaign, surrounding himself with people who had worked for him for decades and speaking frequently of a rosy past where jobs were plentiful and development projects were always on the horizon. Cianci supporters spoke of "taking our city back" and "putting the grown-ups back in charge."
Cianci's first administration ended in 1984 with his no-contest plea for assaulting a man with a fireplace log, ashtray and lit cigarette. He made a comeback in 1990, but his second administration ended in 2002 with a 4½-year prison term for racketeering conspiracy.
Elorza ran a quiet campaign, with no TV ads until the final week. He built support in the city's growing Hispanic population, now nearly 40 percent, a huge increase from when Cianci last ran for office in 1998.
The Democrat also found ways to connect with younger voters, holding a free concert with popular bands including the Low Anthem shortly before the election. He also built ties in the city's wealthy East Side, which turned out in droves for him. Even his Republican opponent, running in third and desperate to see anyone but Cianci in office, voted for him.
"You look at the people around him, it really is representative of our city. Jorge has young, old, hip and non-hip. It's really a face of 2014 Providence," said Mayor Angel Taveras, a Democrat who supported Elorza after giving up City Hall for an unsuccessful run for governor.
During the campaign, Elorza focused on ethics, refusing campaign donations from city employees because that led to some of the corruption that plagued Cianci's administrations. Cianci had promised not to take such donations himself but backpedaled after campaign finance records showed he had taken $18,000 from dozens of municipal workers.
In the end, Elorza won with 52 percent of the vote to Cianci's 45 percent. Cianci even lost his own polling place.
Wendy Schiller, a Brown University professor, said the city's political power base has shifted to a coalition ofLatinos, progressives and women. City residents now see that the old system of using connections to get things done wasn't working for them.
Cianci has already gone back to his job as a radio talk show host. Valerie Endress, a professor at Rhode Island College, says that makes it especially important for Elorza to connect with Cianci's supporters.
"He does have a public voice that can rail against Elorza," she said.
Elorza said he wants to engage everyone who cares about the city.
"Whether they voted for me or not," he said. "That's true for former candidates as well."
Based on reporting by the Associated Press.
Follow us on twitter.com/foxnewslatino
Like us at facebook.com/foxnewslatino